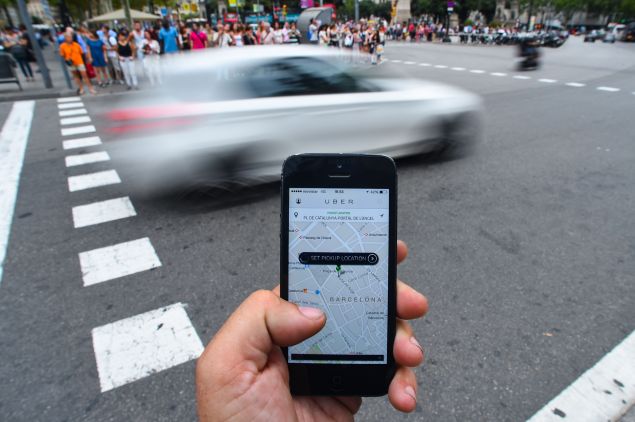 Six months after he led a failed charge to cap Uber (UBER) and other e-hail services in the city because they were causing too much traffic, Mayor Bill de Blasio's office today released a study saying that while traffic is getting worse, it isn't the fault of taxi apps after all.
"E-dispatch is a contributor to overall congestion, but did not drive the recent increase in congestion" in Manhattan's Central Business District below 86th Street, the study read, determining the new trips are replacing trips formerly made by yellow taxis.
The $2 million study, conducted between August and November by city officials and an outside consultant and released on a Friday ahead of a three-day weekend, found other culprits to blame for the congestion, which it measured by studying vehicular speeds, and did not recommend capping e-hail services.
"Reductions in vehicular speeds are driven primarily by increased freight movement, construction activity, and population growth," the study found.
Back in July, Mr. de Blasio was singing a different tune. In a Daily News editorial, he said the 2,000 new for-hire vehicles hitting city streets every month were "overwhelming the most congested parts of Manhattan," listing that first among his reasons for seeking to cap the services. Critics, meanwhile, said his desire to slow the industry's growth had more to do with the donations he received from yellow taxi drivers—who have seen their medallion values plummet in the face of competition from services like Uber and Lyft.
The mayor was pummeled by the apps, particularly Uber, which ran ads highlighting the service's popularity with lower-income, minority New Yorkers who were trying to earn some extra money as drivers or were just happy to finally get a cab in a part of town where yellow taxis wouldn't venture. In-app notifications allowed Uber users to e-mail the mayor's office with their displeasure. Gov. Andrew Cuomo waded into the fight to say the state and not Mr. de Blasio should regulate Uber. Council members were slammed by direct mail touching on the same topics as the television commercials. Eventually, Mr. de Blasio lost Council Speaker Melissa Mark-Viverito as an ally, perhaps due to her frustration with the way he cavalierly said a cap—which would have to be passed by Ms. Mark-Viverito and her members—would still be on the table.
Of course, the Council passed no cap over the summer—settling instead for this study, which now exonerates Uber of causing traffic—and it is not proposing one now. The Council released a package of legislation it intends to introduce in response to the study, and not only is a cap not part of it, but a longstanding effort from Councilman David Greenfield to regulate surge pricing—charging more when demand is higher, the bane of those trying to get home on New Years' Eve after having a bit too much to drink—is also missing from the package.
Instead the Council is proposing a sweeping reform of the Taxi and Limousine Commission, which oversees and regulates all varieties of cabs in New York City. One bill in the package of proposals will turn the agency into a health and disability insurance provider for drivers, while another would consolidate the two categories of licenses for traditional taxis and for-hire vehicles into a single permit. The latter measure will also dispense with the written English proficiency exam required to obtain the license.
"The Council is proud to take the lead on reforming the taxi and for-hire vehicles in New York City while also ensuring continued innovation and convenience," said Speaker Mark-Viverito. "This legislation will work to protect consumers and create more accessibility while improving working conditions for drivers.
As a boon to small livery car companies, a separate piece of legislation will eliminate the requirement that they maintain off-street parking for all of their vehicles, while another measure will eliminate bureaucratic barriers that prevent them from utilizing Uber and similar apps. At the same time, another part of the plan will step up penalties for livery car drivers who accept street hails, which by law only yellow and green cab drivers can take.
The legislation is largely favorable to e-hail companies, but it will limit the amount of personal information apps can gather from their customers. While there's no limits on surge pricing, there is an anti-gouging measure that will obligate apps to provide riders with an early estimate of the fare for their trip, and prohibit drivers from charging more than 20 percent of the figure given.
The Council will also investigate ways to speed up the license application process, possibly through incorporating new technologies or hiring more staff at the TLC, and vowed to study ways to improve accessibility for hired cars for people with disabilities.
The traffic study is not entirely without knocks to Uber—it notes Uber could drive "modest growth in congestion in the future," if people opt for e-hails instead of public transit. It also found that the growth of e-hails could make it harder for the disabled to get around, since e-hail cars are licensed by the TLC and subject to the equivalent service rule, but aren't subject to laws and court rulings about accessibility that apply to yellow and green cabs.
The study also charged that the continued growth of e-hail apps would damage mass transit budgets, because the trips are not subject to a MTA surcharge collected on yellow taxi trips—though it noted, as e-hail representatives have, that app-originated rides are subject to sales tax, while taxi rides aren't.
Mr. de Blasio made no comment on the study. A spokesman, Peter Kadushin, issued a prepared statement.
"We are pleased to release the findings of our study and look forward to continued work with the City Council and industry partners to create comprehensive proposals to address accessibility, consumer and employee safety, mobility and securing support for our public transit system," he said.