New Yorkers are notoriously obsessed with the hottest trends; and when it comes to fitness, the trend-obsessed are flocking to boutique fitness studios in droves. Personal trainers used to be the ultimate sign of success, but now, as more studios hold clients accountable and monitor their activities the same way a trainer would, the focus is on finding a class with a welcoming vibe, cool community and slew of chic models as clientele. With studios, clients don't need to commit to a single activity. They can head to a favorite yoga class one night and a Pilates class the next instead of being chained to the treadmill.
Sprinklr, a start-up helping brands including McDonald's and Virgin manage their social media presence, used their proprietary technology to analyze 40,000 conversations on social media and review sites for some of the largest fitness brands, including ten gyms and seven fitness studio chains.
Their study shows fitness studios are preferred over gyms because of their core services (think Kombucha and coconut water), interesting instructors, and ambience (some classes have their own live DJ). The study found the average client at the gym is a 22-year-old single male, while the average fitness studio client is a 30-year-old married female.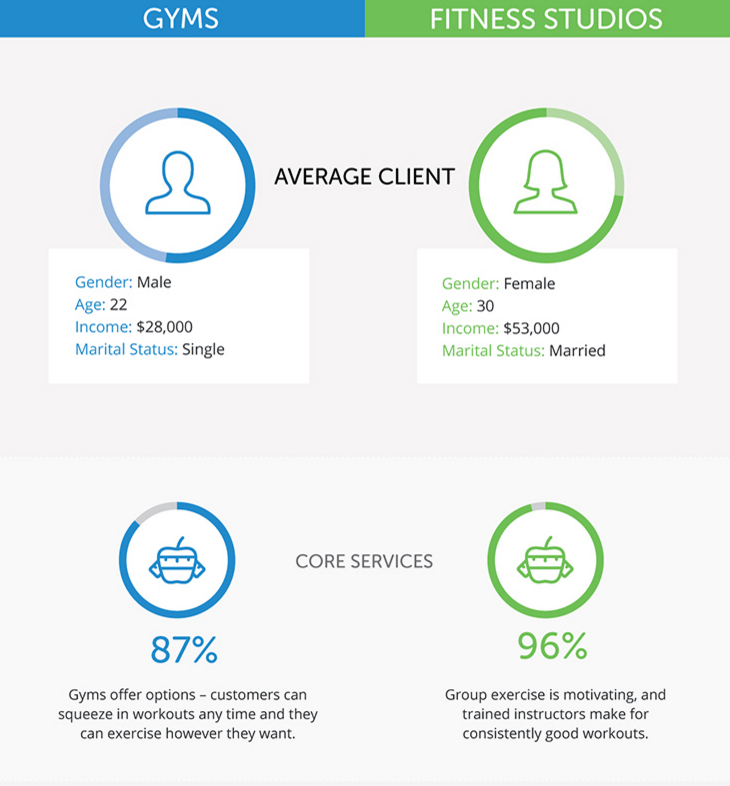 Since the study was conducted through social media, it is possible the people who use personal trainers and gyms aren't singing their praises online. After all, tweeting at your go-to studio about a class or tagging them in an Instagram post to show off your latest selfie makes sense, while creeping on a personal trainer on Twitter feels slightly awkward. Still, it shows that more people are using studios as a way to try out a variety of classes, instead of committing to a gym they may or may not actually go to.