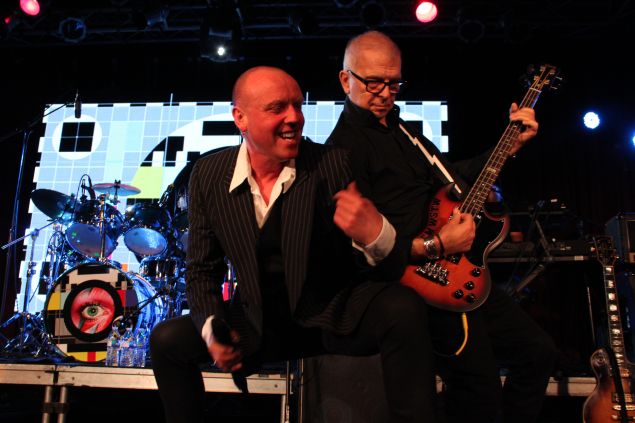 It's been over a week since the starman ascended to his newly christened, lightning bolt-shaped constellation in the sky, and our blue planet Earth continues to pay tribute.
A makeshift memorial outside of Bowie's longtime New York residence at 285 Lafayette Street became a veritable shrine, where those who loved him brought everything from the standard flowers, candles and messages to artwork and clothing (the identity of whoever left the pair of pink high-heels remains a mystery). Yesterday was the final curtain call of Bowie's musical, Lazarus, which works songs from ★ into the story of Walter Tevis' 1963 existential sci-fi novel about an alien who can't die (whom Bowie played in the 1976 arthouse film The Man Who Fell to Earth), and NYC Mayor Bill de Blasio showed up to declare January 20 "David Bowie Day" in New York City.
'We're not exactly a tribute band,' Mr. Visconti said matter-of-factly at Chelsea's Highline Ballroom on Tuesday night, 'we're the real dudes who played on the record.'
That musicians have organized a myriad of tributes, from crusty DIY spaces in Brooklyn to star-studded Carnegie Hall and Radio City shows in late March/early April, is something of a cruel joke—on the one hand, it keeps the sonic vibrations of Bowie's music ever oscillating in the cosmic spheres, but on the other hand, there's no replicating the man's unmistakable voice, style and legendary stage presence. Yet those paying tribute don't seek to try, only to share and remember the man's music.
Presiding as musical director over the Carnegie and Radio City gigs is none other than Tony Visconti, Bowie's producer since 1967 and the man whose studio expertise helped will the majority of Bowie's sonic transformations. Mr. Visconti is an obvious choice to wrangle talent and put together the house band for those tributes because he knows all the hits as intimately as he knew the starman. In 2014, undoubtedly knowing Bowie was not planning to play live anytime soon, he assembled a 10-piece band featuring his son and daughter on backing vocals, singer Glenn Gregory from seminal New Wave band Heaven 17 on vocals, and Woody Woodmansey, the ferociously badass drummer who played on Bowie's classics The Man Who Sold The World, Hunky Dory, The Rise and Fall of Ziggy Stardust and the Spiders from Mars and Alladin Sane.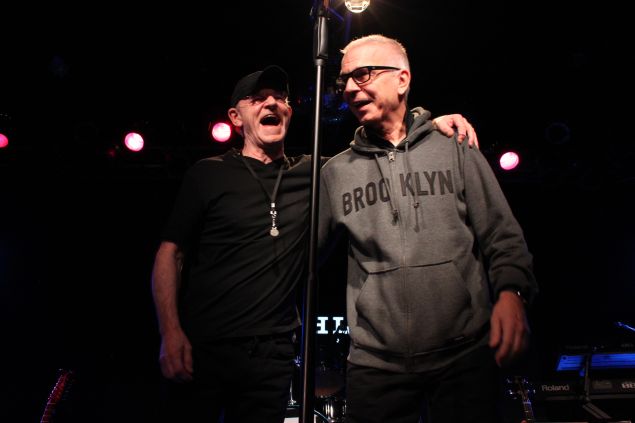 "We're not exactly a tribute band," Mr. Visconti said matter-of-factly at Chelsea's Highline Ballroom on Tuesday night, "we're the real dudes who played on the record." Such a distinction might sound like boasting coming from the mouths of lesser musical legends, but Mr. Visconti has earned it. While the songs of David Bowie are often distinguished by that voice of celestial weirdness, much of that weirdness comes from the music itself. Moments like the changing key mid-song on "Life on Mars?" or the juxtaposition between sections in "Time," which shifts from cabaret piano to screeching lead guitar, are deceptively complex in their execution.
There are many tasteless ways a tribute to David Bowie could be approached, but this was an act of love.
The Holy Holy group named themselves for a single from The Man Who Sold The World era in which Bowie sings, "Holy, holy, hold on to anyone, but just let me be…hold on to anyone, but let go of me," and they know this music firsthand. As Glenn Gregory noted throughout the set, taking a pulse of the catharsis in the room that they last played on Bowie's birthday, the man would have wanted the night to be a celebration. "Have fun and do whatever the fuck you want," Mr. Woodmansey said with a smile.
[youtube https://www.youtube.com/watch?v=56gRbPFOhG4]
Many note how Bowie's lyrics have always addressed mortality, a theme that has only grown more poignant in his passing, and his under-appreciated 1970 masterpiece The Man Who Sold The World is no exception. The hard-rock portrait of a man just on the precipice of discovering his mystical vaudeville cabaret voice on Hunky Dory and his glam persona on Ziggy is worth celebrating in its own right—the songs are heavy and heady, and most importantly, the music rocks. So when Mr. Visconti and Mr. Woodmansey announced they were putting Holy Holy together and playing the album completely in 2014, no one cried "opportunistic!" There were many tasteless ways such a feat might have been approached, but Holy Holy paying tribute to a Bowie album that has been overshadowed by his other marvelous classics was an act of love.
Mr. Visconti  remembered the last time they were at Highline, less than two weeks earlier, on Bowie's birthday. They called Bowie on the phone, and Bowie loved that such a birthday party had been thrown for him, even if he couldn't be there. "The last time we played here was a joyous occasion," said Mr. Gregory. "So let's have fun tonight—it's what Bowie would want."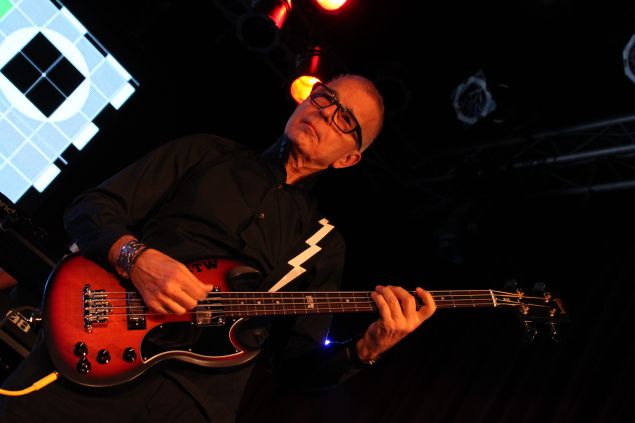 In the first Man Who Sold The World tune, "Width of a Circle," Bowie meditates on god and the devil over a riff that sounds like a country song written by Black Sabbath. It's chugging, anthemic rock is a stark contrast from the polished, nuanced music of Bowie's art in the decades that followed, as fresh today as it was when the man first sang it 46 years ago. Mr. Gregory, with his British accent and lightly ostentatious delivery, was the perfect vessel for Bowie's lyrics, enunciating every word, no matter how esoteric and weird, while being careful to not overdo it and lapse into an impersonation.
Second track "All the Madmen" still hits hard, both as a lost classic and for its exploration of the idea that the craziest people live life to the fullest, a mantra Bowie would certainly embody. "I'd rather stay here, with all the madmen, than perish with the sad men roaming free," belted Mr. Gergory with added awareness, "and I'd rather play here, with all the madmen, for I'm quite content they're all as sane as me." It's arguably the first true moment of glam crunch in Bowie's discography, and sung in tribute at the Highline, it's the first moment when you can't help but let go and just lose it.
Other echoes of mortality come fast during the Man Who Sold The World set. The maudlin and mystical "After All" features the lyric, "We're painting our faces and dressing in thoughts from the skies, from paradise," which could allude to the multitudes dressing up like Bowie just as soon as it could reference getting ready for church. "Saviour Machine" is eerie in its prophecy, too, as Mr. Gregory sang, "Your minds are too green, I despise all I've seen, you can't stake your lives on a Saviour Machine. I need you flying, and I'll show that dying is living beyond reason. Sacred dimension of time, I perceive every sign, I can steal every mind." At this point in the set, it became clear that Holy Holy were aware of the album's consistent explorations of mortality, and they reminded us of its power.
But it was the album's closer that hit the hardest. "The Supermen" is an exploration of Nietzsche's writings about the idea of a divine state mankind should seek to attain for itself, the same writings that Adolf Hitler took too far and incorporated into his genocide. "Far out in the red-sky, far out from the sad eyes, strange, mad celebration, so softly a supergod cries," sang Mr. Gregory, re-purposing Bowie's imagery into poignant memoriam. As the weight of the words landed and the first set finished, Mr. Visconti yelled, "One more time!" and they sang it again.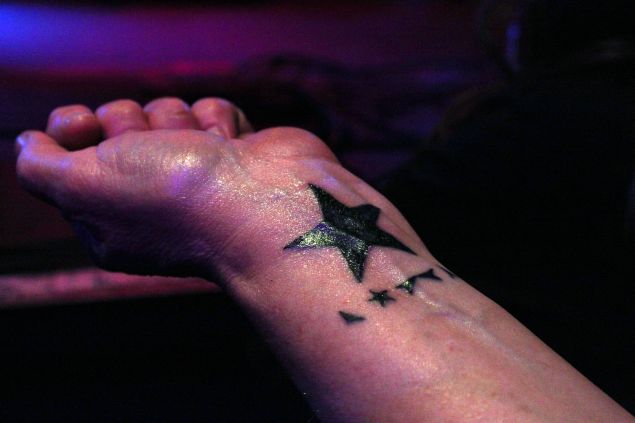 Before the second set of Bowie classics began, Mr. Visconti discussed the genesis of The Rise and Fall of Ziggy Stardust and the Spiders from Mars in an apartment in Beckenham, Kent,  then launched into that album's arresting opener, "Five Years." Mr. Visconti wiped tears from his face as he thanked David, reminding us all he was up in heaven.
When the crowd erupted in rapturous applause, he said, "I think he can hear you." When a woman up front with a fresh ★ tattoo asked Mr. Visconti, "Can he come back now?" he waved her off and just said, "Go to Disneyland." The next two Ziggy tunes, "Soul Love" and "Moonage Daydream," were equally faithful and rocking. "Don't fake it baby, lay the real thing on me," indeed. The other classics from Mr. Woodmansey's years as Bowie's drummer all sounded like a loving expression of muscle memory, particularly "Life on Mars?" which Mr. Gregory confessed was not easy to sing, both for its high notes and its raw emotion.
The band slowed to a stop during "Oh! you Pretty Things" line about "a crack in the sky and a hand reaching down to me," and we all felt the weight together. Highline Ballroom had VIP booths positioned front and center, where privileged patrons could order food and drinks to watch the show. But by the opening riffs of the second encore song "Suffragette City," all bets were off. The former mods and roustabouts who had stayed put in the general admission standing room sidelines for most of the set had it; they rushed to the front of the stage. Strangers boogied with strangers, twirling each other and singing every word. But it was the moment when Mr. Visconti's daughter Jessica Lee Morgan sang vocals on "Lady Stardust," when we realized we would all be just fine.
Indeed, it was all right, the band was all together. And so we sang, all night long.