In some ways the red carpets at award shows can mirror the effect that fashion week has. It's a platform where the general public can witness clothing making its debut in the world and it allows a broad audience to aspire to emulate the looks that appear on the carpet, resulting in the creation of a trend.
At the 2016 Golden Globes, quite a few stars took chances with their looks. Cate Blanchett's fringed frock was worth the risk; Jane Fonda's overly ruffled look was overkill. Some played it safe and looked boring, while others, like Emmy Rossum, nailed the art of a simple dress.
Needless to say, a handful of trends emerged, including sparkles, capes and two dominant colors. Here are the most notable of the eve.
Caped Crusaders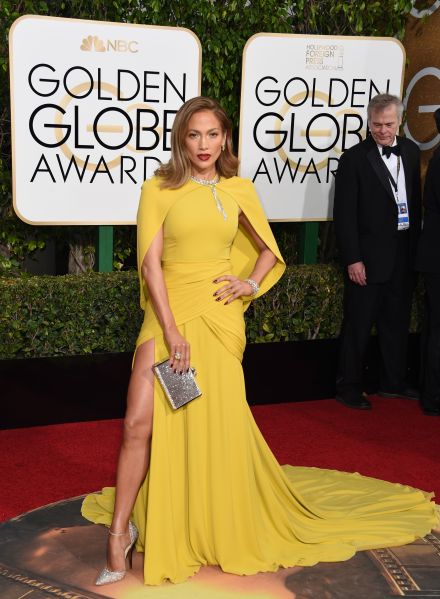 Blame it on Gwyneth Paltrow's white Tom Ford cape look from the 2012 Oscars, but the accessory favored by superheroes has been overwhelmingly adopted by Hollywood starlets. For example, Jennifer Lopez paired her mustard yellow Giambattista Valli caped frock with 200 carats of Harry Winston Diamonds.
Other ladies who caped included Jada Pinkett Smith in an emerald green Atelier Versace gown, Emilia Clarke in Valentino and Lily James in a pastel Marchesa gown, which may have been spun from sugar.
Then there was Cate Blanchett. Those who are unfamiliar with the design genius of Riccardo Tisci (which does extend far beyond his friendship with the Kardashian/West clan) might be scratching their heads at Ms. Blanchett's Givenchy frock. Yes, the whole look is busy–where long layers of fringe compete with sheer cutouts, intricate embroidery and a cape, all in a frosty pink hue–but this is an example where taking a chance pays off on the red carpet. Paired a slick swoop of a bob, Ms. Blanchett stood apart from the average Hollywood crowd, who tends to play it safe in the face of judgemental E! commentators.
Not-So-Basic Black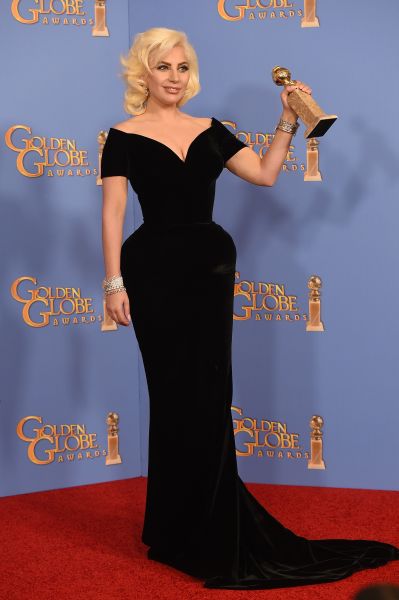 To take home the Globe for her performance in American Horror Story: Hotel, Lady Gaga channeled Marilyn Monroe, with not only her makeup and her peroxide blonde 'do, but her dress, too. This velvet Atelier Versace gown played up the singer's feminine silhouette, with padding at the hips that emphasized the starlet's hourglass shape and a sweetheart neckline that offered just a peek of cleavage. We have a feeling Ms. Monroe would approve.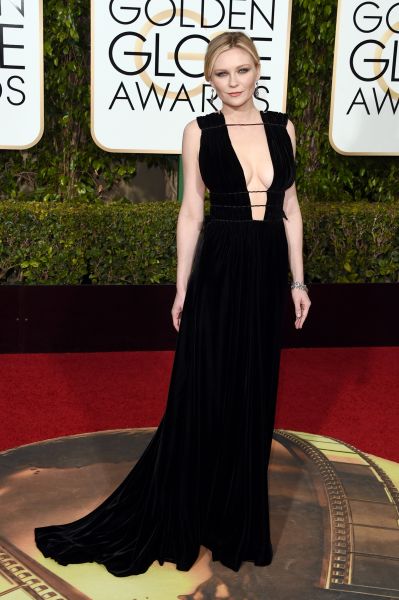 We also took a particular liking to Kirsten Dunst's Valentino Couture gown, which erred on the sexier side of things. A daring neckline is not the norm for this actress, so it was nice to see her step out of her comfort zone.
White Haute and Really Red


Two hues, which couldn't be more opposite, absolutely dominated last night. For some, white was the way to go and for others, it was all about rouge. Taraji P. Henson stole the show in her blanc Stella McCartney. Featuring a dramatic train, it was definitely ideal for her very first Golden Globe win. Fashion darling Alicia Vikander stole the hearts of the style set with her simple Louis Vuitton frock, with a ruffled front detail and all. Meanwhile, Laverne Cox was tastefully feminine, allowing her emerald earrings to pop against the white boatneck on her Elizabeth Kennedy gown.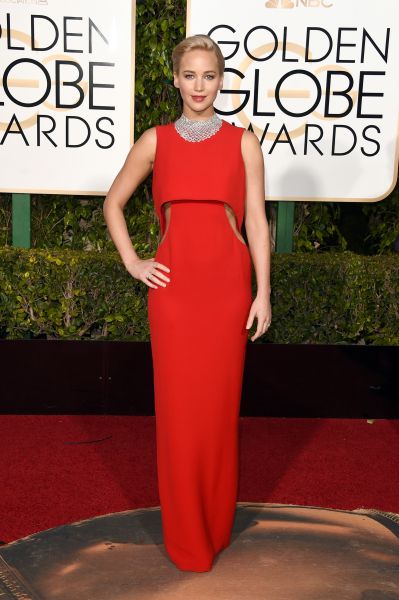 When dressed in Dior, it seems Jennifer Lawrence can do no wrong. Her red cutout dress, paired with an impressive Chopard diamond necklace (which boasted 156.77 carats of sparkle), proved that point yet again last night. The 2016 Globes were a double win for the best dressed actress who took home best performance in a comedy for her role in Joy.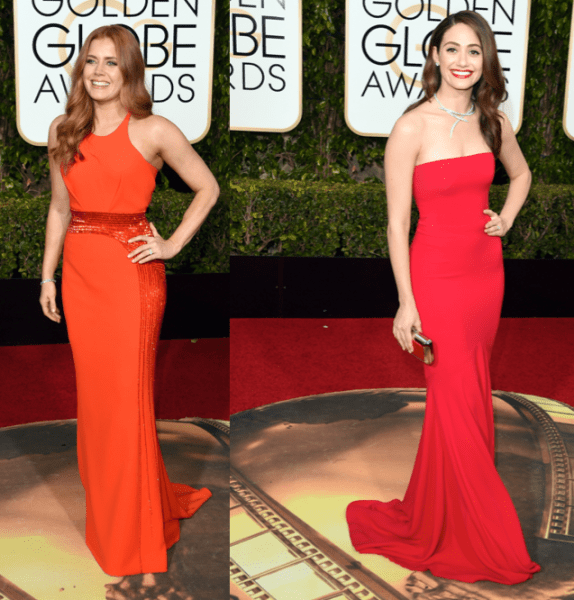 Other runner ups in the red category (in frocks that didn't clash with the carpet) were Emmy Rossum in a simple yet effective Amarni Privé strapless gown and Amy Adams in an orangey red racerback Atelier Versace number.
Super Sparkle
Proving that sparkles can shine long past New Years, many red carpet goers opted to layer on the sequins for the Globes. While some played up a masculine silhouette, à la Taylor Schilling in a Thakoon jumpsuit, others preferred to channel the '90s, like Kate Hudson, who bared her impressive abs in a Michael Kors Collection crop top and skirt. Bonus points to Ms. Hudson for really dedicating to the decade and even donning a choker.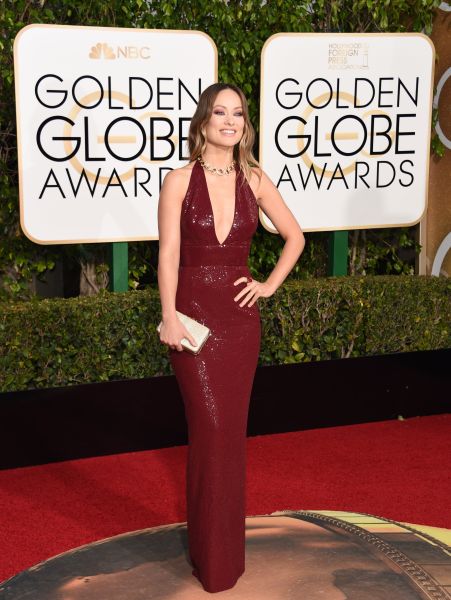 Also dressed in Michael Kors Collection was Olivia Wilde, whose low-cut dress also bared quite a bit of skin. The deep burgundy color of the frock played nicely with her rouge eyeshadow, which is quite a feat to pull off.
Julianne Moore looked stunning in a Tom Ford sparkler. Her navy long-sleeve dress could have been boring, but with a choker detail, a slimming silhouette and the inimitable Mr. Ford on her arm, it was anything but.
Channelling a glass of champagne (or perhaps the Golden Globe statue), there were two notable golden dresses that graced the carpet. Winner Brie Larson proved her sartorial potential in a Calvin Klein halter, with cutouts that bared her toned abs. And Rosie Huntington-Whiteley was a vision of near perfection in her Atelier Versace dress.
Finally, we'd be remiss not to mention Kate Bosworth, who turned into a pink human disco ball for the night. Despite that description, this strapless Dolce & Gabbana number came off as tasteful, rather than tacky.

The Big Ruffle

Both Rooney Mara and Amanda Peet were twinning in nude Alexander McQueen frocks, but with delicate ruffles and a romantic vibe, the similar outfits were far from drab.
One ruffle that missed the mark was found on Jane Fonda. The usually foxy dresser looked like a clam in her Yves Saint Laurent Couture number. Unfortunately we will have to place her on the Worst Dressed List this year.
Bring It In For The Boys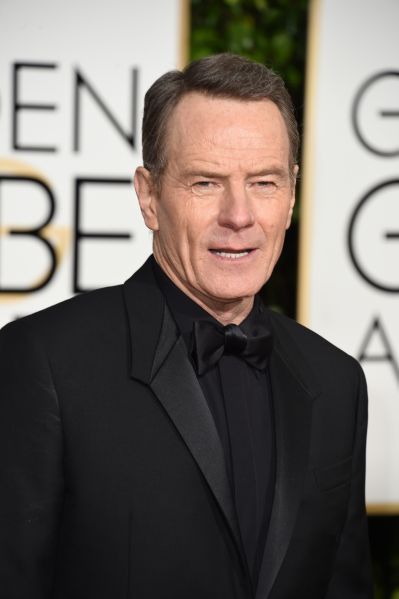 The hommes often get overlooked on red carpets, as tuxedos don't garner the same excitement as dresses do. But this year, there were a few standouts that captivated our attention. First, the lapel detail on Bryan Cranston's Givenchy tux was absolutely divine. When paired with a black on black shirt and bow tie combo, the whole outfit really worked.
Second, Sam Smith showed off his svelte frame in Dior Homme. Boys, take note, this is how a suit should fit.
And finally, Gerard Butler was a total vision in a navy detailed Salvatore Ferragamo. Bravo!