SpaceX has once again failed to land their upgraded Falcon 9 rocket on an autonomous drone ship this Sunday following the launch of the Jason-3 Satellite from Vandenberg Air Force Base. 200 miles off the coast of California, the rocket successfully hit its target but "came in hard" and broke one of its landing legs.
[protected-iframe id="c256cc459b95a627f95954047bfb8cd3-35584880-75321627″ info="//platform.twitter.com/widgets.js" class="twitter-tweet"]
The incredible feat of slowing down and sticking their inbound rocket travelling at about 5,000 MPH is no easy task. The attempt came less than a month after the Elon Musk-led space exploration company made history by returning the first stage booster of its Falcon 9 to Landing Zone 1 at Cape Canaveral in Florida—roughly 10 minutes after deploying ORBCOMM satellites in orbit.
The landing of the 14-story-tall rocket on Florida's space coast marked a turning point for the Hawthorne, California-based SpaceX as their vision is to ultimately make space exploration sustainable with reusable rocket technology.
"If one can figure out how to effectively reuse rockets just like airplanes, the cost of access to space will be reduced by as much as a factor of a hundred," said Musk who believes this innovation will one day enable humans to colonize Mars.
[protected-iframe id="3d5bf4d143074a96660c134d7b7fa98d-35584880-75321627″ info="//platform.twitter.com/widgets.js" class="twitter-tweet"]
The sea-based landing attempt was made a few hundred miles off-shore on the unmanned Just Read The Instructions drone ship that was named in honor of Scottish science fiction author Iain M. Banks.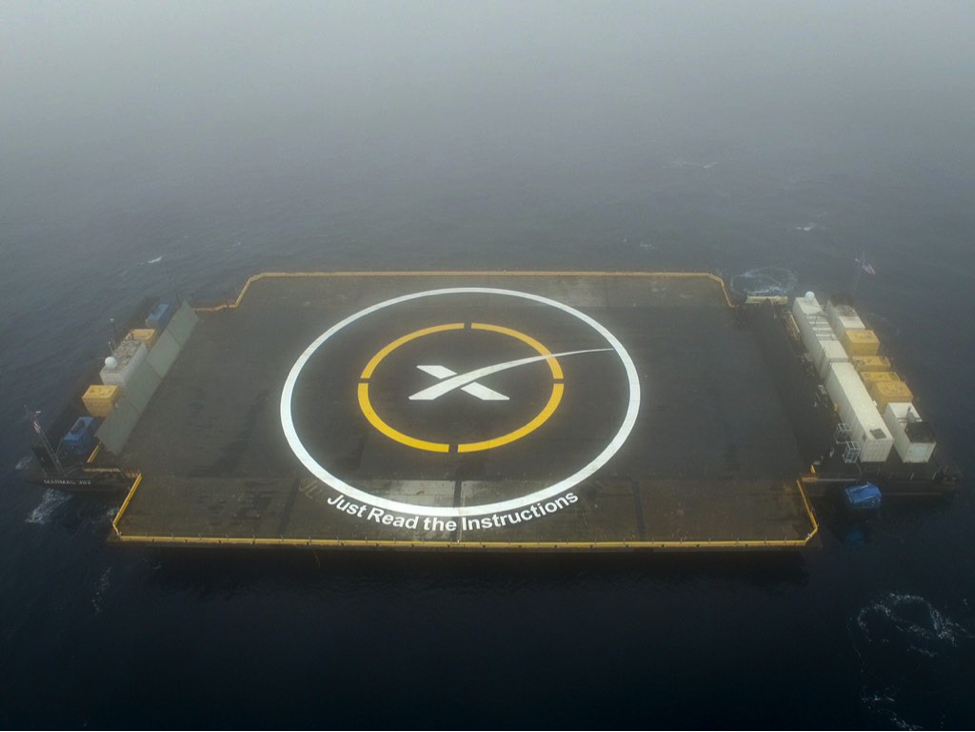 SpaceX has twice attempted to stick a landing on the drone ship off the Florida coast but failed each time. The first ambitious try was in January of 2015 during a resupply mission to the ISS where the Falcon 9 first stage booster ran out of the required hydraulic fuel needed to direct its descent—resulting in a fiery crash.
A few months later, the company tried again following the launch of another NASA-contracted resupply mission but that also resulted in an explosion when the rocket came in too hot and tipped over after touchdown.
A third attempt would have been made during cargo resupply mission 7 last June but the Falcon 9 exploded about 2 minutes into takeoff destroying it and the supplies bound for the International Space Station.
Landing a spent rocket at sea rather than land provides an increased safety margin and limited environmental impact.  As SpaceX pursues missions that would take the Falcon 9 and its successor the Falcon Heavy beyond low-Earth orbit, a drone ship would be critical in accompanying the high-velocity return speeds associated with deep space travel.
For this particular mission, attempting a landing on the ground at Vandenberg Air Force Base was not an option as SpaceX was denied approval citing environmental concerns. Also, the company doesn't yet have a designated landing zone near this launch site.
The Falcon 9 took the Jason-3 spacecraft into an orbit nearly 800 miles above the Earth's surface at about 17,000 MPH in a span of about 10 minutes before the rocket began its journey back home.
From low-Earth orbit, the Jason-satellite will map the floor of Earth's oceans in detail and gather topographical measurements to help provide scientists with data to track sea-level rises from man-made climate change that could affect coastal populations.
"Regarding the climate problem, it's now generally understood that we've entered into a new era, a new norm, marked by rapid and persistent changes to the entire whole-Earth system. But what may not be widely understood is the role of the ocean in this complex process," Said NOAA Program Scientist Laury Miller.
The joint mission between NASA and the National Oceanic and Atmospheric Administration will use the information gathered to also dramatically improve forecasting of weather systems and help increase the accuracy of marine navigation.
Robin Seemangal focuses on NASA and advocacy for space exploration. He was born and raised in Brooklyn, where he currently resides. Find him on Instagram for more space-related content: @not_gatsby