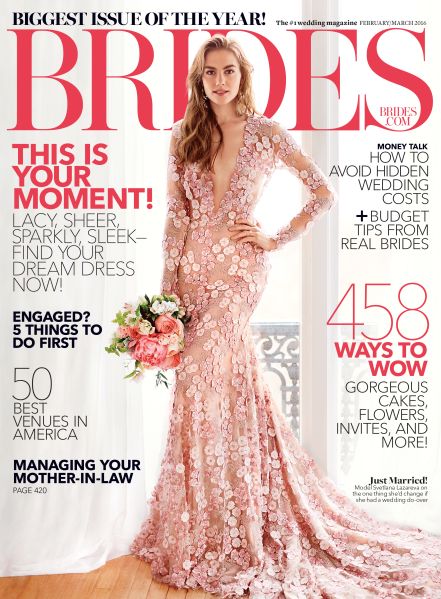 Brides, Condé Nast's bridal title, has found another way to cash in on the overwhelming wedding industry. A bride-to-be can now hire a Brides editor to help her figure out what to wear at her wedding. This move is the latest in media companies' ongoing quest to "reimagine the role of editorial" in order to turn a profit.
"Gone are the days where any editor wears just one hat," Brides editor in chief Keija Minor told Women's Wear Daily. "We're all exploring brand extensions and what it means to be an editor."
Apparently!
Of course, these editorial services don't come cheap—the base package costs $12,500.
What does that hefty price tag buy? Mostly time with an editor. The Bridal Style Package includes a "personalized bridal style consultation" with one of the magazine's editors at the magazine's office in the "iconic One World Trade Center," breakfast with the editor, a video chat before-hand with the editor, the opportunity to try on wedding dresses curated by the editor, and a gift bag of wedding-related stuff selected by the editor. Oh, and the bride-to-be gets to have the whole experience posted on the Brides Instagram feed.
The price of the dress, of course, is not included.
For even more money, the bride-to-be can get editorial advice on honeymoon destinations and bridal party outfits. Or she can go for the all-inclusive package for a cool $17,000.
While it's hard to imagine anyone spending that kind of cash to have breakfast with an editor, if any magazine can make it work, we'd bet on one that covers an industry that makes otherwise sane people pay crazy sums in the name of love.