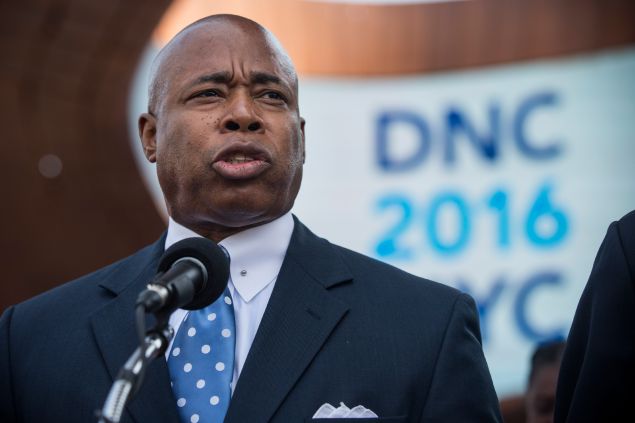 Brooklyn Borough President Eric Adams will be one of a handful of elected officials to attend President Barack Obama's "Guns in America" discussion with Anderson Cooper tonight on CNN.
The borough president's office said the television station invited him because of the experiences of his 22-year career with the NYPD, which he retired from with the rank of captain in 2006. In a statement, Mr. Adams drew parallels between mass shootings across the nation and firearm crime in his home borough—suggesting they share a common root.
"From Fort Hood to Fort Greene, Blacksburg to Bed-Stuy, San Bernadino to Sunset Park, unchecked gun violence is carving highways of death that have connected our nation in a sad and shameful way," he said.
The borough president said he hopes to raise issues he believes to be specific to Brooklyn at the 8 pm event at George Mason University in Fairfax, Va. He also voiced support for Mr. Obama's recent executive orders requiring universal background checks for all gun purchasers and licensing for all sellers, and criticized Republicans in the House of Representatives and Senate for opposing the unilateral actions.
"In the face of congressional gridlock and dangerous radicalized rhetoric, President Obama is pushing forward on this issue," Mr. Adams said. "As a former police officer, a current lawmaker, and most importantly a father, I am interested to learn our country's next steps forward in the face of this growing crisis."
The National Rifle Association, the country's largest Second Amendment rights lobby, has declined to participate in the event, where Mr. Obama is expected to explain and defend his edicts. But smaller firearms groups like the Gun Owners of America, as well as pro-gun-control organizations like the Brady Campaign to End Gun Violence, will attend.
Mr. Adams' office said he would also stop in Washington, D.C. to discuss the issue with Congresswoman Carolyn Maloney, a Manhattan Democrat, and Congressman Daniel Donovan, a Staten Island Republican—both of whom represent small portions of Brooklyn.