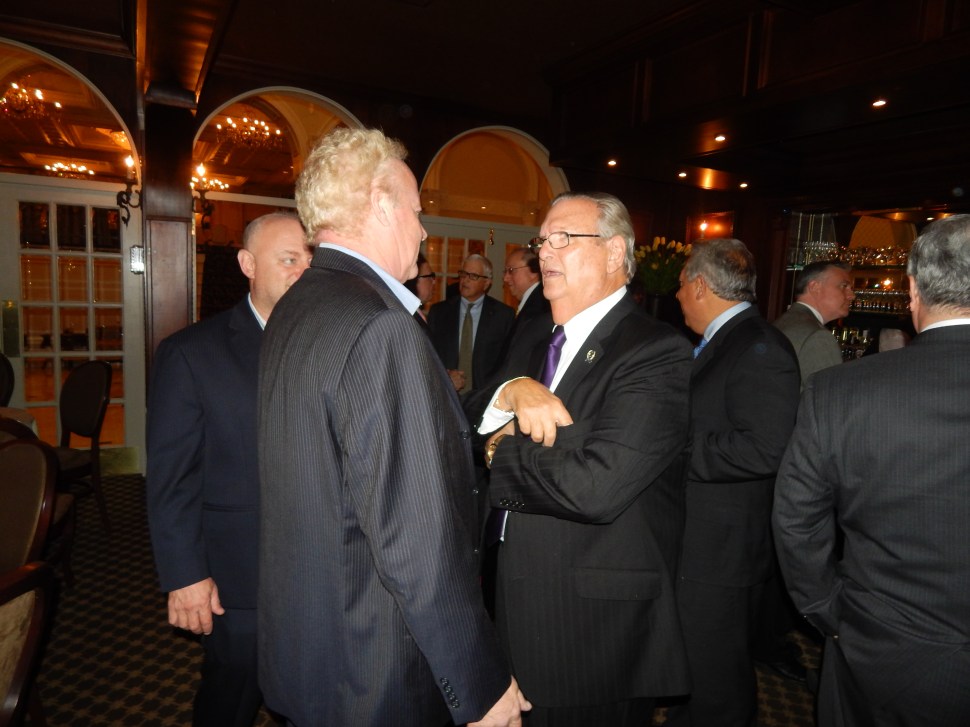 Long a leading proponent of North Jersey gaming, Assemblyman Ralph Caputo (D-28), chair of the Assembly Gaming Committee, senses a victory close at hand, but also sees the issue complicated late in the game by the burgeoning drama of the 2017 gubernatorial contest.
There are two competing gaming bills up for consideration by the legislature, one backed by Senate President Steve Sweeney (D-3) and a second supported by Assembly Speaker Vincent Prieto (D-32). Each aims to frame a statewide ballot question for 2016 general election voters.
Caputo penned an Asbury Park Press editorial yesterday diving into the details. A former casinos marketing executive from 1980 to 2002, Caputo favors the assembly version of the bill, which he argues has a more obvious free market component.
"It's more acceptable and easier to sell because we're not playing an inside game," Caputo told PolitickerNJ. "Sweeney's bill contains exclusive licensing; the only people who can build them are existing operators. Prieto's bill, which reserves one for Atlantic City and one for the open market. This should not be about the companies.
"And," he added, "it shouldn't be about who's running for governor."
Does he believe lawmakers can get beyond the squabble between 2017 gubernatorial contenders Sweeney and Jersey City Mayor Steven Fulop, who backs Prieto's bill?
They have until January 11th to reach a compromise. After that, a new session begins and they would have to start all over again.
"I hope so," said Caputo. "There is always time for that [future gubernatorial jousting].Everybody can be a winner here. We need the senate president and speaker to come together on this. We're getting emotional on this and it's not productive."
Caputo said Fulop's presence on a conference call on the subject was appropriate, given the potential Jersey City has to be one of two northern sites for a casino. He said there were ten people on the call, including numerous other stakeholders. "As soon as they heard Fulop was on the call all hell broke loose," said the assemblyman. "I think Steve Sweeney is well-intentioned. I respect him… but we're at the finish line on this."
In its prime, Atlantic City generated around $5.6 billion; eight percent of which went to the state in taxable revenue (around $400 million).
Half of that money is gone now, as the shuttering of casinos in Atlantic City over the past few years deprived New Jersey of over $200 million annually in revenue.
Caputo has long talked about the need for the city to diversify its entertainment offerings, transitioning from straight gaming to a mix of delights, including family-geared destination opportunities.
"You had a neglect by government and corporations; they didn't do the right thing and overspent in municipal government," he said of the build up to the present. "There are other industries – other industries to attract people. The fact is these customers are going other places and we've got to get them back here. We're losing millions of dollars in taxable revenue."
Now the chest-thumping between two statewide forces threatens to topple the referendum question on casinos that Caputo long labored to make manifest.
"Because Fulop was on that conference call, Steve [Sweeney] got very upset," said the assemblyman. "But Fulop wasn't talking as a gubernatorial candidate; he was talking as the mayor of a city. I think he has a right to talk about it. I think it was an overreaction [by Sweeney]."
It need not scuttle the effort here in the 11th hour, he insisted.
"If we don't get this done, everybody loses," Caputo said. "Whichever of the two bills gets done, Steve Sweeney can claim victory – even if it's our bill. He wants to protect his base and he also wants to create a statewide vision. Let's not forget that he fought this forever. The fact that he's turned around should be acknowledged. Why stop this from success?"