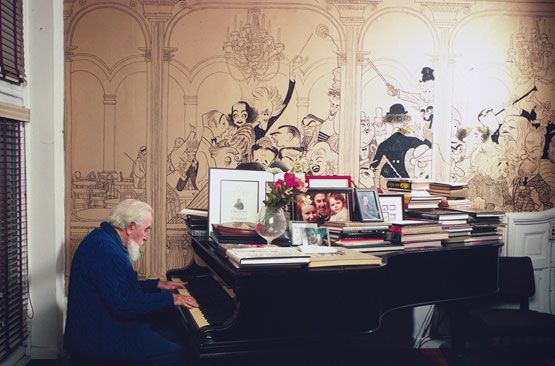 It's not often that one finds a pink townhouse in the rather conformist confines of the Upper East Side, but it's even rarer to locate one complete with an original, eight-food mural by cartoonist Al Hirschfeld.
The Carnegie Hill townhome where the legendary caricaturist Al Hirschfeld lived and worked has gone into contract, just a few months after the listing with Sotheby's broker Serena Boardman hit the market, last asking $8.75 million.
Hirschfeld, whose work includes images of Bob Dylan, Mick Jagger, the Beatles, Bob Dylan, Mick Jagger, Elvis and other culturati, passed away in 2003. Eight years later, in 2011 Paul and Denise Lachman purchased his 20-foot-wide townhouse for $5.3 million. The Lachmans did quite a nice renovation on the five-bedroom, five-bathroom spread, which has 11-foot ceilings, multiple fireplaces, a deck, terrace, and a garden. They may have gotten just a bit ahead of themselves, since they had originally listed the 4,160-square-foot home for $9.2 million earlier this year with Massey Knakal, before realizing they might be overreaching just a tad. Charming though Hirschfeld's work is, its presence in the home might not quite translate to a multi-million dollar premium.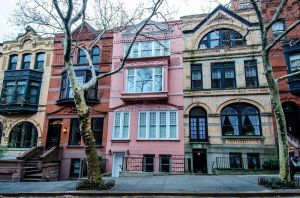 Which may have been hard to for the Lachmans to fathom—who seemed to have adored not only Hirshfeld, but also his pink house, which they snatched up just weeks after it went on the market, opting to keep the two most distinctive features of 122 East 95th Street. Not only the very pink exterior remains in place to this day, but more significantly, an eight-foot-tall mural painted by the iconic caricaturist remains perfectly intact.
The fifty-year-old restored mural is on the living room wall, and features stars including Frank Sinatra, Marilyn Monroe, Charlie Chaplin, and the Marx Brothers, just to name a few. While Hirschfeld's studio, which was on the fourth floor, seems to have been repurposed, who needs paint- and ink-splattered floorboard when you have a massive mural? Hopefully, the new owners will have the same love of pink (Valentine's Day is approaching…imagine the possibilities!) and the cartoonist's work as the Lachmans.