Detective Stabler is retiring… his New York condo.
Former Law and Order: SVU star Christopher Meloni has officially parted ways with his condo at 230 West 56th Street, though he faced quite a few challenges in his attempts to offload the place—the saga ended up being almost as long and twisted as a binge-watching marathon of Law & Order: SVU.
Like any good celebrity apartment, the 2,977-square-foot condo was featured in Architectural Digest after the Melonis moved in and completed renovations that involved adding a custom kitchen and tearing down walls so that every room could have a view.
After Mr. Meloni decided to break all of our hearts and abandon his role as Detective Stabler, he made a permanent move out to Los Angeles with his wife, Sherman, and their two children. He put the four-bedroom, 4.5-bath condo on the market and attached a hefty $12 million price tag, even going so far as offering to throw in a Porsche Panamera Hybrid at no added charge.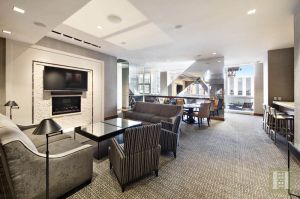 Sadly for Mr. Meloni, the Porsche didn't quite do the trick, but a somewhat significant price cut did—it was most recently listed for $8.95 million with Halstead broker Brian Lewis.
The new owners paid $8.15 million, and it looks like they didn't get any type of luxury vehicle included in the deal, though Mr. Meloni still did pretty well for himself—he paid just $5.45 million for the place in 2005.
"[Mr. Meloni] gave me free reign to…leverage his name," Mr. Lewis told the Observer when the apartment went into contract in September. Perhaps the buyers, David Sepiachvili and Natalia Sapir Antonni, happen to be big SVU fans, though they might still face some competition from Taylor Swift, who named her cat Olivia after Mariska Hargitay's character on the show. But who knows, maybe Mr. Sepiachvili and Ms. Antonni have a pet named Elliot!