Intrigue amid the casinos mess upsurged at the Monmouth County Democrats' dinner-dance on Friday night, and a certain mustachioed chairman from Hudson County found himself in the center of the morass.
More than 500 people attended the Dems' Hall of Fame Awards at the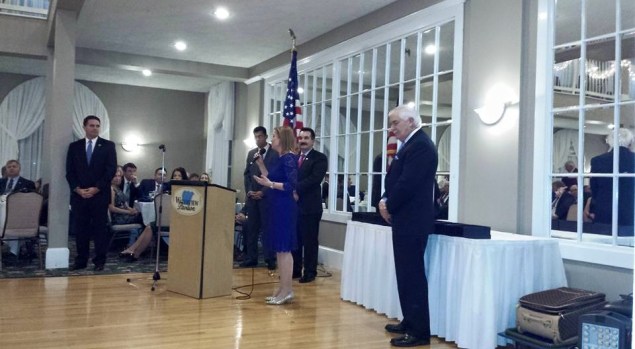 Waterview Pavillion in Belmar
on Friday
night. The sold-out event had attendees sitting on the second floor of the crowded venue. Among those in attendance included four out of the five potential Democratic gubernatorial hopefuls – Assemblyman John Wisniewski (D-19), Senator Ray Lesniak (D-20), Jersey City Mayor Steven Fulop and Former US Ambassador Phil Murphy. Only Senate President Steve Sweeney (D-3) –
locked in a statdewide sumo wrestling match with Assembly Speaker Vincent Prieto (D-32)
– didn't attend the event.
Prieto was there, the center of attention, in fact, as he went table-to-table with LD11 Assemblymembers-Elect Eric Houghtaling and Joann Downey (pictured on the floor, above). Given his much chronicled war with Sweeney these past few days, buzz inevitably accompanied Prieto as he made the rounds. Would South Jersey Democrats combine with Middlesex Dems and Assembly Republicans to dethrone the speaker as payback for his opposition to Sweeney's casinos bill? For a while, labor-connected Democrats have hinted that the south may at some point attempt to make a move to oust Prieto with Assemblyman Wayne DeAngelo (D-14), but it was unclear whether that time is now. Prieto's set to get sworn in next week to another two year term to occupy the speaker's throne.
Other guests at the event included Assemblyman Raj Mukherji, Essex County Freeholder Brendan Gill, Jersey City Democratic Chairman Sean Sully Thomas and Middlesex County Freeholder Ken Armwood.
Dozens of other local mayors and councilmembers joined as County Democratic Chairman Vin Gopal introduced their Freeholder candidate in his hometown, Belmar Mayor Matt Doherty, who is set to kickoff his campaign on Thursday.