Oh, this is going to be a doozy, you betcha! In preparation for the Manhattan Vintage Clothing Show on Feb 5 and 6, New York-based photographer/stylist/model Laura Okita has launched a curated online preview sale of clothes based on the second season of FX's show, Fargo. Called "New York, 1979" (which seems like it also might double as costumes for HBO's upcoming Vinyl), the collection features model Lucy Ageeva modeling yellow textured rompers, a Wahls' checked wool knit coat and pant set w/ curly wool collar and cuffs and a $250 accordion pleated graphic jump suit with a $110 Lurax ribbed purple knit top. (That last item, unfortunately, has already sold.)
Ms. Okita answered our questions about the collection via email.
Observer: How were you approached to do this collection?
Okita: I have been going to the Manhattan Vintage Show for about six years. I am a vintage-inspired blogger and photographer and so we became acquaintances through Instagram. The show contacted me at the end of last year for a collaboration for their upcoming show in February.
Observer: Have you been a fan of Fargo the TV show? What were your first impressions about the style of the show?
Okita: My interest in the series started with season one, which is set in 2006. The story is so captivating. I think what first grabbed my attention is that you can't try to guess what will happen to make the best plot. It's all true and you never know what people are really going to do. Paired along with a great music score and cinematography, it was already one of my favorites. I binge-watched the whole first season in one weekend. If I thought it couldn't get any better, Season 2 is set in 1979. Vintage! The fashion, hair and makeup are so well done. It makes you want to be in the late '70s. I was born in the early '80s, so the set and cars remind me of growing up. I suppose it's very nostalgic. I found my self buying more pieces from that era for blog and Instagram shoots. I had always focused on the '20s – '40s when blogging, but the series really inspired me to expand into more '70s.
Observer: What were some of the best ensembles on the show?
Okita: I am obsessed with the pink shirt and culotte set Kirsten Dunst wears at the beginning of the season paired with the pink glasses and barrette.


I actually paused the on demand to take a picture of the screen with my phone. The Gerhardt mother always looks really elegant, especially at the end of the season in the gorgeous red turtleneck and coat. Men's fashion tends to be overlooked, but not with this show. Mike Milligan wore a great purple suit that I can't forget and I love the bolero tie. My favorite character's wardrobe is the Gerhardt daughter, fun and playful and her hair was always fantastic. Most of all I loved all the blue eye shadow.
Observer: Can you give examples of some of your pieces and how they fit with the show's aesthetic; or the story behind them?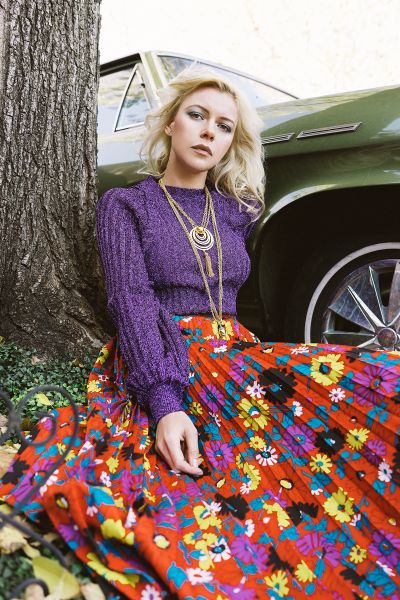 Okita: If you've seen the show, you know that the female characters are all very strong and dressed very well. I usually shoot a lot of dresses, but I felt these women would have worn powerful and unique pieces. I think Peggy would have looked great in the blue pantsuit with a scarf and some boots. The model (Lucy Ageeva) and I were in love with that piece. We almost fought over seeing if we could call dibs on it. The two halter top jumpers would be perfect for the daughter, editorial yet flirtatious. The checkered pant and jacket was just too striking not to shoot. They have that Western-inspired '70s feeling with the shearling collar. It felt to me like they could be worn by a female member of Mike's crew. I'm really into metallic fabrics and details, so the purple top and chiffon dress with attached neck scarf were musts to include in the collection.
Observer: Why is Manhattan Vintage a notable event?
Okita: Manhattan Vintage is the largest vintage clothing show that I have ever been to. It has everything from Victorian to '90s rock T-shirts, kimonos, designer, sewing supplies and jewelry. I have spotted more than a few designers looking for inspiration at the show, but it's for everyone: vintage collectors, stylists, editors, tourists or just if you are looking for a fun new piece to change up your wardrobe. There is so much to look at that for me its just a very inspiring experience. I am one of those who waits outside for the doors to open so I can run in like its Black Friday! All of the vendors are so sweet and I love seeing everyone every year.
The Manhattan Vintage Clothing Show will be at the Metropolitan Pavilion (125 W. 18th Street) on February 5 from 1-8 and February 6 from 11-6. The Manhattan Vintage Clothing Show is the ultimate vintage showcase, featuring New York's greatest collection of vintage clothing and antique textiles and bringing together over 90 of the country's top dealers under one roof. Tickets are $20 at the door and $15 online here.