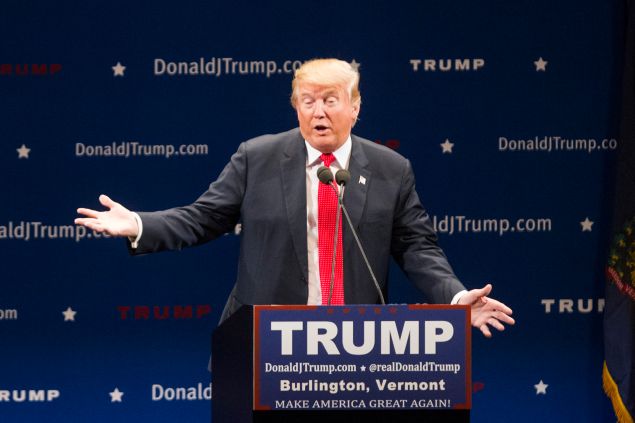 A few days after slamming Donald Trump as an "entertainer-in-chief," Gov. Chris Christie of New Jersey said tonight he still liked the Republican billionaire on a "personal level" and maintained he wasn't a "bigot."
"Donald and I have been friends for years. I know him and I like him on a personal level," Mr. Christie said during a Manhattan interview with Rabbi Shmuley Boteach, a public speaker and author who has a close relationship with the New Jersey Republican.
Mr. Boteach, who is also a contributor to the Observer, asked Mr. Christie if the bombastic Mr. Trump, who has enraged Latinos and Muslims for his calls to severely restrict immigration, had stolen his thunder.
"He's not me … I'm not running for president because I think he could be me," Mr. Christie replied.
Mr. Trump, leading the Republican presidential field in the national polls, tore into Mr. Christie and the New Hampshire newspaper which endorsed him late last year, gleefully pointing out the New Jersey credit downgrades that have occurred during Mr. Christie's tenure.
Mr. Trump also lambasted Mr. Christie over the ongoing Bridgegate scandal, which has led to former top gubernatorial aides facing federal indictments. "You are with your cabinet. You're with them all the time. They're closing the biggest bridge in the United States," Mr. Trump said. "The most traveled on bridge … in the United States. You're doing that, and you're not telling the governor. And you're with him all the time. … No, you're having lunch and you don't happen to bring it up."
Along with the deterioration of his state's finances, Mr. Christie saw his star dim after the scandal, but he has experienced a resurgence in the polls of late. Mr. Christie is hoping to revive his candidacy with a surprise win in New Hampshire, the second state to vote after Iowa in February. Mr. Trump is also looking prove his poll-driven support is real with a strong showing the state.
Disclosure: Donald Trump is the father-in-law of Jared Kushner, the owner of Observer Media.