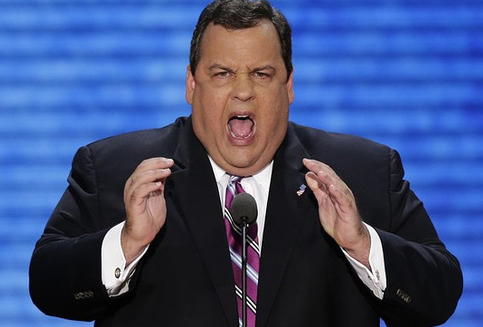 Last January, Christie used his annual N.J. State of the State address to go national, launching his bid for the White House. This week, on the road in Manchester, New Hampshire, he's going one step further: he will tweet in his State of the State Address to the crowd at the Trenton War Memorial.
Christie, who has been endorsed by the New Hampshire Union Leader, will be in Manchester for three events Tuesday, January 12, says that he sees '…nothing wrong with texting in the State of the State. "Sweeney and Prieto should just get over it, even though their panties are all in a snit". He's is scheduled to begin tweeting 3pm on Tuesday to the State Assembly, State Senate and previous governors in attendance at the Trenton War Memorial.
The New Jersey Constitution requires the governor (under Article V Section I Paragraph 12)":  "The Governor shall communicate to the Legislature, by message at the opening of each regular session and at such other times as he may deem necessary, the condition of the State….".
"Democrats need to get back to working for the people of the state of New Jersey by cutting taxes and creating jobs, and not worry about where I am texting from. The Constitution says that 'the governor shall communicate….by message….'and that's exactly what I will be doing, all in 140 characters," texted Christie, right after an event at a high school in Nashua.
So far, Christie has spent more than 45 percent of his second term, which began in 2014, outside of New Jersey. Senate Republicans jumped to defend the governor: "He does drop by from time to time to see what state the state is in," said Senate Minority Leader Tom Kean, mentioned as a possible gubernatorial candidate in 2017. "…and he's stays in touch always on Facebook with 'likes' and 'status updates'."
"I spoke to the governor personally this morning, and he assured me he's going to tour the state extensively prior to the New Jersey Primary on June 7th—and that he'd be here all week after Memorial Day," added Assembly Minority Leader Jon Bramnick, also being mentioned as a possible GOP gubernatorial candidate for 2017.
The governor has a hashtag (the pound or # symbol on your smartphone) for the State of the State tweet: #GOPChristieSOS.
"I'd certainly like to see the the governor get #'d," joked Senate Majority Leader Loretta Weinberg. "But there is certainly some benefit to having him out of New Jersey."