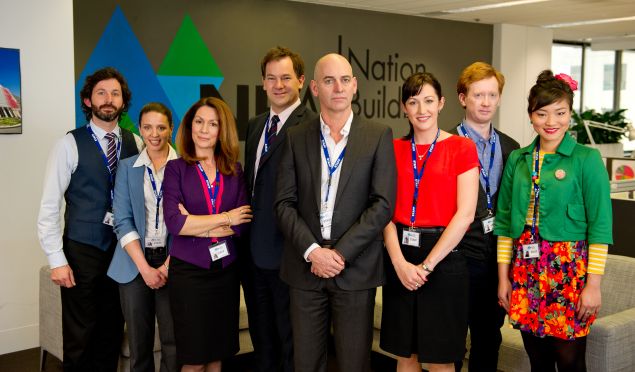 Thanks to Netflix, you need only click once to visit Oz. In December the streaming service launched Dreamland, a hit series from Australian production company Working Dog, giving many Americans their first real peek at entertainment from Down Under. Cofounded by Tom Gleisner, Rob Sitch, and Santo Cilauro, Working Dog has been responsible for thirty years of celebrated programming at home – including Australia's versions of SNL and The Daily Show – but Dreamland's new exposure abroad is a rare and thrilling opportunity for cultural crossover.
"It's exciting for us," says Gleisner (credited as co-creator/producer/writer/director on the show along with Sitch and Cilauro). "We've got a good reputation in Australia for the wide variety of projects we've done over the years. But we've always stuck a goal beyond. There are parts of the world out there, such as the U.S., where big, discerning audiences can appreciate a show like Dreamland. Television has always been a bit local, but with services like Netflix the geographic boundaries are starting to come down. You can watch anything from just about anywhere in the world, if you're willing to be a little adventurous."
The best adventures begin with laughter. A workplace satire in the vein of The Office and Parks and Recreation, Dreamland follows the employees of the fictional government agency Nation Building Authority (NBA) as they attempt to solve Australia's infrastructure problems. Team leaders Tony (Rob Sitch) and Nat (Celia Pacquola) are the sole sane individuals among a circus of lovably inept workers. While they struggle to make a difference, the entire office gets waylaid by bureaucratic farce, malfunctioning equipment, and the latest media craze pushed by publicist Rhonda (Kitty Flanagan) and government liaison Jim (Anthony "Lehmo" Lehmann).
"The office and the home are the two greatest staples for situation comedy," Gleisner notes. "We love office politics and watching governments dream up big schemes. That's universal; it's not unique to Australia. Every country has grand visions for new tunnels and roads and ports that invariably come unstuck. The bigger theme of each episode comes from just reading the newspapers… but we find the daily frustrations a greater source of comedy – something as silly as not being able to use the meeting room because you forgot to book it yesterday and if you don't book it you're not allowed to use it. The annoyances we identify, whether just not being able to get Wi-fi or the photocopier breaking down, resonate with people. It's cathartic to share [those feelings]."
But Dreamland's appeal goes beyond catharsis. It's easy to call political satire "smart comedy," but as Gleisner explains, Americans will find much to appreciate in watching the show. Here's a few core lessons we can learn from international streaming:
Viewers should pay more attention.
Often described as "percussive," Dreamland is remarkable for moving at a rapid-fire pace, underscored by catchy rhythms and filled to the brim with subtle observations about office life. Its expeditious speed is reflected in the production shooting schedule, which lasts merely two days per episode.
"That's the only way we can do it in terms of budget and getting people together," Gleisner reports. "We've got to jump from scene to scene and we're very diligent with our scripts because we don't have much time to indulge [improvisation]. We have to nail it within three or four takes."
Is faster TV more sophisticated TV? Judging by Dreamland's penchant for throwaway references that pay off beautifully twenty minutes later, the answer is yes.
The series "demands a little more of its audience," according to Gleisner: "You have to lean in and concentrate to watch. If you look away for more than thirty seconds, you're going to miss some sort of significant development."
Lack of romantic plot tumors makes a series healthy.
However, there's one development missing. Unlike most American office comedies, Dreamland doesn't dig into its characters' romantic lives – and it's all the better for it. Without the unwieldy melodrama of a Jim-and-Pam-style subplot weighing them down, viewers can appreciate the larger questions of the satire at hand.
"A romance would be surplus to our requirements," says Gleisner. "We've only got half an hour and we're dealing with fairly large themes and billion-dollar projects going awry. That's where it becomes fascinating, when politics take precedence over good policy. That's the sort of idea we love looking at and dissecting."
Many storylines examine "white elephants," proposals that get good publicity but fail disastrously in the long run; high-speed trains, airports for isolated areas, and community spaces that become luxury complexes are all featured in episodes. Other plots further expose the ridiculousness of how government decisions are made.
Gleisner confirms that his team draws much inspiration from real life: "In my favorite episode ['A Fresh Start'] they're trying to get a swimming pool built in a small town. That came straight from Santo's own experience. He's heavily involved in Aboriginal welfare and visits remote communities in Australia. There was a northern community where the kids needed a basketball court, but because it was a relatively small amount of money they were seeking from the government, they couldn't get it. No one was interested in giving them $200,000 because that just wasn't going to make a splash. Someone jokingly said, 'We should be asking for $200,000,000!' And it turned out that by upping the ask they were actually able to get this massive grant. The beautiful absurdity of that instantly works for us."
 For best results, send in the clowns.
If you're dealing in absurdity, you need to have the right crew. Gleisner proudly admits that nearly every Dreamland cast member has a standup comedy background.
"Standups are great actors. They understand timing better than anyone and they don't need you to hold their hand; they just get the jokes [instinctively]. Often in the classic acting world you'll hand out a script to a bunch of people and you'll see them flicking through just looking for their own name, mentally tallying up the number of pages they've got. Whereas people who come from a writing and comic background want to know [everything]. They'll laugh just as loudly at a scene that doesn't involve them as one that does."
As host of the news-comedy quiz show Have You Been Paying Attention?, where Dreamland alumnae often appear as guest panelists, Gleisner is more familiar than most with the versatility of Australian standups. But now Americans have their chance to marvel at Oceania's wealth of comic talent. (It may surprise some people to learn that Dreamland's boisterous character Jim is the first major acting role for Lehmo, well-known as a radio host in his native country.) Why shouldn't we admire Celia Pacquola and Kitty Flanagan as we do Tina Fey and Amy Poehler?
The rich possibilities of international streaming are only starting to materialize for American viewers, but with Gleisner and Working Dog set to produce a third season of Dreamland and in development on one of Australia's first primetime animated series, it's clear that we're entering a new world. So if you're ready for smarter comedy, don't be afraid to click. Just keep your eyes on the yellow brick road.