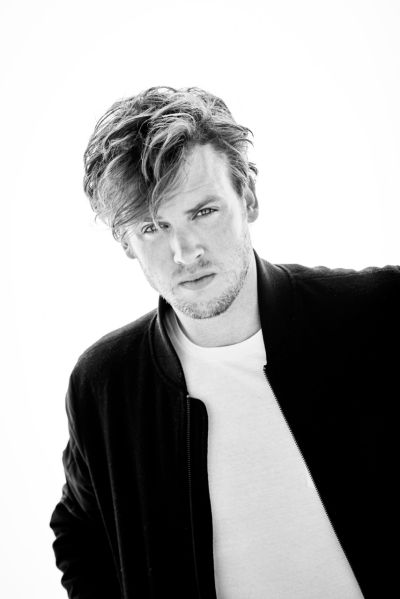 In the era of the anti-hero and unlikable protagonists, the lead of Cooper Barrett's Guide to Surviving Life–Fox's new mouthful of a single-camera comedy that premiered January 3rd–is striking as a classic throwback to the conventional, good-looking (and well-meaning) leading man. As the titular Cooper Barrett, Jack Cutmore-Scott is the embodiment of the affable rogue; the lantern-jawed embodiment of Peter Pan in a post-graduate haze. Cooper Barrett (and by extension, the show) has been compared to the classic "bro": a term that the show seemingly leans into, casting Justin Bartha of The Hangover series as Cooper's older brother. In actuality, it's almost refreshing to have a character present us with as little hurdles as possibles to relate…Cooper is more Jim from The Office than Chris Greere's caustic snob Jimmy on You're the Worst or the sociopaths on It's Always Sunny in Philadelphia.
So color us surprised in learning that the latest incarnation of the All-American boy is played by British actor Jack Cutmore-Scott, the latest of a long line of pond-jumping transplants whose flawless accent is a trivia question waiting to be asked. (Other answers include: Hugh Laurie, Damian Lewis, Charlie Hunnam, Andrew Lincoln, Carey Mulligan, recent Observer cover star Tim Roth, Ruth Wilson, and 90 percent of The Wire.) We spoke to Mr. Cutmore-Scott about his efforts in creating an effortless character in this post-John Hughes comedy landscape.
[youtube https://www.youtube.com/watch?v=mWHgO5jMSBY?list=PLXd9aCB0yKuik0LuOYC7xgneB7o6IKfUv]
Observer: This is your first time working on a green-lit television show. What are some of the differences between working in films and working on TV?
Jack Cutmore-Scott: I guess the schedule would be the biggest thing. There are very long days: we're shooting another episode in five days, and it's really like shooting an action movie in a small amount of time.
Observer: How is it working with a single-camera format? Is it a "take after take" thing, or is there more freedom to try different styles?
JCS: It's a little bit of both, actually. I'm lucky to be working with incredibly talented comedic actors, so we all get to play quite a lot. The production and directors are really great: we get everything on the script, because the writers are fantastic, and they have really figured out to write for our characters, but we also get to play a little bit; to improvise. So the stuff you'll see is a nice blend.
Observer: As Cooper, you come across as the quintessential all-American boy, so it was surprising to learn you're actually British. Was it hard to nail down the accent?
JCS: Not at all. I've been in the states almost ten years now, so it's really become a thing of: if you want to work in the states as an actor, you need to be able to switch back and forth, otherwise it really limits your opportunities. I didn't want to sit and wait around for your token Brit role. You've got to get (the accent) under your belt if you want as many options as possible.
Observer: Fox picked up the show for more episodes even before the premiere. Did you have any sense that was going to happen while filming Cooper?
JCS: It was actually quite a pleasant surprise. Like you said, all this (TV) is  fairly new to me, so I didn't know it was a fairly unusual thing to have happen until someone told me. It was incredibly nice, because shooting the show, we don't get to see episodes until long after the studio and network have seen them and passed judgement. So it was very reaffirming to us that they liked what they saw so much that they had the confidence to order new episodes. It really gave us a bolstered confidence to keep doing what we're doing; that we were on the right track.
Observer: This show is all about the experience of being in your early 20s in America. Were you able to relate to that experience, or is an equivalent "young and adrift" phenomenon in Britain?
JCS: I spent all my college days and post-college days in the US, so I definitely empathized with his Cooper's predicament and what that was like. When I graduated, I hadn't made the decision to be an actor– by no means had this been a lifelong plan–and I just took it and ran with it….am running with it, as long as someone will let me.
I definitely related to that thing of not knowing where your life is going, when everyone else seems to have this agenda, and feeling like you're missing a trick somewhere. Like someone didn't tell you that you were supposed to have everything planned out, which is really what the show is about: the fact that most people don't have it figured it out, and we're all riding by the seat of our pants, a little bit. Somewhere along the way, we figure it out, maybe. Cooper really embodies that excitement and fear and uncertainty.
Observer: Every week, Cooper teaches audience a new "lesson" about young adulthood. Could you relate to what he was going through?
JCS: The thing about the show is that every episode is born from a problem or issue that we can all sympathize with. So the pilot is that friend who just causes trouble, and you can't always take him nice places because he's going to steal something. Other episodes deal with issues like insufficient funds and parents coming to visit unexpectedly. Dating is one of the most interesting ones we've shot. But from these kernels, things start to escalate out of control. Through a magical combination of bad luck and poor decisions, Cooper and his friends find themselves going from relatable situations to these insane positions.
Observer: One of the biggest attributes of young adulthood right now is having a social media profile. Do you use Twitter?
JCS: That was a new world for me, definitely. I've created a Twitter and Instagram account for the show. It's not something I've had a history in, but I know a lot of people who have been successful at it. My roommate is Megan Amram, who is really prolific. We went to college together, and she really nailed it; she just has the perfect voice. So I'm learning from her all I can.
Observer: Did you watch any films or shows to prepare for the role?
JCS: I actually watched Ferris Bueller's Day Off the night before the audition. So that was a lot of my inspiration for Cooper. This guy who has a lot of scrapes and mishaps, but always comes out at least relatively unscathed. I really wanted to have that energy of "Things aren't going right in the moment, but I THINK things are going to go okay….we're going to figure it out."