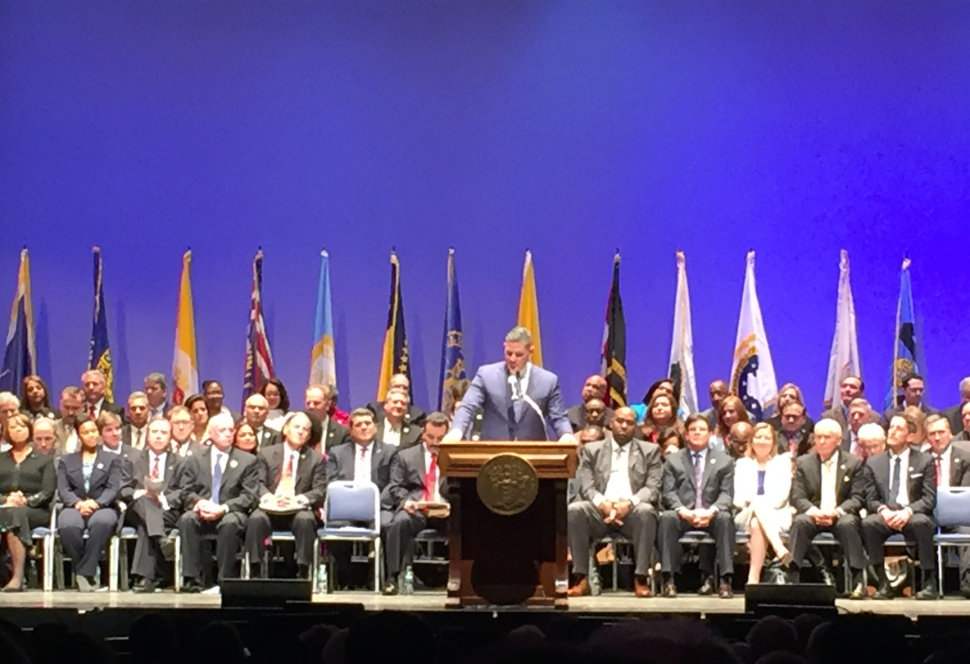 Last week in Jersey politics was so frenetic and melodramatic, it almost felt like Trenton was staging a three-act opera. The 216th General Assembly signed off and the 217th was sworn in as Trenton crackled with anticipation about new committee assignments! To top it off, harbingers of upcoming elections.
*Act 1*
Scene: On the Ballot.
At first I thought my mobile phone was vibrating in my pocket. Then i realized it was my trembling wallet. 
NJ Senate President Steve Sweeney hit the road to sell New Jersey taxpayers on (yet) another costly constitutional referendum. First there was a redistricting plan that violates the fair-play sensibilities of anyone not blinded by partisanship. Next came Sweeney's pitch to expand casino gambling beyond Atlantic City (while constitutionally earmarking a huge chunk of new casino profits back to subsidize Atlantic City's recovery.) Never mind the mathematics which suggest an over-saturated regional gambling market, the only math Steve Sweeney cares about is [50%+1] on a ballot question to yolk NJ taxpayers for generations.
   Now Sweeney wants to constitutionally require the rest of us foot the bill for pension contracts that were negotiated in the worst interests of NJ residents. Unfortunately, New Jersey can't afford to keep the promises our leaders make in bad faith. Spare a thought for rank-and-file union types who were sold a bill of goods by their leaders. Those men and women are victims and will probably be screwed in the end and that really sucks for them. But who's screwed even worse? NJ tax payers who'd be constitutionally obliged to fulfill pension obligations negotiated by politicians and Union leaders. Who stood for the taxpayers during these fantasyland pension negotiations? Answer: no one. And that's why it's insulting to tether future generations to the bad choices of today's leaders. Let's break that cycle instead of constitutionally mandating it into perpetuity, huh?
*Act II*
Scene: Trenton.
A Most Ignoble, Inglorious Exit.
The final day of the two-year Assembly session arrived last Monday, providing outgoing members an occasion to bid their colleagues adieu. Those parting shots are mostly collegial boilerplate clichés (i.e.: "To my dear friend across the aisle, I thank you for your service!") But as the long, final day finally wound down, outgoing Assemblywoman Mary Pat Angelini broke the mold. In reply to the amicable good bye wishes from her cross-party rivals, Angelini had this to say:
"To my colleagues, I'm humbled beyond words with your comments, but I have to be honest, as my mother always taught me. To hear those words spoken from across the aisle, other than those words spoken by my good friend Reed Gusciora, I have to ask, where where, were you, my admirers from across the aisle, when your interest groups spent millions to besmirch my good reputation? Where were you when it was time to stand up and say, enough? I have to say the silence was deafening. "  "I cannot say goodbye to the NJ General Assembly… without stating the obvious: I was defeated by those who don't want to see New Jersey thrive, I was defeated by those who want to see New Jersey be strangled by special interests who frankly don't care about our children or our grandchildren or the future of my beloved Garden State."
   Instead of blaming her rivals for her own loss, Angelini desperately needs a reality check. So let's give her one. Firstly, the ex-Assemblywoman was defeated by voters in her district. That's why she lost. Period. Secondly, whining about SuperPACs funding her opponents lacks all modicum of self-awareness. Ever since Citizens United, the Supreme Court's (unfortunate) 2010 decision permitting unlimited, loosely regulated corporate spending on political campaigns, SuperPACs (or "special interests" as Angelini called them) are the law of the jungle. But it wasn't the democrats who foisted SuperPACs on us! It was the radical wing of Angelini's own GOP – those Tea Party wacko birds- who insinuted all this dark, unregulated money into our election system. The GOP conceived SuperPACs, the GOP advocated for SuperPACs, and the GOP pushed SuperPACs in the US Supreme Court. Once there, five conservative justices, all GOP appointees, ruled in favor of SuperPACs and made 'em the law. It's free speech the GOP told us! ("Corporations are people, my friend!" Remember?) And now Angelini wants to whine about a the monster her own GOP created? Alrighty then.
   The Angelini blame game continued in an
1398 word screed 
published in the
Asbury Park Press
. But does she blame Governor Christie for not lifting a finger to boost Assembly GOP chances? No. Did she blame the NJGOP for spending all their money on Governor Christie's legal bills leaving the state coffers bare? No again. Did she blame herself for being out of touch with what voters in her districts care about? Or voting one way only to flip-flop to protect Chris Christie's many vetoes? No and No. How sad for her! What an ungracious way be remembered.
*Act III*
Scene: Cherry Hill, NJ
Alex Law
Alex Law is long-shot progressive looking to take on formidable incumbent Congressman Donald Norcorss in this spring's democratic primary election. Did I mention that Alex Law is a long-shot? Anyway, there are competing versions to this, but here are the contours: according to
their website
, "The Camden County Board of Elections works with the County Clerk and the State Division of Elections to provide the citizenry of Camden County smooth and efficient elections.
Each election office has certain mandated responsibilities under the law
." Got that? Alex Law's repeated efforts to acquire forms and information about balloting were, for whatever reasons, unsuccessful. Since the Camden Clerk is a political office run by Norcross loyalists, it's easy to conclude they were just putting Law off for having the temerity to challenge The Machine. The Law campaign dispatched a cute young intern to test that hypothesis. Perhaps unsurprisingly, the intern had no problem getting an appointment with the clerk leading to charges by the Law campaign that Camden democrats basically treat elections like the family store.
   Camden County Clerk spokesman Dan Keashen
called Law's account fiction
, but let's consider the source. That's the same Dan
Keashen who repeatedly lied
to Cherry Hill residents about our mayor's whereabouts during a 2010 blizzard that paralyzed the region. (The mayor was vacationing in Florida by the way.) When that mayor retired, Keashan got a raise and a promotion and now he's spokesman for the County government. Most tragically, Keashen didn't get promoted
despite
willingness to lie on behalf of the politicians who represent us. He's promoted
because of it
.
   When people say BridgeGate was just a traffic jam, they ignore the a more ominous concern: assets of the state (in the case a bridge) were misused by Governor Christie's office 1) as a tool to consolidate power and 2) as a weapon to punish political rivals. And that's exactly what Camden democrats seem to be doing here with the Clerk's office.
**
Jay Lassiter is Trenton's original state house blogger who hopes to legalize marijuana in NJ in 2016. He's never actually been to the opera. Follow him on Twitter @Jay_Lass.