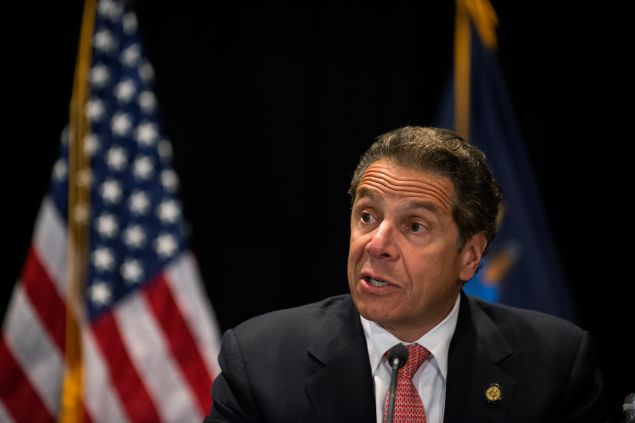 Gov. Andrew Cuomo continued his rhetorical barrage against the city shelter system today, dismissing Mayor Bill de Blasio's repeated promises to improve the facilities.
Speaking to reporters after an unrelated event in Brooklyn, Mr. Cuomo again tore into the conditions at the shelters, which he argued are the reason so many people remain on the streets in inclement weather. He vowed to outline how Albany would step in and force improvements in his State of the State address next week.
"It is a sad, sad failure that we have people who, in this day and age, we leave on the streets, we call them homeless people, in frigid weather, who would rather stay on the streets and freeze than go into a homeless shelter because it's dirty and dangerous," he said, stressing the investment the public has made into the system. "The taxpayers are spending a billion dollars on the shelter system, that people are choosing to stay on the streets. That is a sad, sad failure, and it can't be allowed to continue."
Mr. Cuomo has jabbed at Mr. de Blasio's handling of the mushrooming street population for much of the past year, going so far as to question the city's "management" and "intelligence," and having an aide state that it was beyond the mayor's ability to handle.
In the past week, however he has drilled down on the shelter system—first by issuing a puzzling executive order on Sunday calling on all city and state agencies to collect all homeless people and bring them to temporary housing once the temperature dips below freezing. When questioned about how he could enforce such an order—given court rulings determining people have a Constitutional right to remain on the street—Mr. Cuomo turned to attacking the longstanding safety and sanitation problems in the city's temporary housing.
Mr. de Blasio responded by hiring a new deputy mayor to address the problem, and announcing he would phase out the much-criticized "cluster-site" housing program begun under former Mayor Michael Bloomberg. But the governor today said it was too little, too late
"I understand there have been a number of times when we've been told it will get better, but enough is enough, and I'm going to address it," he said.