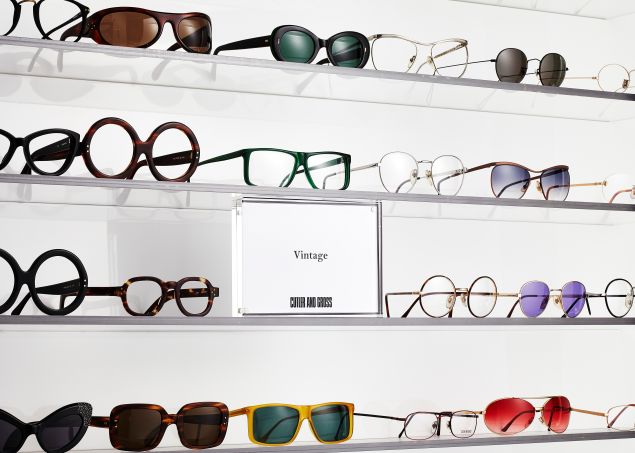 Few accessories are as obviously indicative of the era they were first designed in quite like sunglasses. Think about it: dramatic cat eye swoops can easily be attributed to the '50s, wire rimmed frames with tinted lenses can be pegged to the '70s and the '80s is synonymous with shield frames.
This is part of the reason why we were ecstatic to find that the optic brand Cutler and Gross boasts a Vintage Vault in each of their eight namesake shops, including their New York outpost. A visit to these collections feels similar to receiving a history lesson in eyewear from 1969 (when the brand launched) up through the late 1990's.
"The oldest frame in our vaults is the 0101 optical model." said creative director Monica Chong. "This model actually sparked the Cutler and Gross story as the first model to be made in our atelier above our flagship boutique in London. I think the frame tells you a lot about the classic, refined and practical approach we adopt when designing frames even today."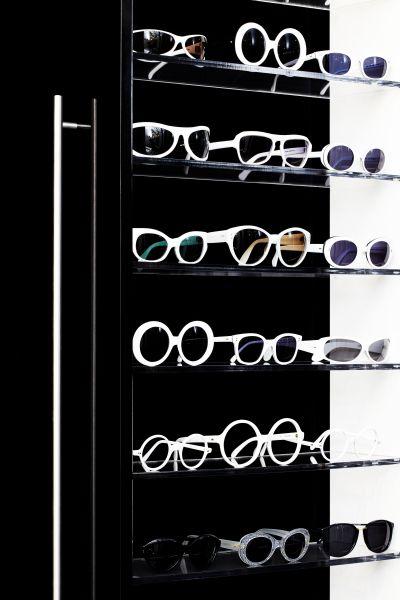 Ms. Chong, who has been creative director at the brand for 16 years, often turns to the Vault for a source of inspiration as she designs future collections. "My favourite model would have to be the 0711 Red Black White model. It has the right balance of classic colours and quirky design with its multilayered silhouette and deep wrap around sunglass frame," she wrote to us via email. She also noted that the 0711 was Cutler and Gross' first pair of glasses to grace the cover of British Vogue.
While the current stock in the Vault was all previously unsold, a few famous frames have sat on these shelves. Ms. Chong divulged: "We have over the years stocked the Persol folding aviator with blue lenses as worn by Steve McQueen, the Cazal glasses made famous in Jamel Shabazz's book Back in the Days, and the notorious Porche wrapped sunglasses beloved by Yoko Ono."
The Vintage Vault came to be in the '90s due to the era's frenzy for vintage clothing. The brand's co-founder Tony Gross came up with the idea and treated it as a personal project, displaying frames of his own design alongside styles he found while traveling the world. The very first Vault was in the London flagship, located in the Knightsbridge neighborhood, and was designed by the architectural firm Softroom, before they were known as a global design force.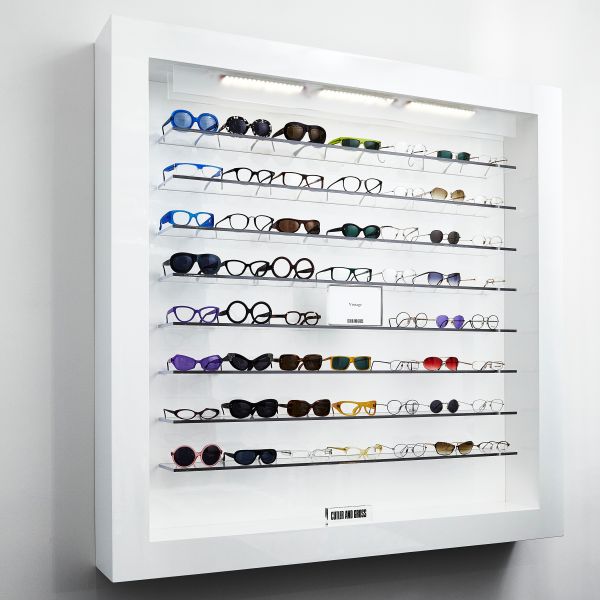 "As the early Cutler and Gross designs became more covetable, the [Vintage Vault] has taken more of a prominent position in our boutiques," Ms. Chong admitted.
While any customer is welcome to venture in and check out the frames on their own, history buffs might want to call ahead. Ms. Chong told Observer: "We do welcome appointments as this allows us the time to share the stories of our amazing glasses."