It's unclear if illusionists' tricks are of any help in the real estate market, but a quick "abracadabra" certainly couldn't hurt.
Or maybe magician David Blaine has another card up his sleeve when it comes to selling his two-bedroom, one-bathroom co-op at 41 Fifth Avenue. We must say, we're a bit surprised by the photos of the 1,044-square-foot pad—it all looks rather…ordinary. Normal, even! Definitely not what we would expect from the man who chose to do an act where they were entombed in a plastic box underground beneath a 3-ton water-filled tank for a week.
Per public record, Mr. Blaine bought the apartment back in 1998, when he was dating Josie Maran—she of Josie Maran Cosmetics fame. We're having a bit of trouble picturing that couple, but moving on…
Mr. Blaine seems to have been rather attached to the top-floor unit at 41 Fifth, because he kept it even after purchasing a $1.67 million apartment in Tribeca a number of years later.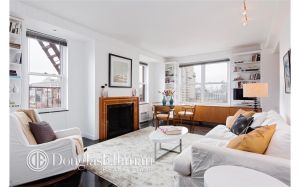 But now, the illusionist has opted to part ways with the charming little co-op (or is it all an…illusion?), which comes complete with a wood-burning fireplace, listing it with Douglas Elliman brokers Raphael DeNiro, Maggie Leigh Marshall, and Evangelos Karras, at $2.27 million. Other highlights include south, east, and north exposures, as well as a standing stall shower and a "luxurious deep soaking tub." After all, it's nice to be able to practice for one's "Drowned Alive" stunt—in which Mr. Blaine is submerged in a water-filled sphere for a week—in the comfort of one's own home.
Mr. Blaine's stunts don't always go over successfully—like when he was encased in a block of ice for over 63 hours in Times Square and had to be whisked off to the hospital. Fortunately, selling this Greenwich Village place will likely be a tad easier than living in ice or water for days on end.