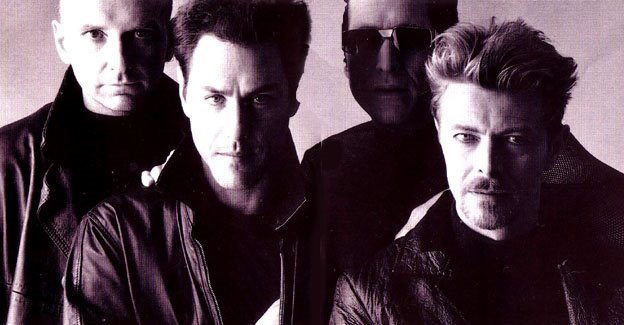 I have David Bowie to thank for the greatest thrill of my pre-law-school life as a working musician.
David Bowie picked my band, the Boston roots rock quartet Circle Sky, to open for him in June of 1989 at a surprise gig at The World, the classic short-lived East Village venue at 2nd St and Avenue C that had a great run as an outlaw club until its owner was found dead inside a couple years later.
At least, I think I was told at the time that Bowie had picked us. Our brilliant friend and manager, Theresa Chambers, pulled off that coup. I believe David asked the promoter for tapes of a handful of unknown bands, and he picked us.
The show was the U.S. debut of his band Tin Machine, with the amazing Reeves Gabrels of course, plus a rhythm section comprised of Soupy Sales' sons, Tony Sales on bass, and Hunt Sales on drums.
My band, Circle Sky (yes, named after the Monkees song) with Matt Keating, Michael Stone, and Michael Culhane, was on its last legs. We had just had a dispiriting show in the BCN Boston Battle of the Bands. We were hired I think 48 hours before set time. The pay would be $200, and we could not breathe a word of it until the morning of, when it would be announced on local New York City radio.
We were instructed to bring no roadies, no girlfriends, just our soundman (Jeff Osborne, where are ya now?). The roadies really gave us first-class service (first and last time for that!), and they set up my drums in front of Hunt Sales' beautiful, oversized, vintage Ludwig mother-of-pearl kit.
Someone pointed out that there was a mic stand center stage, with "D.B." written on masking tape on the stage floor below it. That was the moment the reality of the situation kicked in.
READ ALSO: David Bowie Scanned My Face
READ ALSO: The Neighborhoods: Opening for Sir David Bowie
The hall was packed when we hit the stage, and we had a fantastic set – all that work we put into the Battle of the Bands actually paid off this time. I'm forever proud that a packed audience waiting for David Freakin' Bowie was completely into us. We had one more forgettable gig and then called it quits. But we sure went out in a blaze of glory thanks to Theresa and Mr. Bowie.
Mr. Bowie walked through our dressing room to get to his, but I didn't get to talk to him. Our guitarist Michael Culhane did. Bowie told Michael Culhane "I like your band." I did accidentally sit on Sean Penn, though, so there's that.
Bob Gruen took photos of us, another career/life honor that I still haven't gotten over.
David Bowie, friend to the little guys.
John Sharples practices law in New York City.