With the news of David Bowie's death, the internet, and particularly Twitter, exploded with personal reactions. Millennials were just as torn up as their parents, who grew up listening to the thinking man's Elton John. In a world where social media is sanitized, even for rock stars, and narratives are carefully crafted by public relations teams, David Bowie was unafraid to be entirely himself—a glam rock icon who was innovative and gender-bending.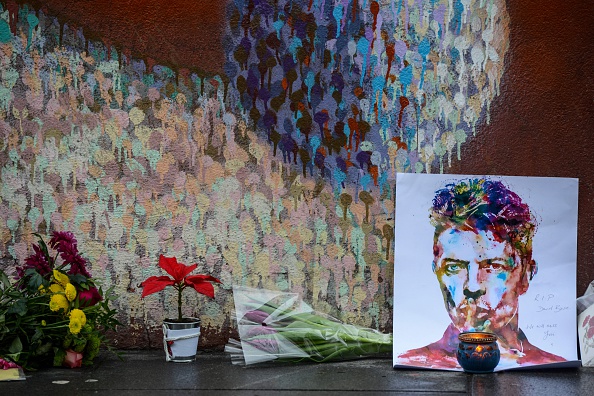 While it's becoming more acceptable to bend the previously rigid rules of gender, this change in society wouldn't be without Mr. Bowie's everlasting impact. It can be seen in Australian model Ruby Rose on Orange is the New Black, Ke$ha's glittering face paint, or musician Halsey shaving her head because she was tired of her hair and femininity defining her. David Bowie's ability to wear makeup, while creating raucous rock and roll, led generations of outsiders to accept that being strange wasn't ever bad, as long as you owned it, Ziggy Stardust style.
In Pamela Des Barres eye-opening exploration of groupiedom (she was, after all, the real life Penny Lane), Let's Spend the Night Together: Backstage Secrets of Rock Muses and Supergroupies, former groupies describe many brushes with Mr. Bowie. He's described as otherworldly, almost too beautiful, an idiosyncratic talent who was equal parts masculine and playful.
Mr. Bowie's personal style inspired menswear designers to add feminine touches and brilliant glam rock makeup to their runway looks. Club kids began gender-bending, especially at The Blitz, a London nightclub where pop, rock and males in makeup collided, as club-goers could be heroes for the day (or night). He inspired clubbers to eschew heteronormative standards, trading them in for hair-spray and blue eyeshadow, skintight jumpsuits, along with a hefty dose of glitter and glamour. Rock stars no longer had to wear leather pants and swagger; they could express themselves in ways that were formerly feminine, alongside the listeners at home, enjoying his records, then CDs, then later extensive Spotify playlists. His music made generations of club kids realize that being different wasn't dangerous, because he was leading the way.
As formerly cool rock stars are sanitized and their social media accounts are taken over by public relations executives with Puritanical views, Mr. Bowie provided a welcome respite. Unlike other old school rockers who seemed to be gasping for air while performing, looking like they'd need to be wheeled off of the stage, Mr. Bowie was consistently cool, maintaining relevancy and recreating himself constantly, until the end.
His legacy lives on, whether it's in Sam Smith's eyeliner or in Jaden Smith's Louis Vuitton womenswear campaign. Playing with gender in fashion, music and pop culture has always been interesting, and Mr. Bowie was one of the first to lead the way, inspiring millennials to mourn on Twitter, sharing how he impacted each of them in a visceral way.