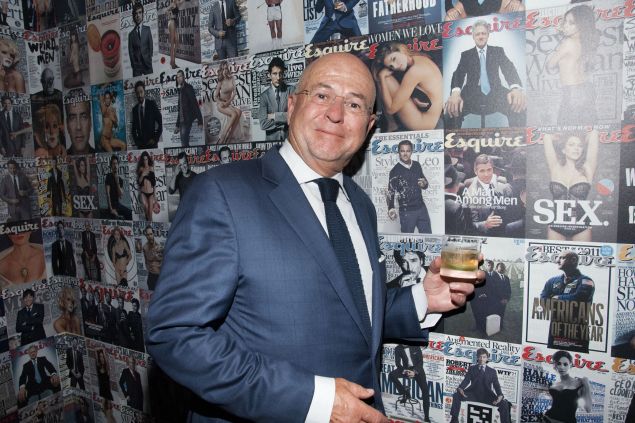 After nearly two decades, Esquire Editor-in-Chief David Granger is leaving the magazine. Town and Country Editor-in-Chief Jay Fielden will replace Mr. Granger.
"The last 19 years have been the best time ever to be a creative professional," Mr. Granger said in an announcement. "The explosion of new forms of expression has been breathtaking. Turns out that a print magazine has been the perfect hub from which to experiment with just about all of them."
"David's time at Esquire has been epic and innovative, and includes so many accolades and milestones, from the first-ever digital magazine cover to a complete online archive, as well as the brand's 75th and 80th anniversaries and its 1,000th issue," president of Hearst magazines, David Carey, said. "His influence has been substantial, and we are grateful for his many contributions to Esquire, and to Hearst."
Mr. Granger's tenure will end on March 31 and future plans have not yet been announced.
"David Granger is one of the finest editors America has ever produced and he's got a closet full of AMA hardware to prove it. He also happens to be an exceptionally decent human being. It's hard to be both," said Ken Kurson, the editor of the Observer and one of dozens of editors high up on the city's mastheads who learned at Mr. Granger's knee.
"This is a guy who discovered, nurtured, befriended, defended more great writers than just about anyone—there's a good reason 'Granger's guys' are willing to take a bullet for him. Because he's a man. Granger would hold his own against Andre Agassi in the morning, blow up your story at lunch with one suggestion that you were ashamed not to have thought of yourself, go around in 80 at Sleepy Hollow with a bunch of ad reps in the afternoon, recommend some drink you never heard of in the evening and then the next day you'd get an adorbs stool delivered to your house with your newborn's name carved in block letters. Who knows what Hearst or David had in mind in making this change as our industry grasps to establish a place for high-value writing at a time when writing is not valued. But I hope in making this decision, Hearst remembers what I remember—Esquire was like a leaflet in 1997 when he took over and a crappy-looking, stupid leaflet at that. Granger brought a murderer's row with him from GQ (Scott Raab, Tom Junod, Mike Sager) and recruited a crop of new writers (Dave Eggers, Amanda Davis) and put out a magazine that its owners could both love and stuff full of ads for Armani suits and Cadillac Escalades. The David Granger era of Esquire will be remembered for its excellence, its passion and its success—that's a proud legacy for a proud man."
Mr. Fielden, who has been the editor of Town and Country since 2011, will take over as editor in chief of Esquire and hold the title of editorial director of Town and Country. Mr. Fielden's replacement has yet to be named.
"I now know what it's like to stand on the shoulders of true giants, from Gingrich and Granger to F. Scott Fitzgerald and Gay Talese," Mr. Fielden said. "Their literary sensibilities have shaped the legendary Esquire aura to be one of intellectual showmanship, hilarity, impeccable style, visual punch and extraordinary writing."