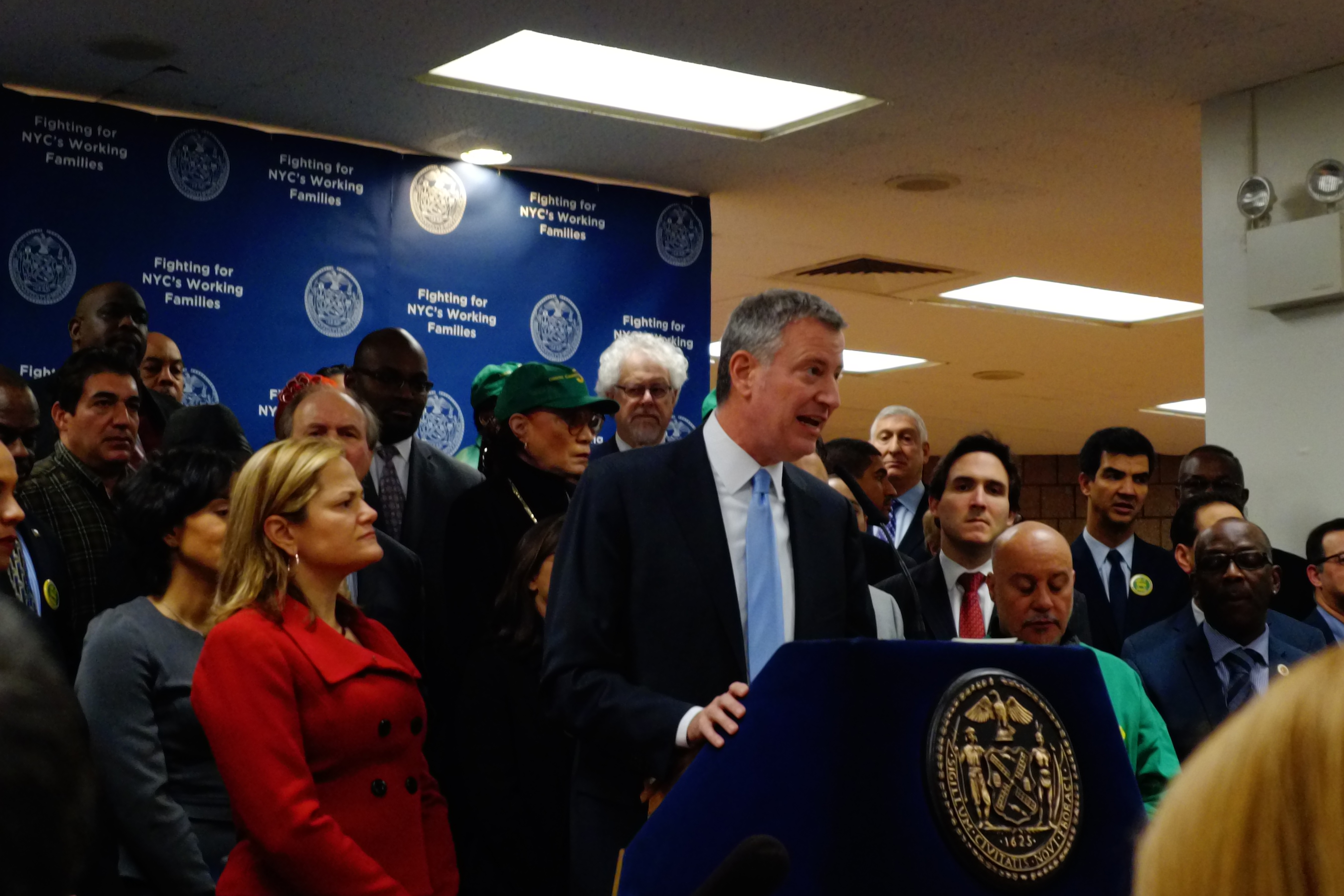 A year ago, Gov. Andrew Cuomo's office dismissed Mayor Bill de Blasio's call for a $13-an-hour statewide minimum wage as a "nonstarter" with the State Legislature. But in the months since, both men have seized on raising the wages within their control to a higher $15-an-hour—riding the tide of a national "Fight for Fifteen" and boosting the paychecks of tens of thousands of New Yorkers.
"I think the whole debate is changing," Mr. de Blasio said today at the offices of DC 37, the largest municipal union. "For years, $15 was claimed to be impossible—now it's quite possible and it's something to be reached."
Mr. de Blasio's announcement today follows a flurry of similar policy initiatives that Mr. Cuomo, after his skepticism of the State Legislature, rolled out unilaterally over the last year: first, a $15-an-hour wage for fast food workers through a special wage board, then the same for state public employees last November, and most recently for SUNY employees Monday—complete with a call for the city to follow.
"Reaching out to other businesses, reaching out to other government officials, asking them to come on board, asking controller Scott Stringer and Public Advocate Letitia James, bring the City of New York with us," Mr. Cuomo said Monday, two days before the mayor's announcement. "Join this crusade."
Mr. Cuomo has historically been a more moderate Democrat than the mayor, especially on fiscal issues, but he's raised the minimum wage in the past and over the last year he has heavily leaned into the $15 movement, a major priority of the progressive wing of the Democratic party that he has locally named for his late father, Gov. Mario Cuomo. The push comes after Mr. Cuomo faced a cold reception from the left-wing, pro-union Working Families Party and a bruising Democratic primary challenge from progressive upstart Zephyr Teachout, who argued he was not liberal enough for his party. That made for an interesting shift in narratives when it was the governor daring the mayor, who has been closer to the progressive movement, to raise the wage this week.
"The mayor, since the beginning of his career, has been a steadfast champion in the fight against inequality, and recently the governor has been using his executive power and his pulpit to win real victories," Working Families Party New York State Director Bill Lipton told the Observer. "Working families across the state and the country have been organizing and as a result, we're seeing a real shift in the debate."
Of course, in addition to the national movement and his own shifts to the left, the governor's embrace of a $15 minimum wage also comes during an ongoing, public political feud between Mr. Cuomo and Mr. de Blasio, which has seen them disagree on just about everything. Each man held their own separate press conferences this week on the minimum wage, both in New York City, but haven't appeared together on the issue.
Ms. James, the public advocate, said the week's action from the executives would benefit people "from Buffalo to Brooklyn.
"I'm not going to get in the middle. If everyone is benefiting, if everyone is getting a minimum wage, fabulous. If each one is trying to outcompete the other, as long as New Yorkers benefit, we're all good," Ms. James said in an interview Wednesday.  "If the feud results in improving the lives of New Yorkers and addressing their felt needs, then fight on."
Others noted there was likely a combination of factors at play in the changing momentum in recent months, including the issue's growing importance in the Democratic party's platform. Héctor J. Figueroa, president of the union 32BJ SEIU, pointed to an increase in public support for a higher minimum wage in the wake of fast food strikes.
"I think both of them understand that you, as a progressive Democrat, cannot really stand the test of being a progressive Democrat today without being all-in on the fight of raising wages," Mr. Figueroa told the Observer. "I am hoping that this is just the beginning of it. But I feel that in some way, if it is true competition between them on this issue, I'd say, well this is good. It's good that they're competing for the minds and hearts of workers. But I think it's a little more complicated than that."
Bill Samuels—a prominent Democratic fundraiser, founder of good government group EffectiveNY and a frequent Cuomo critic—suspected it might have more to do with the potential for Hillary Clinton to be atop the presidential ticket this year, which could usher in a Democratic State Senate.
"I'm not sure that they're not moving for slightly different reasons: Bill because it's what he believes," Mr. Samuels said, "and Andrew because he's looking at the tea leaves, and 2016 may be his last chance to pass some substantive legislation that he's always said he's supported but hasn't done as much [to pass]."
The distance between the mayor and the governor was in stark display this week—while both men were talking about the benefits of a $15 wage, they weren't doing it together.
"We are always willing to work together. The governor's office, the mayor's office staffs talk constantly," Mr. de Blasio told the Observer during today's press conference, insisting yet again he'd work with the state when it was helping the city. "The door is always open for working together on these issues."
And today, while the mayor was working on the minimum wage, Mr. Cuomo was holding his own press conference, at the same time, three miles and two subway stops at Penn Station, where he announced plans to rebuild it. In another universe, both events were the kind of thing a mayor and a governor might have announced together.
"We scheduled this according to our schedule," Mr. de Blasio said tersely, just moments after saying their staffs talk. "We don't compare notes on our schedule."
Asked if he'd made today's announcement because of the governor's call for the city to act, Mr. de Blasio said it had been in the works for a long time, beginning. On the flip side, asked whether his disagreements with Mr. Cuomo had pushed the governor to the left, Mr. de Blasio wouldn't say.
"I"m not going to judge that. I think our mission, which we talked about at the beginning of this press conference, is to address income inequality in every way we can, and reach all of our people," he said. "I don't judge other people's ways of seeing things."