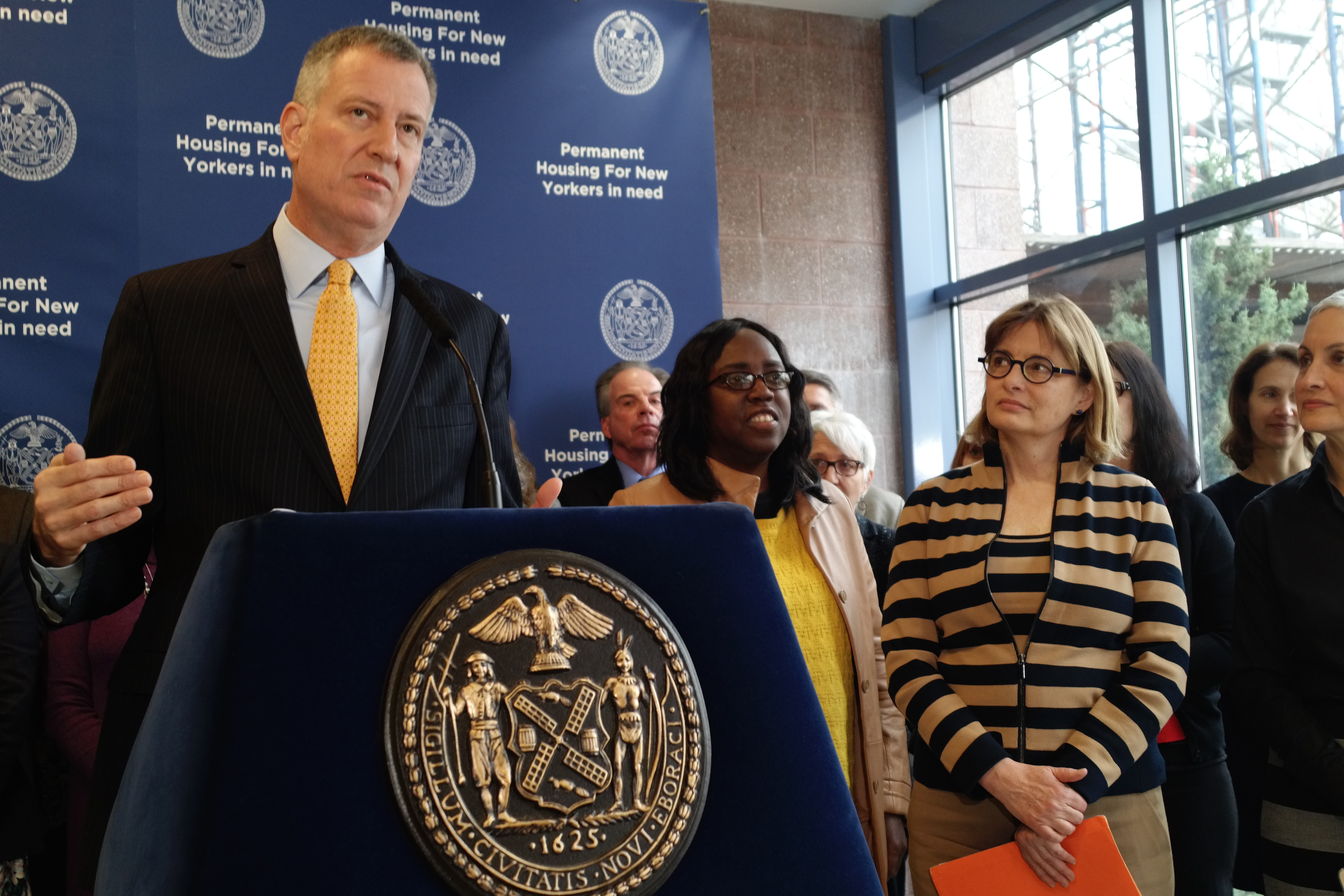 Mayor Bill de Blasio will look to some experts for help with his ambitious plan to build 15,000 units of supportive housing for the most vulnerable homeless New Yorkers—announcing today a task force to help guide the $2.6 billion project.
"This is really the all-star team," Mr. de Blasio said today at a supportive housing development in the Bedford-Stuyvesant neighborhood of Brooklyn. "If there is a good idea in supportive housing, it resides in this group. If there is a way to get it done faster and better, it resides in this group."
Mr. de Blasio was standing with a cadre of advocates from agencies that help the homeless who will serve on the task force, including Laura Mascuch, the executive director of the Supportive Housing Network of New York, who serve as its co-chair along with two administration members, Human Resources Administration Commissioner Steven Banks and Housing Preservation and Development Commissioner Vicki Been.
"This administration has really taken the time to engage the nonprofit community and the stakeholders," Ms. Mascuch said. "Really, who you see today is the braintrust."
Mr. de Blasio has made supportive housing—which is affordable housing for vulnerable populations with services like healthcare, substance abuse, and mental health help on site for residents—a central component of his plan to tackle the city's ongoing homeless crisis, which has seen both the shelter and the street population on the rise. He announced last year that the city would spend $2.6 billion program that will build 15,000 units of housing for the homeless.
Supportive housing is popular among elected officials, and historically has been a priority on which the city and the state governments have collaborate through the NY/NY program. But last year, the renewal of NY/NY became the casualty of yet another squabble between Gov. Andrew Cuomo and Mr. de Blasio—with Mr. de Blasio asking Mr. Cuomo to increase the number of units to be built in the city, and with Mr. Cuomo demanding that Mr. de Blasio pick up more of the tab—calling for a 50/50 split of the cost instead of the state paying 80 percent, as it has done in the past. With no resolution in sight for NY/NY, Mr. de Blasio announced his own plan to pay for the whole thing.
Asked whether the task force was necessary because the move away from NY/NY would require new mechanisms to get funding—$1.6 billion of which will come from tax credits and other private sources—in place for the projects, Mr. de Blasio said it was a larger issue.
"We're approaching this on a bigger scale than ever before," he said. "Look at the three NY/NY agreements—this is the biggest commitment New York City has ever made."
But Mr. de Blasio isn't ruling out another iteration of NY/NY, either—saying it would be among the budget priorities he will bring to Albany for state budget testimony in the coming weeks.
"Absolutely, we would like to see the deepening of the NY/NY agreement," Mr. de Blasio told the Observer, saying his administration was also mining its own resources to "show we're putting our money where our mouth is."
An agreement both Mr. Cuomo and Mr. de Blasio agree on may be unlikely—the two have agreed on very little over the last several months, and Mr. Cuomo has repeatedly and publicly criticized Mr. de Blasio's handling of the homelessness issue, particularly hitting him on the condition of the city's shelters. Mr. Cuomo has said he will announce his own plans to get more involved in the city's homelessness services in his State of the State address tomorrow—plans on which Mr. de Blasio has not yet been briefed.
"I think we need the state's support and we welcome the state's resources and partnership," Mr. de Blasio said. "The 15,000 apartments is going to go a long way—we'd like to go farther."