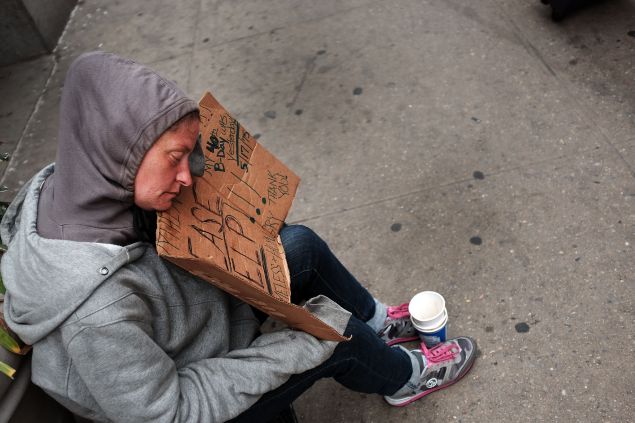 Mayor Bill de Blasio said today that he thinks Gov. Andrew Cuomo's executive order calling for the removal of all homeless people from the streets when the temperature hits the freezing point is well-meaning, but unnecessary.
After an unrelated event at Brooklyn's Barclays Center, Mr. de Blasio said that the edict the governor signed yesterday—which directs localities and state agencies to place indigents in shelter, with or without their consent, when the mercury hits 32 degrees Fahrenheit—is mostly redundant. The mayor argued that the Department of Homeless Services and the NYPD can already forcibly remove someone from the street who is endangering their own safety.
"We appreciate the intent of that executive order, but what we believe is right now, we have the tools to get people off the street," he said. "It seems to simply reiterate what's already in the law, and how we have the ability to bring people in off the street, and we use that power."
Since the governor's dictate explicitly states that it will "supersede all local laws," and authorizes all state agencies to "take all necessary steps" to enforce it, some analysts have suggested it is a power grab by the governor—and could result in New York State troopers patrolling city streets. Mr. de Blasio refused to comment on either possibility, though he emphasized that New York City is the domain of his police department.
"I don't want to talk about hypotheticals. Right now, obviously the NYPD protects New York City, that's pretty clear," he told the Observer.
He did, however, say that the fiat could bump up against past court rulings that determined homeless people have a right to be in public, and that low temperatures alone do not always mean those who remain outdoors are endangering themselves.
"The fact is, we do live in a nation of laws, and people do have constitutional rights," he said.
The mayor touted his administration's plan to construct 15,000 new apartments for troubled homeless people with on-site social services, its partnering with faith organizations to provide shelter beds and its opening of shelters to all people seeking refuge from extreme heat and cold. He also pointed to  the  HOME-STAT program that will debut in March, which will give each of the 3,000 to 4,000 people living on the street their own designated social worker.
Mr. de Blasio acknowledged that the city's shelter system is riven with chronic safety and sanitation issues—which Mr. Cuomo alluded to in interviews over the weekend—and vowed to combat the problem, which he pointed out dates to his predecessors. Still, he argued it was incumbent on the state to give the city more funds to fight homelessness, which Mr. Cuomo has dismissed as "throwing money" at the problem.
"The fact is, for decades, our shelters have not been safe enough and have not been clean enough," he said. "We need more resources from the state to continue to do the work we're doing to get people off the street and get people out of shelter."
The governor's office did not immediately respond to requests for comment. Last year, a spokeswoman for Mr. Cuomo said that the mayor "can't manage the homelessness crisis," and that the state would step in with "expertise and resources"—a comment Mr. de Blasio slammed as "political posturing."