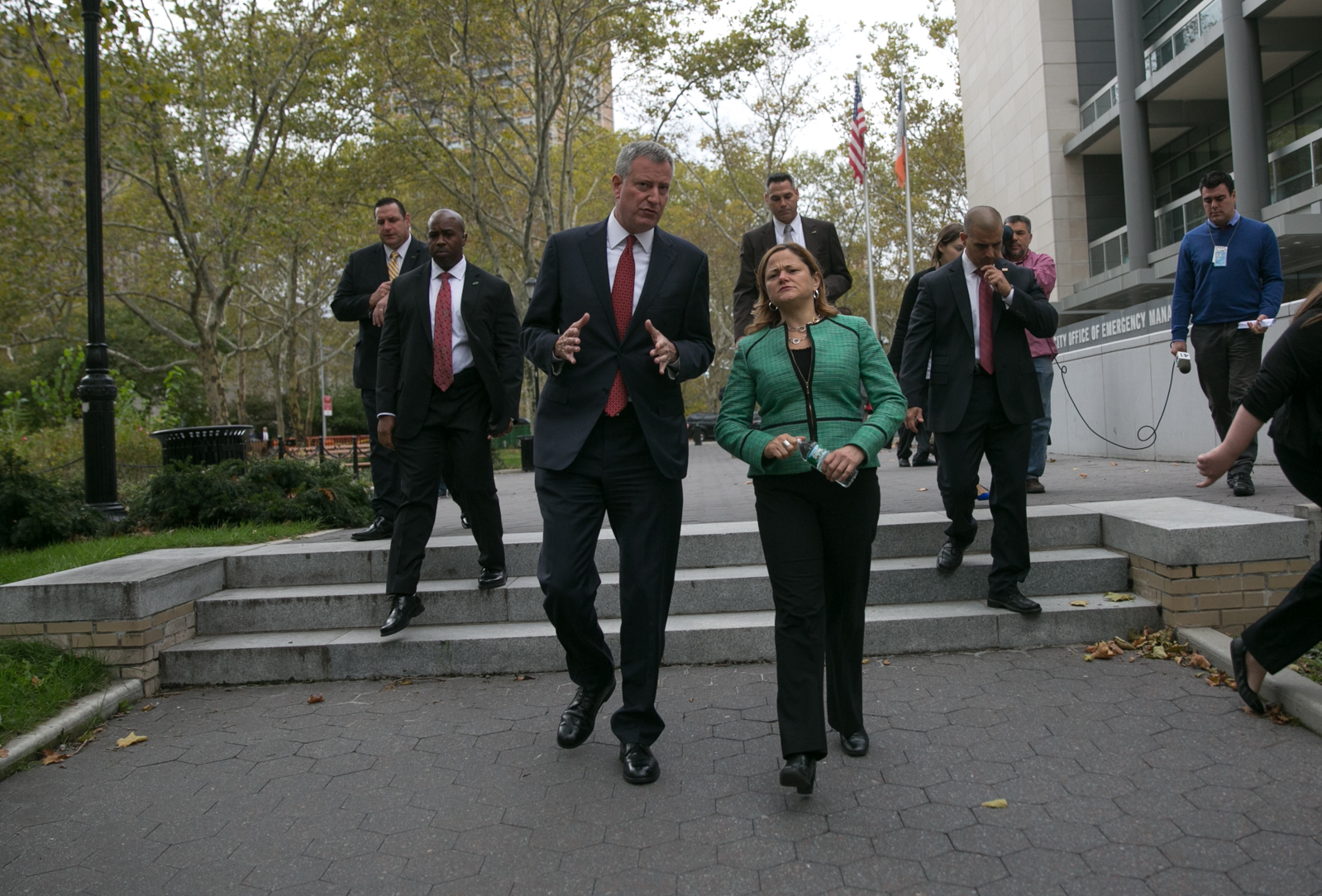 Mayor Bill de Blasio gave his stamp of approval to a city commission's plan to raise the salary of elected officials, and to make the City Council a full-time job with strict limits on outside income, but said he personally won't accept a raise in his first term.
"The loss of potential income from transitioning to a full-time status is not insignificant," Mr. de Blasio wrote in a letter to Council Speaker Melissa Mark-Viverito. "However, should the City Council adopt this groundbreaking reform in New York City, it will have the dual benefit of allowing Council Members to fully commit their time and energy to their constituents and eliminating even the appearance of conflicts of interest."
Mr. de Blasio was referring to recommendations from the Quadrennial Advisory Commission, a three-person panel assigned to review the salary of New York's elected officials, including the 51 Council members, the comptroller, public advocate, the five district attorneys and borough presidents and the mayor himself. The recommendations will still need a vote from the City Council to become law; if they are approved, they will be retroactive to January 1, 2016.
The commission recommended the biggest raise for members of the Council, to $138,315—a 23 percent hike from their current base salary of $112,500. But the pay increase comes with a catch: Council members would no longer be able to earn outside income, and they would have to give up the extra payments for holding leadership positions known as "lulus."
Lawmakers earning outside income has become a subject of controversy in recent months, but the focus has been on Albany—where former Assembly Speaker Sheldon Silver's outside income was at the heart of his felony conviction—than it has on the Council. Still, members of the Council are able to work second jobs, though the commission reported that only nine members hold outside jobs like practicing law.
Council members would be allowed to keep small-time gigs, like teaching classes as adjunct professors or writing articles—and they can earn "passive income" off real estate or stock investments as long as they are not actively managing them. A slew of members report outside income from stocks or properties they rent out each year on their Conflicts of Interest Board reports.
"Moreover, a process should be established to ensure that outside activities do not interfere with the effective performance of official duties and that any potential conflict of interest should be reviewed by the Conflicts of Interest Board," Mr. de Blasio said.
In his letter, Mr. de Blasio noted that some good government groups actually wanted the Council's salary to be higher. Among them is Citizens Union, whose executive director Dick Dadey said they should earn closer to $143,000 in exchange for giving up lulus.
"What they're giving up with these committee stipends is a huge win, should they embrace this report and they should be more appropriately compensated," he told the Observer. "We need to value public service in a far more meaningful way than I think these council salaries have shown."
But Mr. Dadey said all of that should come with one major reform left out by the commission: the raises should not take effect this year but should be only for future terms in the Council.
"We abhor the idea that a sitting elected official can raise his or her salary by virtue of this vote," Mr. Dadey said. "It doesn't happen with Congress, it doesn't happen in the State Legislature and it shouldn't happen with the City Council."
The commission also recommended raises for other city officials, including the mayor, who would get a hike from $225,000 a year to $258,750 a year. Mr. de Blasio has said he will not accept a raise during his current term as mayor, even if the hikes are approved this year.
If the raises are approved, the comptroller will see a boost to $209,050 a year, and the public advocate will earn $184,800. The district attorneys would earn $212,800, and the borough presidents would earn $179,200. It will be the first raise for city officials since 2006.
Mr. de Blasio sought to tie the boosts to his own agenda to erase income inequality in the city.
"Of particular interest is that this Commission, for the first time ever, considered elected official salaries as they relate to pay for working New Yorkers," he wrote. "They also studied traditional metrics like the responsibilities of each office and the number of employees they supervise. They evaluated the benefits package our public employees receive relative to their counterparts in other jurisdictions. The Commission's deliberations reflect a concern for ensuring fair wages and benefits for all public employees—a concern that this Administration shares. Just last week we increased the minimum wage for city employees to $15 and offered 6 weeks paid parental leave to 20,000 city employees."
This story has been updated with comment from Dick Dadey at Citizens Union.