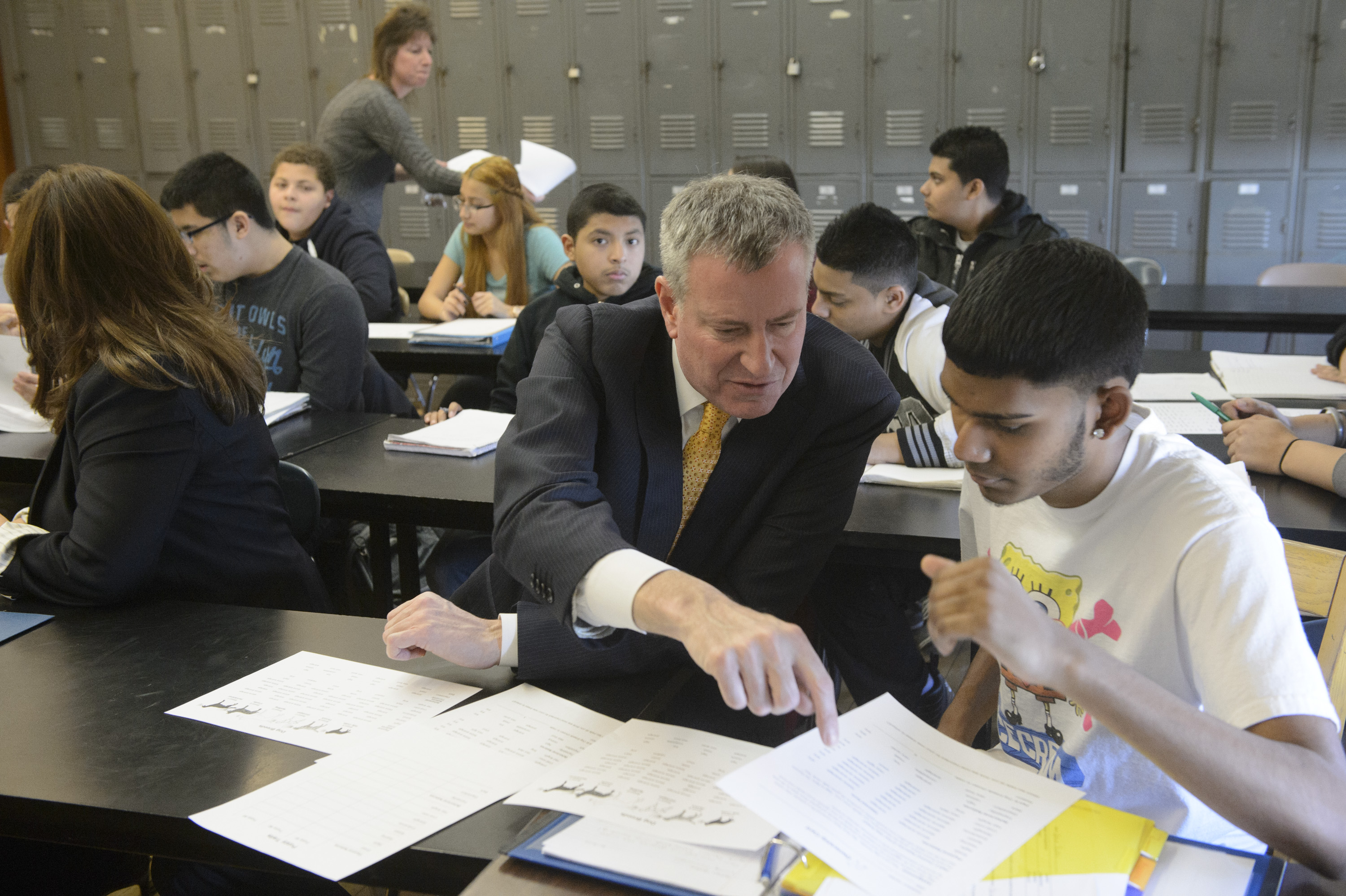 ALBANY—As he testified on the state budget today, Mayor Bill de Blasio revisited one of last year's biggest defeats: asking the State Legislature once again to grant him control of the city's school system for at least seven years, if not permanently.
"As you know, I believe fundamentally, as a matter of philosophy, that mayoral control should be made permanent. I don't believe there is another system that works," Mr. de Blasio said during his testimony this morning. "But short of that, it should be renewed for seven years, the same amount of time as its original authorization."
Mr. de Blasio made the case for permanent control of city schools a year ago—only to be given a single year, significantly shorter than the seven-year terms granted by the State Legislature to former Mayor Michael Bloomberg. In a tumultuous year that saw plenty of Albany losses for the mayor—who has been embroiled with a feud with Gov. Andrew Cuomo, a fellow Democrat, and has earned the ire of Republicans controlling the Senate—the short grant of mayoral control was perhaps the biggest embarrassment.
Mr. de Blasio went on to blame it, in large part, on Mr. Cuomo—telling reporters during in a now infamous sit-down in his office that he believed it was not the Senate Republicans but Mr. Cuomo who had been the "sticking point," and saying Mr. Cuomo sought to take "revenge" for political slights by holding policy hostage. The mayor has argued nobody seems to support going back to the previous school board system, making the issue more a question than politics than pedagogy.
Mr. de Blasio's relationship with Mr. Cuomo has been warmer in recent days as the two battled near-record snowfall in the city, but the governor has still been calling for a shorter term for mayoral control—three years—than Mr. de Blasio would like and what was granted to his predecessor.
Mr. de Blasio has sought for more than a year now to point out that people from many different ideologies support mayoral control, and last year frequent de Blasio critic and former Mayor Rudolph Giuliani penned a letter to Albany in support.
He argued that the roll-out of universal pre-kindergarten in just two years under his administration could not have been possible under the school board system, and noted rising graduation rates and lower drop-out rates since mayoral control was first granted to Mr. Bloomberg.
"Successes like these are why there's bipartisan consensus on mayoral control and that is why educators, business leaders, civic leaders alike want it renewed," Mr. de Blasio said. "It would build predictability into the system, which is important for bringing about the deep, long-range change that is needed."
Check back later today for more on Mr. de Blasio's budget testimony before the State Legislature in Albany.