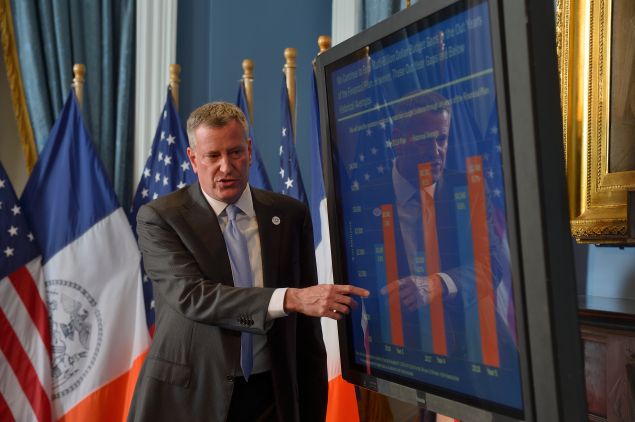 Mayor Bill de Blasio is rolling out his preliminary budget for New York City today: a $82.1 billion plan that funds his promises to raise the minimum wage for city workers, help the growing homeless population and address ongoing problems on Rikers Island.
"This budget builds on the strong economic foundation we've created, reaffirming our commitment to responsible government that meets challenges head on," Mr. de Blasio said in a statement before rolling out the budget for fiscal year 2017, which begins this July, at a City Hall presentation. "We're addressing the needs of New Yorkers through targeted investments in public safety, quality of life, vital social services, education, and more, while protecting the city against the many risks ahead."
The preliminary budget kicks of budget season at City Hall and usually changes, sometimes significantly, after a response from the City Council and many budget hearings where agency leaders testify before the council. Last year, for example, the preliminary budget did not contain a Council proposal to add 1,300 new police officers, which was added in for the final handshake deal in June.
The first iteration of the budget contained few new projects or programs, but provided funding for many that have already been promised by the mayor. That includes plans for a $15 minimum wage for city workers, which the administration said would cost $115 million when fully implemented several years down the line.
There is also significant funding devoted to the city's homelessness crisis. That includes $8 million in fiscal 2017 for a program dubbed "Shelter Repair Squad 2.0," aimed at fixing what critics have deemed deplorable conditions in the city's crowded shelter system, $12.3 million to move New Yorkers out of controversial three-quarter housing to permanent homes; $4 million to prevent homelessness by helping people stay in their apartments; $16.9 million for shelter programming designed to help 10,000 clients find jobs; and $12.5 million to operate the first phase of Mr. de Blasio's plan to build 15,000 new supportive housing units in the city.
The city is also funding several programs at providing mental healthcare, an issue that has been heralded by Mr. de Blasio's wife, Chirlane McCray.
That includes $62 million next year for ThriveNYC, a program that includes a "mental health corps" and "mental health first aid" training, and $17.4 million for NYC Safe, which will treat the mentally ill who might be dangerous to the public.
There are also investments in public safety, particularly on Rikers Island: Mr. de Blasio will spend roughly $100 million on two separate initiatives on the infamous jail compound, which has seen troubling rises in violence and where correction officer behavior was the subject of a federal lawsuit. Commissioner Joseph Ponte's 14-point plan to reduce violence will receive $41.3 million in fiscal year 2017, and another $58.3 million will go to training, technology, and "enhanced staffing"—including the hiring of 797 new Department of Correction employees, mostly uniformed officers. Recent efforts at stemming violence have worked best in jails that have higher levels of staffing; officers have also complained it is difficult to maintain safety when they are working significant amounts of overtime to keep jails staffed.
The mayor's plan to add high-level classes to all city schools and get all students reading by second grade, dubbed Equity and Excellence, will see $76.7 million in funds next fiscal year, and the mayor invest $159 million in "fair student funding" for historically under-funded school districts. To reduce school crowding, the city will spend $868 million in the School Construction Authority's five-year plan to add 11,800 new seats.
And despite all that spending—which comes on top of already high levels of spending that some in the City Council have sounded alarms over—and despite a booming city economy and job growth even in outer boroughs, Mr. de Blasio sought to strike a conservative tone when it came to the the budget and the city's future economic outlook. He emphasized a need for "responsible" budgeting and pointed to increases in city reserves over the last several years and this year.
He will add another $1 billion to the city's general reserve fund, as he has each of the last two years; $3.4 billion in the retiree health benefit trust (which pays for the health and welfare benefits of retired city workers and their families; and he'll put $500 million in the capital stabilization reserve he established last year to pay off debt service on capital projects.
Today's announcement included plans for $1 billion in savings through the Citywide Savings Plan.
The budget does not, however, contain PEGs—short for Programs to Eliminate Gaps—used under the Bloomberg administration to require guaranteed savings from city agencies. Some in the City Council, particularly Finance Committee Chairwoman Julissa Ferreras, has said using them would make the budget more efficient and would make it easier for the City Council to track whether the promised savings actually happened.
The mayor's office has responded in the past by pointing to a tracker it uses for its planned cost savings.