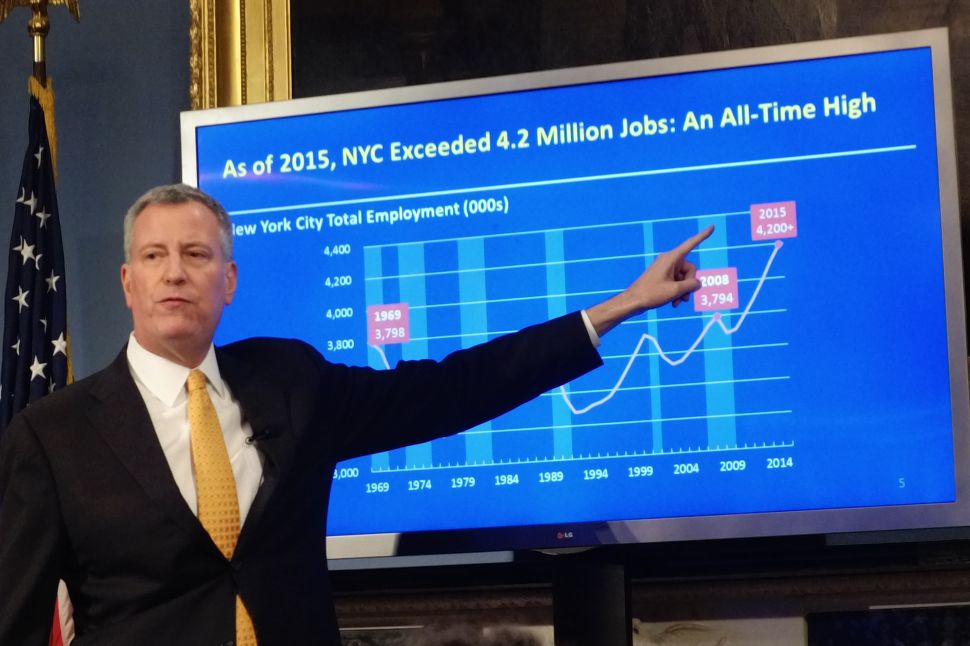 Mayor Bill de Blasio said today he would make major changes to the Health and Hospitals Corporation—saying the city's public hospital network would need to undergo a restructuring similar to his "NextGeneration" overhaul of the city's public housing authority.
"Health and Hospitals is going to have to transform its operating model intensely—because the current situation is not sustainable," Mr. de Blasio said today during his presentation of the preliminary budget for fiscal year 2017.
The HHC, like the New York City Housing Authority, maintains its own separate budget from the city—but because of shortfalls, the city will add $337 million to the current fiscal year's budget to help cover what Mr. de Blasio called "pressing expenses."
The mayor praised the hospital network's performance during the Ebola crisis, but said the financial woes it is currently facing are in some ways worse than that. Most of its patients do not have insurance or, if they do, have Medicaid. Mr. de Blasio said the federal government has cut reimbursements for the uninsured and that Medicaid does not typically cover the full cost of care. And with new health care reforms, many Medicaid patients are going to other hospitals—leaving the HHC with fewer and fewer patients who provide any form of payment.
To that end, Mr. de Blasio said HHC CEO Dr. Ram Raju would lead an effort to overhaul the agency, with more details being made available in the coming months ahead of the more finalized executive budget. Despite the dire circumstances, Mr. de Blasio said the need to restructure a city authority is not unprecedented.
"There is a parallel here. We went thorough a process last year with the housing authority. The New York City Housing Authority obviously had been in financial decline for many years, less precipitously than what happened with Health and Hospitals in the last year or two, but we went thorough a thorough restructuring process," Mr. de Blasio said. "We came up with the NextGeneration NYCHA plan. We're going do something even bigger, because this authority has even bigger challenges."
Of course, the NYCHA effort has not been without controversy. The most significant piece of NextGeneration is the so-called "infill" plan, which calls for the leasing of open space at housing authority properties to private developers to build 17,000 new apartments. Of the new units, 13,500 will rent for below-market rates.
The revenue generated from the development will go to close NYCHA's swelling yearly operating deficit, which is projected to hit $400 million by 2019, and its more than $16 billion backlog in needed structural, electrical and heating system work. The plan will also ease the burden on NYCHA's books by dissolving the authority's call center and have public housing tenants address their complaints to the general city help line, 311 or to a new MyNYCHA phone app, and move 1,000 office employees off the authority's payroll and onto those of city agencies.
NextGeneration also calls for NYCHA to finally place the 5,000 un-subsidized apartments it inherited from the city and state eight years ago onto federal Section 8 contracts.
It will also enter 1,400 units in a development in Far Rockaway, Queens into the federal Department of Housing and Urban Development's controversial Rental Assistance Demonstration plan, which will remove the apartments from the usual federal subsidy streams and instead place them on Section 8 contracts—allowing NYCHA to mortgage the properties with private lenders and receive an array of tax breaks. The authority will place an additional 8,313 apartments in severe disrepair on Section 8 funds.
Such moves, along with infill, are seen by some as major steps toward the privatization of public housing. Next Generation has also established a new "Fund for Public Housing" which aims to raise $300 million from philanthropists.
It remains to be seen what ideas, if any, HHC may borrow from NYCHA going forward.