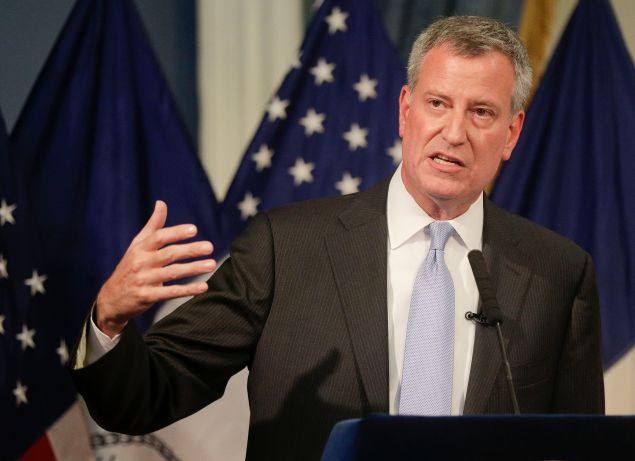 Something unusual happened in the latest Quinnipiac University poll: Mayor Bill de Blasio's approval rating increased.
Mr. de Blasio's clocked a 50 percent job approval rating in a poll released today, up five percent from 45 percent approval rating in the last poll, conducted in October. It's the highest approval rating he's had since August of 2014. Today's poll has a 3 percent margin of error.
New Yorkers are also warming up to the idea of re-electing Mr. de Blasio, according to the poll: 48 percent say he should be re-elected and 44 percent say he should not. In October, 48 percent of voters said the mayor should not be re-elected—and just 42 percent thought he should get a second term.
"This is a silver lining poll for de Blasio. Why is it a silver lining? Because he's positive on job approval and on re-election, after years behind the clouds," said Maurice Carroll, Quinnipiac University poll assistant director.
Asked to rate the mayor's first two years like a report card, 37 percent of those surveyed gave the mayor a B. Only 11 percent gave him an A, and 16 percent gave him an F.
"These are not great numbers, but they're better numbers than he's ever had," Mr. Carroll said.
Mr. Carroll wasn't sure what was behind the mayor's little upswing, but said his more public response to the homelessness crisis could be part of it, as well as the absence of catastrophic events.
"It seems to me nothing dramatic has happened, but nothing bad has happened, so he's getting reasonable mayor numbers after a long time of getting lousy numbers," Mr. Carroll said. "Maybe people feel a little sympathy for the way [Gov. Andrew] Cuomo is jumping on him trying to take away all of his money."
With no Republican candidate on the horizon, many believe Mr. de Blasio would be most vulnerable to a Democratic primary challenge in 2017. Among Democrats polled, 61 percent said the mayor should be re-elected, and 31 percent said he should not. And Mr. de Blasio outpolled potential Democratic challengers, including City Comptroller Scott Stringer and Bronx Borough President Ruben Diaz Jr., though the poll floated them as independent candidates running in a general election rather than a primary.