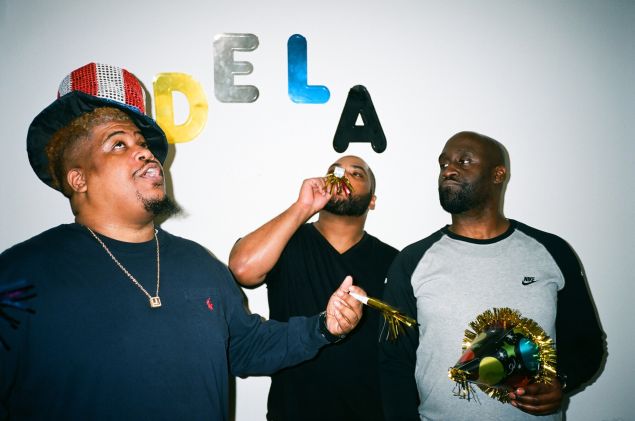 "What's your favorite hip-hop song?" A fair enough question from my hip-hop rhetoric professor, it was simple but loaded; any answer likely met with a heaping portion of judgment.
Most students in the class—many of which would self-identify as hip-hop purists—didn't name songs recorded before 2000. Eminem, Common, J. Cole, and Kendrick Lamar were all trotted out quickly, but one student surprised us all with his answers: Souls of Mischief's classic "93 Till Infinity" and A Tribe Called Quest's "Benita Applebum."
When you think of essential, Golden Age hip-hop, that illustrious time in the '80s and '90s, A Tribe Called Quest easily comes to mind, but there's other groups—which partially sparked Tribe's success—that are just as groundbreaking and influential: De La Soul and and the Jungle Brothers.
But why does The Jungle Brothers and De La Soul's presence in hip-hop still shrink in comparison to A Tribe Called Quest?
Through a postmodern afrocentric aesthetic that was exemplified through their clothes, hairstyle and flows, De La Soul and The Jungle Brothers formed a lexicon that would pave the way for other rap groups like a Tribe Called Quest and Black Star. They offered diversifying representations of black masculinity; whereas N.W.A. and Public Enemy were serious rappers that expressed themselves through their usage of Black Power, De La Soul expressed their own aesthetic through their experience of growing up as black men in black middle-class neighborhoods in Long Island that resonated amongst many African-American men.
[youtube https://www.youtube.com/watch?v=FJEzEDMqXQQ&w=560&h=315]
Released in 1989, 3 Feet High and Rising allowed the group to offer a visual performance of that aesthetic through their music video of "Me, Myself And I." Clearly seen as outcasts in the video—"Can it be my De La Clothes or just my De La Soul?"—De La Soul proudly donned multihued shirts, asymmetrical and dreaded hairstyles, and afrocentric necklaces. In "Take It Off" they further demanded for a New Black Aesthetic that differed from the gangster themes and symbols of the early '90s hip-hop narrative: "Take those shell-toes off, Take that doo-rag off!"
Portrayed as the hippie-bohemians of hip-hop, De La Soul took an abstract and tongue-in-cheek approach through their lyrics as seen in the erotic posse cut "Buddy," the youthful innocence of "Jenifa Taught Me," and the children story of "Tread Water." But De La Soul's mantra—Da Inner Sound Y'll—cannot be simply reduced to hollow playfulness.
Their message was not only of love and peace but was soul-searching that resisted white ideals by embracing African identity, whether it was commenting on the realities of the urban streets in "Ghetto Thang" ("Negative's the attitude that runs the show/When the stage is the G-H-E-T-T-O") or commenting on the negative stereotypes of black men in "Me Myself and I" ("But that glory's been denied/People think they diss my person by stating I'm darkly packed").
De La Soul also engaged in an Afrocentric discourse that was the cornerstone of their D.A.I.S.Y Age mantra: "Brothers of the Soul who present/Dove'll teach the truth, Posdnuos will preach the youth/ To the fact that this will bring an end to the negative." This sort of Afrocentricity is redolent to the legacy of the griot and African oral traditions through the use of the words "preach" and "teach." Their lyrics shared their struggle to balance their African and American identities—one linking them to their African historical past as well as the reality of the socioeconomic pressures of being poor and black in America.
[youtube https://www.youtube.com/watch?v=z3utEX49yvo&w=420&h=315]
The Jungle Brothers also wrestled explicitly with dual identities in "Straight Out of the Jungle." "Educated man, from the motherland, you see, they call me a star but that's not what I am. I'm a jungle brother." But they rejoice in this struggle and remain optimistic, hopeful and empowered.
A Tribe Called Quest engaged in a similar Afrocentric rhetoric of teaching and celebration in "Push It Along", but De La Soul's Afrocentric references and motifs called for separate language that spoke to an Afro-American's desire for self-expression and freedom.
But what truly set apart De La Soul's debut as the Sergeant Pepper's of hip-hop was Prince Paul's production.
By sampling everything from New Birth, to The Turtles, to Sly and the Family Stone, Paul's sonic collage included everything from jazz, funk, rock, reggae, pop and soul. Yet it would be the first and last time a hip-hop album would be sampled so freely: A lawsuit with the Turtles led to a nearly $2 million copyright lawsuit, eventually leaving De La Soul's music with little to no presence on music platforms.
While De La Soul's former record company Tommy Boy cleared the samples, what remains the true problem for Warner Bros Records is that sample clearance contracts in the early '90s only included clearances on physical formats like CD and cassette; now most sales and contracts also include digital releases. Have the copyright clearance struggles shrouded De La Soul's mark on hip-hop?
A Tribe Called Quest fared much better among millennials in my class, who largely buy their music through digital platforms. Many students credited A Tribe Called Quest for pioneering jazz-rap and including Afrocentric narratives in their music, with little to no knowledge that the Jungle Brothers and De La Soul had paved the way for others to capitalize on those themes.
De La Soul and The Jungles Brothers offered a passage to a new, innovative era that was captured through their collective, Native Tongues. And while A Tribe Called Quest is often the crowned gem of the Golden Era of Hip-Hop, it's important to recognize how the collective as a whole depended on each other at crucial times in their development (Q-Tip was first featured in "Straight Out The Jungle") setting up A Tribe Called Quest for their eventual success.
The conglomerate strength of the Native Tongues spurred a cultural shift of embracing individuality as well as the off-beat character within personal Blackness; the inspiration still resonates today.