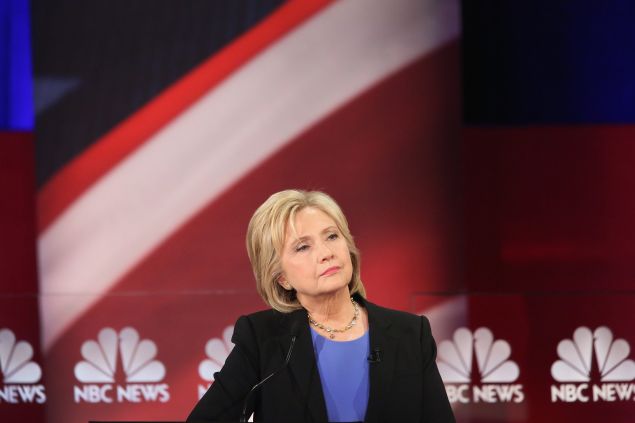 The Democratic presidential candidates exchanged feisty and heartfelt opinions on serious issues Sunday night, but the best moment came late, when Hillary Clinton, Bernie Sanders and Martin O'Malley gave their closing statements.
Ms. Clinton—considered the favorite for the nomination—brought up something you probably won't hear about in a Republican debate: The poisoning of a city's water supply under the neglectful administration of a Republican governor who took over the city due to bankruptcy.
"I have been outraged by what's happened in Flint, Michigan," said Ms. Clinton, the former Secretary of State, U.S. Senator from New York and First Lady. "The population—which is poor, in many ways, and majority African-American—has been drinking and bathing in lead-contaminated water.
"And the governor (Rick Snyder) of that state acted as though he didn't really care. He had requests for help that he basically stonewalled. I'll tell you what: If the kids in a rich suburb of Detroit had been drinking contaminated water and being bathed in it, there would've been action."
To save money, Mr. Snyder's appointees in 2014 decided to stop using water from Lake Huron and take it instead from the more polluted Flint River. It smelled bad and was discolored in part because contamination in the river water broke down lead inside old pipes. Nobody remembered to add the chemicals to prevent it.
Flint has already recorded an increase in lead in the blood of children. In recent days, it has reported an increase in Legionnaires Disease, although a connection to the water is unproven. Until recently, the governor's staff publicly ridiculed people who complained about the water.
Mr. Sanders—the independent socialist Senator from Vermont—took it one step further.
"I demanded the resignation of the governor," Mr. Sanders said. "A man who acts that irresponsibly shouldn't stay in power."
The matter is being investigated by Michigan's state attorney general—a Republican pal of Mr. Snyder who probably won't find much—and by the U.S. Department of Justice, which has the power to issue criminal indictments. Mr. Snyder has refused to make public his emails regarding the crisis.
Otherwise, most of the issues discussed and positions taken in the Democratic debate were predictable, although the energy level was elevated. Ms. Clinton dismissed the new health care plan of Mr. Sanders—Medicare for everyone—because, she said, she didn't want to re-debate the Affordable Care Act, one of President Obama's major accomplishments.
Mr. Sanders hit her hardest on financial issues, particularly her ties to Wall Street financiers who helped plunge the national economy into recession in 2008. He said Ms. Clinton accepted $600,000 in speaking fees from Goldman Sachs and added that the firm was fined $5 billion.
"Not one of their executives is prosecuted," he said, "while kids who smoke marijuana get jail time."
Warming into his stump speech, Mr. Sanders said: "Can you really reform Wall Street when they are spending millions and millions of dollars on campaign contributions? I don't want Wall Street's money."
Mr. Sanders, 74, raised his voice often and waved his arms. Ms. Clinton smiled more than most candidates do during a two-hour debate. Mr. O'Malley—the former governor of Maryland—made one of his strongest points in a discussion of stricter gun safety laws passed in his state after the slaughter of 20 school children in Connecticut.
"We did not interrupt a single person's hunting season," he said.
'They can't win with Trump, they can't win without Trump supporters.'
SUNDAY SHOW HIGHLIGHTS
FOX NEWS SUNDAY—This was the only network Ms. Clinton avoided Sunday morning, but Fox got Ted Cruz, the Republican Texas senator who appears to be threatening the presidential polling lead of New York businessman Donald Trump. Mr. Cruz accused Mr. Trump of past support for "left-liberal politicians like Andrew Cuomo, like Bill de Blasio and like Hillary Clinton." Mr. Trump recently attacked Mr. Cruz's legitimacy to run for president because he was born in Canada. For some strange reason, host Chris Wallace didn't press this issue.
House Speaker Paul Ryan, the Republican from Wisconsin, said Barack Obama has "degraded the presidency" and is "intellectually lazy" and is the "most polarizing president in my lifetime." (Apparently, Mr. Ryan was born before the Nixon administration; sometimes, he talks as if he was born yesterday). When Mr. Wallace asked Mr. Ryan if Republicans planned to shut down the government again in September, Mr. Ryan deflected the question.
When asked about his "poker face" while sitting behind the President for the first time during the State of the Union message, Mr. Ryan said "I just had to stare at the back of his head and just not—look, I don't agree with the president on pretty much anything." Karl Rove stopped by to say Ms. Clinton is "old and tired." George Will, the intellectual of this bunch, said the Republican problem is "They can't win with Trump, they can't win without Trump supporters."
MEET THE PRESS—Richard Engel had a top-of-the show report about the prisoner exchange with Iran, the release of American sailors held there briefly last week and the lifting of sanctions against Iran because of the new deal deterring development of nuclear weapons.
'The big guy comes in and offers the moon and the stars. People are latching on to that. The guy is entertaining, for sure, but his ideas aren't going to help.'
"The economy of 80 million people is now being welcomed back into the international community," he said.
Mr. Sanders, warming up for the debate, stopped by on video hookup to say "The rich get richer and almost everybody else gets poorer. We have got to stand up to the billionaire class."
Republican Senator Marco Rubio, interviewed on video hookup by host Chuck Todd, said he didn't think it was wise to deport 11 million undocumented aliens, as Mr. Trump has proposed. He made another veiled reference to Mr. Trump, who also has proposed the temporary ban of all Muslims from the U.S. "We're all Americans," Mr. Rubio said. "I don't seek to divide people against each other."
Another Republican candidate—former Florida governor Jeb Bush—mentioned the anger and anxiety that have drawn support to Mr. Trump.
"The big guy comes in and offers the moon and the stars," Mr. Bush said. "People are latching on to that. The guy is entertaining, for sure, but his ideas aren't going to help people." When Mr. Todd asked Mr. Bush if Mr. Bush would back Mr. Trump if Mr. Trump becomes the candidate, Mr. Bush replied: "He's not going to win the nomination." He didn't say "yes" or "no."
Mr. Trump, in a taped interview, spoke of how Mr. Cruz has attacked him lately for, among other things, "New York values."
"A lot of people do not like Ted, to put it mildly," Mr. Trump said. "He finally went off the wagon a little bit—went a little crazy."
Steve Schmidt, a Republican operative, summed up what he considers a weak Democratic field. "It's remarkable," he said. "Had Elizabeth Warren gotten into this race, she would've been the likely Democratic nominee."
STATE OF THE UNION—Ms. Clinton, also warming up for the debate, told host Jake Tapper by video hookup that she is "very pleased" Mr. Sanders flip-flopped last week and is now supporting stricter accountability for gun makers and gun sellers whose products are misused.
'The professional political class collectively is panicked by the forces that they see Trump having unleashed.'
"We Democrats—in fact, Americans—need to stand up to the gun lobby," she said.
Mr. Trump, asked by Mr. Tapper why he never apologizes or asks forgiveness for his false and insulting remarks and behavior, responded "I have a great relationship with God."
Asked about his mocking of a reporter with a major physical disability, Mr. Trump was disingenuous and indirect. "I'm a smart person," he said. "I went to the Wharton school of finance."
When asked about Mr. Cruz's crude remarks about New York, Mr. Trump said: "I thought it was disgraceful he brought that up. He comes across strident and not a nice person and people don't like that."
As for Mr. Cruz's citizenship issue, Mr. Trump said: "He's got a problem. He was born in Canada. He was a Canadian citizen until 15 months ago, if you can believe that."
THIS WEEK on ABC—Host George Stephanopoulos asked Mr. Trump about the challenge to Mr. Cruz's legitimacy as a presidential candidate.
STEPHANOPOULOS: "Why don't you sue?"
TRUMP: "That's an interesting case. Well, that sounds like a very good case. I'd do the public a very big favor.
STEPHANOPOULOS: "Are you going to do it?"
TRUMP: "He was so nice to me. I kept hearing he's not a nice guy."
STEPHANOPOULOS: "He said you should put your money where your mouth is. If you really believe in this, you should file the suit."
TRUMP: "Well, it's a good idea… When I file suits, I file real suits."
Late in the show, Mr. Stephanopoulos made a reference to a possible dark horse, compromise candidate for the Republicans.
"Lot of talk about Paul Ryan," he said.
FACE THE NATION—This was the only morning show that mentioned the water poisoning in Michigan. Ms. Clinton told host John Dickerson "I am horrified by what has happened in Flint… Lead is a poison. It destroys your brain. It interferes with your learning and your behavior."
Journalist Molly Ball of The Atlantic, a participant in Mr. Dickerson's panel discussion, continues to be one of his more incisive commentators. She said the original Democratic plan was to "coronate a candidate who doesn't fundamentally inspire the Democratic base.
"There is a rising liberal tide in America," Ms. Ball said. "A real sense that they want to push a progressive agenda and so Bernie Sanders has become this sort of unlikely messenger for that."
Later, in discussing President Obama's warning against anger in the population, she said: "The professional political class collectively is panicked by the forces that they see Trump having unleashed."
Disclosure: Donald Trump is the father-in-law of Jared Kushner, the publisher of Observer Media.