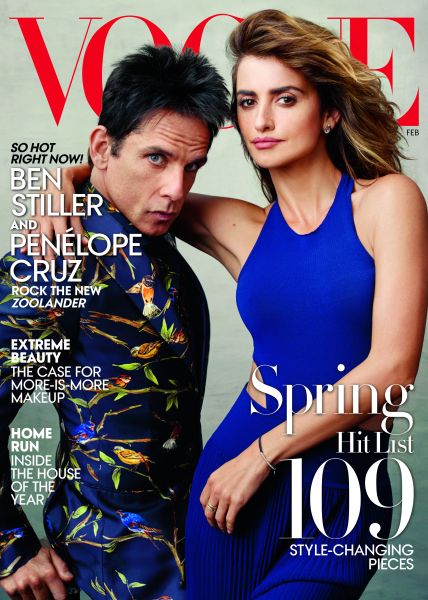 This is not a drill: Derek Zoolander is moving up in the fashion world, having snagged his very first cover for Vogue. Well, it's not technically all his, as his Blue Steel pout shares the spotlight with Zoolander 2 co-star, Penélope Cruz.
As the coverlines state, Ben Stiller in Dolce & Gabbana and Ms. Cruz in Ralph Lauren Collection are so hot right now. Photographer Annie Leibovitz snapped the cover image, in addition to a model-studded spread inside the February issue. Gigi Hadid, Joan Smalls and Jourdan Dunn joined Zoolander in the images and we really hope there were at least a few walk-offs at this photoshoot, which was styled by Tonne Goodman.
Hansel—played by Owen Wilson—was noticeably absent from these photos, but it turns out that the Vogue shoot was held in his former exposed brick loft apartment. You know, where that memorable orgy took place in the first Zoolander flick.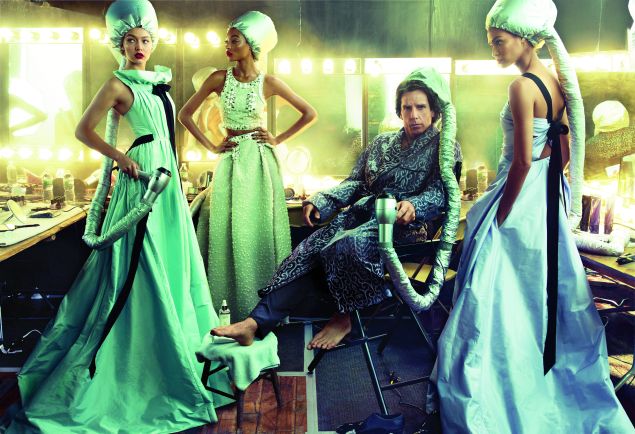 The hottest male model around knows that there's more to life than being really, really ridiculously good looking and writer Jason Gay picked up on that. "Seeing Zoolander do Blue Steel is like watching a prima ballerina turning 32 perfect fouettés. Like watching Roger Federer hit his one-handed backhand. Like seeing Neil Armstrong step onto the moon in a Dior leather stocking boot," he wrote.
Zoolander has already been widely embraced by the actual fashion industry, having made a surprise appearance on Valentino runway last March. While Marc Jacobs will appear in this sequel film, Karl Lagerfeld wouldn't agree to a cameo. But Mr. Stiller hasn't lost hope for sharing a scene with the iconic designer in the future: "[Mr. Lagerfeld]'s iconic. It breaks my heart. Maybe if we ever do another…"
For more details about Zoolander's shoot and what to expect from the movie, which will hit theaters on February 12, head to Vogue.com.