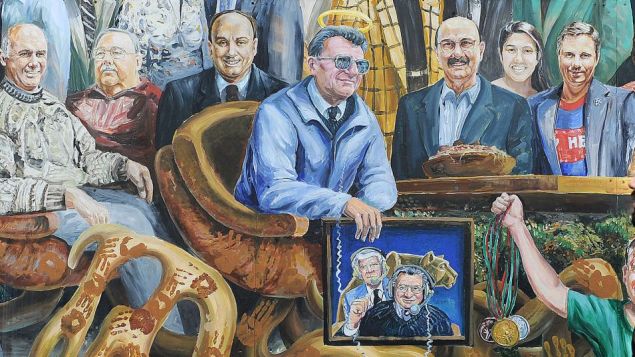 Disgraced sports icon and late Penn State football coach Joe Paterno had 111 of his record 409 college coaching victories restored by the NCAA last year, again making him the winningest college coach in the history of the sport.
Now he's had something else returned: a halo. It's been added back into a prominent mural on display at Penn State.
When an investigation in 2012 resulted in an indictment for then-assistant coach Jerry Sandusky on charges of child sex abuse, Paterno was also implicated for allegedly concealing facts and blocking the investigation. After a two-year grand jury investigation, Mr. Sandusky was charged and eventually found guilty of more than 50 counts of child sex abuse. Paterno was stripped of the wins he had accrued since the year 1998.
The coach's reputation was seemingly forever tarnished, and artist Michael Pilato, who created the college's Inspiration mural, which depicts Paterno along with other inspiring people, removed the coach's halo from the picture (all the deceased subjects are outfitted with halos).
But Mr. Pilato, who wanted to "right a personal wrong," has now restored the halo to Paterno's portrait, according to CBS local affiliate WGAL.
"I am doing this because it is the right thing to do," said the artist in a statement. "Never once on all my tours or in all the articles before the Sandusky scandal were the halos interpreted as the person being a saint, no one ever took offense to it and if they did they were smart enough to know it is art. It is meant to start a conversation."
Mr. Pilato felt remorse for removing the halo in the first place (he also painted over Mr. Sandusky entirely) and apologized for his "fast actions" to former Penn State All-American defensive end Bruce Clark in a video posted to YouTube.
Historically, the halo usually represents religious light (literal or metaphorical) and can be found in Hindu, Buddhist, Islamic and ancient Greek and Roman art, as well as Christian iconography. Mr. Pilato's halos most closely resemble those depicted in Italian Renaissance painting, but the artist wants to steer his work away from a purely Biblical definition.
"The Bible does not directly speak of halos as observed in religious art," said the artist in the statement. "The closest expressions are found in examples of Jesus with the words 'glorious light' (Revelation 1) and (Matthew 17) and that Moses had a face that 'shone with light after being in the presence of God' (Exodus 34:29-35). However, in none of these cases is the light involved described as a circle of glowing light above the head. It was the artist who interpreted the 'light' into what we know today as a halo."
The halo was added when Paterno died in January of 2012 but removed months after the investigation.