History used to be written by the winners, but now it gets written by everyone with an Internet connection. Wikipedia lets us watch the fight over framing our shared story go down letter by letter. For example, we can quantify how strongly people feel about how the story of George W. Bush's presidency is told. In a recent blog post celebrating fifteen years online, the Wikimedia Foundation reported that President Bush's article on the crowdsourced encyclopedia is English Wikipedia's most edited page of all time.
Political history is in the making right now. A woman has been the presumptive White House winner, but two non-establishment candidates have shaken up the race. In due course, candidates' Wikipedia pages have perked up as the public's interest grows, but the page for Donald Trump has seen the most activity since the campaign got underway; meanwhile, Ms. Clinton's has seen little life at all.
That said, there's some nuance in the analysis, which might also indicate something about the ways winds are blowing.  Here are the numbers for each of the candidates polling in double digits on RealClearPolitics, sorted by the number of revisions in 2015:
| | | | | | | |
| --- | --- | --- | --- | --- | --- | --- |
| Candidate | Page size (Bytes) | Number of revisions | Number of editors | Edits in 2014 | Edits in 2015 | Edits in 2016, so far |
| Donald Trump | 200,035 | 10,472 | 3,968 | 462 | 3,968 | 372 |
| Bernie Sanders | 106,135 | 3,997 | 1,460 | 116 | 2276 | 70 |
| Ted Cruz | 109,811 | 3,703 | 1,068 | 496 | 1420 | 249 |
| Marco Rubio | 115,080 | 3,543 | 1,140 | 284 | 1155 | 51 |
| Hillary Clinton | 220,140 | 13,123 | 3,794 | 322 | 902 | 62 |
All the information above was collected from the page history tools from Wikimedia Labs. Looking at this data, the impact of the presidential campaign jumps out. All of these pages had been fairly sleepy until the conversation about the presidential race took off. A similar trend can be seen looking at a Google Trends report:
[protected-iframe id="fc0a9e7bad4fb8cef1fd59a2a11ddf65-35584880-79214703″ info="//www.google.com/trends/embed.js?hl=en-US&q=/m/0ncc_0w&date=1/2014+25m&cmpt=q&tz=Etc/GMT%2B5&tz=Etc/GMT%2B5&content=1&cid=TIMESERIES_GRAPH_0&export=5&w=600&h=400″ ]
The big surprise here isn't so much that Mr. Trump is on top, but that Ms. Clinton comes out dead last in 2015. The presumptive Democratic nominee's Wikipedia page has been relatively moribund.
Yet, over the entire life of her page, she has seen the most activity. Interestingly, her Wikipedia page's edit frequency was at its most active not during this campaign nor even when she was Secretary of State. Her page saw the most action during the end of her time in the U.S. Senate, from 2005 to 2008. Not only that, but her page is also the largest, at 220,140 bytes, 10 percent larger than her nearest rival, Mr. Trump.
The Observer intends to dig a bit more into editing activity on these pages, to see how much of the activity is attempted vandalism or hagiography (which, from the perspective of the encyclopedia, is same thing). One way to chase this topic is to look at top contributors. There are two ways to measure the activity of a Wikipedia contributor, by the volume of data contributed or the number of edits. Ms. Clinton and Marco Rubio both have one contributor in the top spot in both categories (Wasted Time R and Anythingyouwant, respectively).
SEE ALSO: Crowdsourcing the digitization of journals written by yesterday's dinosaur hunters.
It's also worth noting that interest in Mr. Trump's page calmed down for a bit after a big spike last summer. The blue bars indicate edit activity by month. Mr. Trump announced his intention to run during June 2015: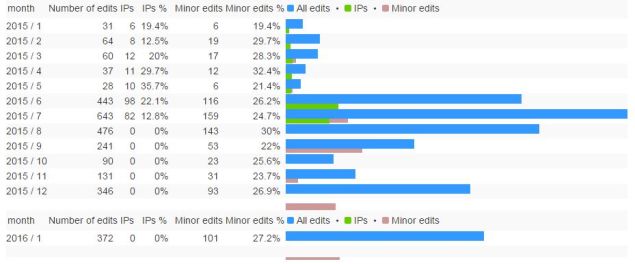 Sen. Bernie Sanders comes in second place for edits last year. Perhaps Wikipedia activity over the last year isn't so much a proxy for overall popularity but for the energy of the campaigns' respective bases? If that's the case, that vigor is showing up in both an encyclopedic and electoral matchup between the two contenders rocking their parties' status quo, a new facet of the Mr. Trump versus Mr. Sanders matchup that the Observer has been watching closely.
Mr. Sanders' crew has also been ferocious over on Tumblr, as the Observer previously reported.
Looking over the candidates' pages and edit history, it has been easy to find some initial efforts at blatant page vandalism (such as completely deleting all but the basic facts from a page). We'll be looking closer, but the live pages right now look mostly OK (the worst we spotted after an initial scan of each one is that there might be some page bloat, such as listing every tiny gig a candidate has ever had since college).
In other words, the encyclopedia right now is hewing closely to something like the truth, a case in point where crowdsourcing has worked when an adequate crosssection of a nation takes part.
Thoughts on this story? Seen compelling edit battles on Wikipedia? Email Brady Dale at bdale@observer.com
Disclosure: Donald Trump is the father-in-law of Jared Kushner, the publisher of Observer Media.