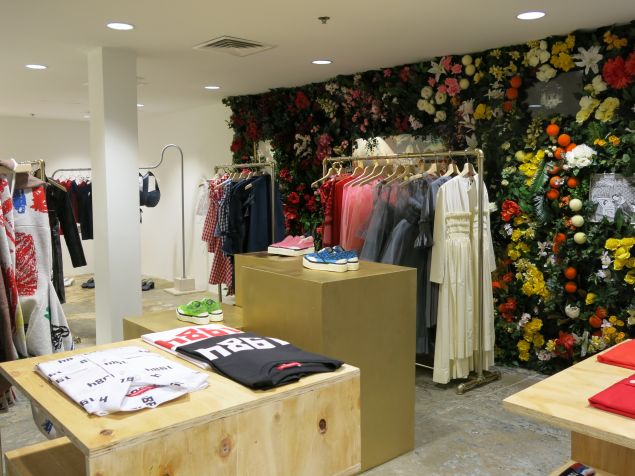 If you don't know exactly where Dover Street Market New York is located, chances are, it's doubtful you'd stumble upon it. After all, Murray Hill is not an obvious setting for a multi-story boutique stocked with inventive creations from Comme des Garçons, Simone Rocha, Junya Watanabe and beyond. The unmarked building makes it rather elusive, as well.
Dedicated fashionphiles and hardcore shoppers are well aware of this mecca, located on the corner of 30th Street and Lexington Avenue, and all the glorious things that take place within its walls. They often queue up for exclusive launches, waiting for hours in the cold in order to score highly sought-after items.
In fact, this past Saturday devoted DSM fans were lined up to get a first look at the shop after it had undergone a seasonal facelift, otherwise known as a New Beginning. During this time, they entirely closed up shop for three days, from January 13 to 15, having lost an estimated $200,000 in sales.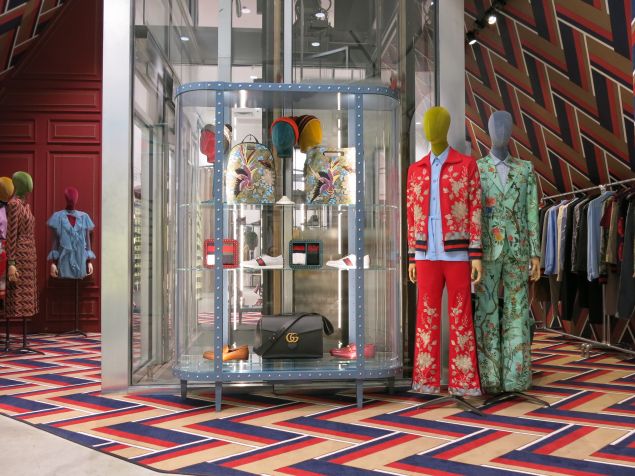 The most notable changes will be the addition of a Gucci shop, which is replacing Prada and the introduction of a Vetements shop, which is the brand's very first dedicated location in the world. According to James Gilchrist, general manager of Comme des Garçons and DSM, the Gucci shop was the most time-consuming space to make. "They have a large scope of work and the finishes they are applying are very detail-oriented so will require time," he told us. For example, creative director Alessandro Michele adapted a print from the spring 2016 collection and transformed it into carpeting and wallpaper.
In comparison, the space from Vetements is rather simple; it's a tiny corner that was designed to emulate a large fitting room. "We don't plan to have our own retail store in the near future, so it's really a good start," wrote Vetements' Demna Gvasalia via email. "DSM is one of the most exciting places to shop and [it's] a great opportunity for us to represent our products to final customers."
Mr. Gvasalia is just one member of the five-person design collective that makes up Vetements, which has been dubbed as "a brand to watch" by nearly every fashion publication since its fall 2015 collection bowed. He also happens to be the predecessor to Alexander Wang at Balenciaga; he will make his much-awaited debut at that French brand this coming March. Until then, this space is a good place to get some further intel on the designer. For one, he thinks the brand's arrival at DSM proves that they are "a happy brand."
When asked which of the Vetements designs will be most embraced by New Yorkers, Mr. Gvasalia had a roundabout answer: "We hope all or at least most of the collection pieces will find someone to wear them. That's what they are made for." And he was pretty spot-on about that as the Vetements shop completely sold out this past Sunday. While the space currently sits empty, DSM representatives promised that it will be restocked.
In addition to this momentous introduction, Loewe men's will infiltrate the ground floor event space and LQQK studios will host a display on the second floor with T-shirts, bags and hats, alongside other curated curiosities. Other brands that will be introduced for the spring 2016 season include The Row, Shrimps, Facetasm and Blackyoto.
Aside from being quite avant-garde, it seems there's no link between the many brands carried in this one shop. But that's not entirely true.
"We always stay true to our concept of Beautiful Chaos, which leads us to search for brands with a strong vision and a unique point of view," Mr. Gilchrist told Observer. "This applies to all the brands we carry whether they are emerging brands like Craig Green and Molly Goddard or the more established designers like Simone Rocha and J.W. Anderson or luxury brands like Gucci and Valentino."
There are also a handful of locally trained designers represented; both Melitta Baumeister and Katherine Mavridis are recent Parsons graduates who were discovered by the retailer at their final student runway show.
Even if the aesthetic of Comme des Garçons isn't necessarily yours, stopping by DSM is a culturally enriching experience, kind of like an entirely shoppable museum. And there's really something for everyone, from a tin Japanese tea kettle to diamonds from Delfina Delettrez and skate T-shirts from Anti Social Social Club.