The Entrepreneur On Fire podcast is a runaway success, and it's all about helping people with dreams take a page from the books of other successful people. We wish people pursuing their own dreams would take a page from John Lee Dumas's playbook, the one on transparency. The show's founder and host lets his audience in on how much his company is earning and how much his expenses are.
It would be great if most entrepreneurs were so open about how business is really progressing. There's a culture in startup land of guarding those figures, unfortunately, but Mr. Dumas takes an open approach.
Since launching in fall of 2013, the company has earned $7.2 million and held onto $5.45 million of that in net earnings. Last year, it came in just shy of $3 million in profit. Mr. Dumas employs a small team, and he's constantly looking for new ways to serve his community and diversify his business.
We have recently explored new technologies for helping more podcasts to earn money, including premium content, automated transcripts and digital advertising. If podcasting is old enough to be called traditional yet, though, Mr. Dumas's company could be described as taking a pretty traditional approach to the podcasting business, but with a strong focus on diversification. Entrepreneur On Fire is a daily show (seven days per week), and it has put up 1,200 interviews since it launched. Mr. Dumas said he's getting about 1.2 million listens per month.
The podcast is the heart of the business, but the business is not only a podcast. He connects with his audience in a lot of other ways as well, most of which generate an income stream. In many ways, it's similar to what we found from artists who have succeeded in the world of webcomics.
The Observer connected with Mr. Dumas via phone to discuss how he turned his podcast into a successful enterprise in more detail.
Did you see anything from the Serial effect on your podcast, as the whole country buzzed about This American Life's true crime show?
One thing that I saw with Serial for sure was a lot of people who had heard what I was doing but never really reached out or thought it was something that could apply to them. What really the Serial effect had on me was people who were that one degree of separation from my podcast started to think podcasting might be real.
Of the big networks out there (for example, Panoply, Gimlet, Maximum Fun and Earwolf) who is doing stuff that impresses you?
I'm paying attention to the newer big networks, not the older big networks. For example, the Gimlets. I'm an angel investor with Gimlet. I'm friends with Alex Blumberg and he came to me to talk about the monetization of podcasts beyond just sponsorships.
We did a great event in San Francisco about how to generate growth and monetize your podcasts, for a company called Creative Live.
I love what Gimlet is doing, because they are not coming with any of the old school mentality that I really see a lot of the older and bigger companies kind of dragging behind.
Earwolf was the first to approach me about sponsorships. I have loved what they have continued to do. I really wondered what was going to happen when they were acquired by Scripps, but they really seem to have been impressed by Earwolf's entrepreneurial vibe.
'Podcasting is this unique space where you can say "yes" without saying "no" to something else'
Tell us about your monetization strategy.
We have five main monetization strategies: No. 5, my consulting and speaking. No. 4, we run a mastermind, called Fire Nation Elite, for my listeners who want more access to me and more access to the elite listeners. No. 3 is affiliate income. I do anywhere from $50 to $100,000 per month. That's a really broad term. We do product affiliates, but we also do affiliate webinars, where I'll bring on the show for instance, David Siteman Garland on how to create awesome online courses. Then we'll say we're having a live webinar, and have it and add value. Then we'll say how to join the courses.
We had 1800 people sign up for that webinar, 950 people showed up and 250 people purchased the courses. So my income was $100,000, just on that webinar. And people are still listening to it. I typically do at least two of those per months.
I've never charged for affiliate webinars. My philosophy is to add value and then a percentage will want to purchase the product from that webinar.
No. 2 is sponsors on the show. 15 seconds pre-roll and 60 seconds midroll. And that's me talking about that product or service. That typically generates betwen $80,000 and $120,ooo per month. As your downloads go up, so does your CPMs [cost per thousand listens] go up.
Our biggest monetization stream comes from products we've created ourselves. I have the biggest podcast community in the world, Podcasters Paradise, we have 2,800 members. I also have Webinar On Fire.
It sounds, maybe, like there is a bit of an inverse relationship between the amount of work and revenue. Not entirely, but sort of. For example, going to seminars and conferences, that's a lot of time, right? 
No. 5 is the most work, that's why I have continued to make it less and less of a priority. Honestly, that could be a massive revenue stream, but it's a ton of work, to go to a conference, to speak, you're putting the rest of your business on pause. So we've made that a very low priority. It's just not the best use of the time for dollars anyway.
Podcasters Paradise, that took a ton of time to set up initially, but now it's very minimal. We maintain the Facebook group, do one webinar a month and update the tutorials as needed.
Sponsorships do take a lot of work. There's always a big email chain to get the text approved. Those companies pay $2,000 per episode, so they are very specific about what they want us to say but we're very specific about translating that into my voice and the way that makes sense for the Fire Nation. I'm a business guy and these are business products, and there's just a certain way that I need to present that.
Midroll is deeply bought into this artisanal ad approach, the host read, but I've been interested in companies doing dyanmic ad insertion. I know you work with Midroll, but what's your take? 
I'm on the side of the fence of the Midroll as well, because I know my listeners listen to my ads because it's in my voice, my personality and my stamp of approval. And that's why they take action. If it's obviously not me, they're just pressing fast forward 10 seconds until it's back to me.
Tell me about the Kickstarter you have running right now, for your workbook, The Freedom Journal?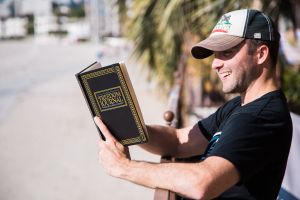 After 1,200 interviews, I got the same question thousands of times from my listeners: "What's the magic bullet to success?" And my answer used to always be hard work, which is kind of a cop out. The one commonality of my interviews is they know how to set and accomplish goals, whereas my listeners are struggling with the same thing.
I didn't want it to be an app or something in the cloud, and I had the resources to make it a useful, beautiful physical product. So on January 4, we launched The Freedom Journal, which is a beautiful leather bound journal, which has the purpose of guiding you to accomplish your number one goal in 100 days.
So we had to launch on Kickstarter because it has a massive platform and gives that air of transparency I love, so I wanted people to see how many backers we had, how much money we raised, on a platform that people know, like and trust.
We are going to finish strong. We are already the No. 9 in publishing campiagns ever on Kickstarter, and my goal is to be No. 1. Radiotopia is No. 1 and we are looking to take them down, and we are on pace to do so.
Are there audio tech or podcast tech companies that are doing stuff you find interesting?
There's been a few companies that have really made some progress. One thing you really find is a struggle with podcasting is the audio quality, like when you have peope Skype or even call in with a phone call. I interviewed Gene Simmons and he didn't have the equipment, besides a phone line, because that's just not how he rolls.
What was really exciting to me was seeing companies like Podclear and ZenCastr. ZenCastr will very easily let them record on their end automatically and on your side automatically and then automatically sync up and save via Dropbox. So it sounds like both people are recording in your studio, which is a phenomenal improvement.
Podclear is basically the same as ZenCastr. They launched and they were soon afterward acquired by Blab.IM. So Blab is like the next level Google Hangout. They have a really cool interface with comments on the right side, social sharing on the right. You can boot people out and bring new people in. They had PodCon 2015 all on Blab.  
'Our biggest monetization stream comes from products we've created ourselves'
iTunes and podcasting, where's that relationship headed?
iTunes continues to be the mother ship, however I see them visibly , with my statistics, losing ground. This time last year they were 89 percent of overall downloads, but now they are 76 percent. They are legitimately losing ground, and the reason is the emergence of Spotify, Pandora and Google Play. Those three big players are dipping their toes, so they are going to see how it works out for them.
What do you foresee for podcasting in 2016?
So there's a lot that's out there right now, like with your Meerkats, Periscopes and Blab, but they are all just noisy. Podcasting is this unique space where you can say "yes" without saying "no" to something else. You can walk, you can run, you can drive. I think podcasting is in a very unique space, because of that, I am seeing a very slow growing awareness in the public.
So I think podcasting in 2016 is going to see slow and steady  growth.