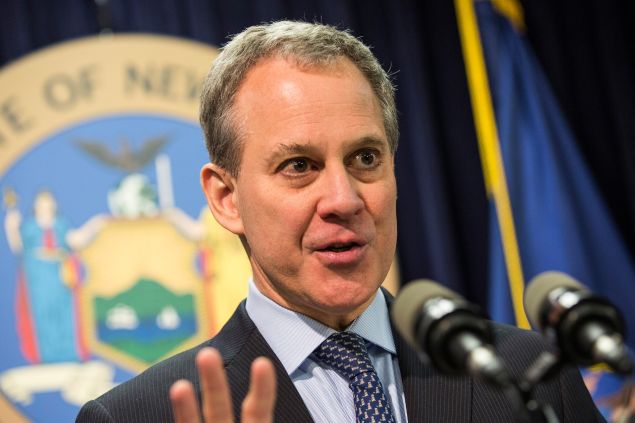 New York Attorney General Eric Schneiderman's crusade against fantasy sports has taken a new and bizarre turn: he wants FanDuel and DraftKings to refund all the money that participants lost playing fantasy sports. Some 600,000 New Yorkers paid entry fees to participate last year, totaling about $200 million in revenues to the two companies. In addition, the AG wants to impose fines of $5,000 per "offense." That's $3 billion in fines. What is going on here?
Mr. Schneiderman initiated this action in late September after a DraftKings employee was caught playing a daily game on competitor FanDuel's site—and winning $350,000 of the million-dollar pot. There was suspicion that the employee—who, at the time was allowed to play on competitors' sites—had "inside information" from his own site: which players were most popular on fantasy rosters among DraftKings customers that day. Further investigation revealed that the employee did not get access to the final competitive rosters until 40 minutes after his own picks were locked in.
David Boies, the legendary trial lawyer representing DraftKings, argued before the court that the AG simply did not understand the nature of fantasy sports.
That permission-to-play has been suspended, but it was revealed that employees of DraftKings had won only 0.3 percent of FanDuels' total payouts. Overall, 11.7 percent of the two companies' customers had net positive returns in 2013 and 2014.
The attorney general originally sought an injunction prohibiting the two companies from accepting bets from New Yorkers. The AG argued that daily fantasy sports are illegal gambling because they are games of chance—not skill—and thus prohibited, or at least subject to state regulation. FanDuel is headquartered in New York City and DraftKings in Boston, and the two companies are leaders in the multi-billion-dollar online sports-betting industry.
David Boies, the legendary trial lawyer representing DraftKings, argued before the court that the AG simply did not understand the nature of fantasy sports. The court agreed with Mr. Boies and denied the AG's request for an injunction. Afterwards, New York Law School professor Robert Blecker, an expert on criminal law and the philosophy of sport, noted that, "Fantasy sport is a derivative on sport itself. As a derivative, it heightens interest and creates secondary markets. The Great Recession should have taught us how important it is to regulate derivatives without destroying them or allowing them to distort the primary activity from which they derive. I'd bet—or at least fantasize—that if the government attempts to shut down fantasy sports, it will only crop up in more pernicious unregulated forms. Prohibition should have taught us that lesson."
An appellate court heard arguments this past Monday. Importantly, in 2006, a federal law exempted fantasy sports from a prohibition against processing online financial wagering.
Exactly why the AG decided to go after fantasy sports at this time is not clear; the companies have been operating in New York for eight years. This latest effort by Mr. Schneiderman to seek refunds for all those unsuccessful players—what we used to refer to as Monday-morning quarterbacks—seems strained. Is he trying to protect New Yorkers from their own worst urges? Forgive them their trespasses?
We suspect that Mr. Schneiderman's concern for the voters—er, we mean duped citizens—will soon extend to those who play the state lottery, bet on the ponies, visit Indian casinos, or succumb to the lures of the corner numbers racket. We wish he would find more serious uses for his office's prodigious powers.