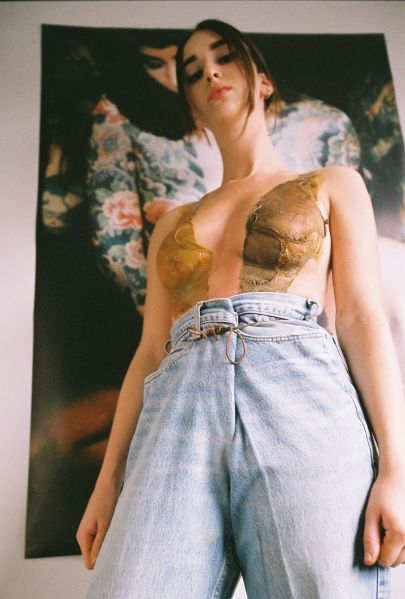 If a woman and artist can't post photos of her own nipples on Instagram, can she post herself wearing an exact replica of her nipples? That's the challenge Dutch artist Esmay Wagemans is making to the Facebook-owned photo sharing social network. She's been posting photos both of her latex tops that replicate her own breasts, as well as photos of her wearing the tops. So far, they have all stayed up.
The nipple has been freed for publicity and freed for journalism. One activist group, Femen, even frees the nipple as a propaganda weapon. Ms. Wagemans' practice attempts to expose the nipple in the way that she covers it, as a work of art, a project she calls "Second Skin." The Observer reached out to find out more about how she made the tops that replicate her body.
"I remember that I wore it for the first time at an exhibition and it felt like I had forgotten to put on my clothes. It actually feels quite liberating," she wrote in an email. "My project currently has no intention to be wearable or to be worn by other people in daily life. But there are interesting elements in the material and design and I definitely use the experiences and perceptions of how the design does feel, in my research and concepts."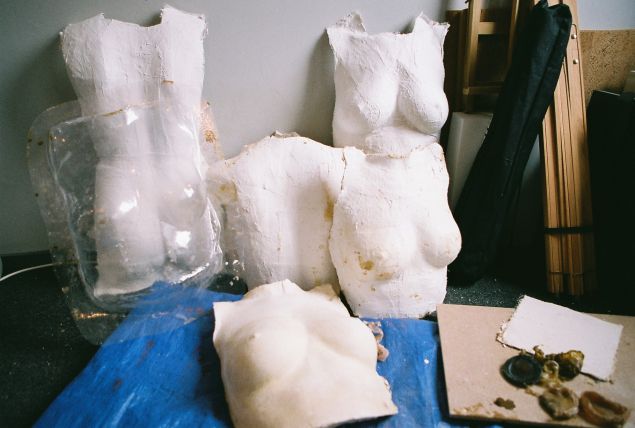 To make a top that exactly matches her own body, she first makes a plaster cast of herself. Then, inside the cast she paints layer after later of latex rubber, until the latex is thick enough to be pulled off the cast, after it has dried. To get exactly the result she wants, she has to be ready with a high temperature dryer as she paints the latex on, so it doesn't drip into parts of the mold that she doesn't want or get thicker in the deeper curves of the mold than it is at the edges. She adds talcum to the latex so that different tops won't stick to each other, but, she says, this also gives it a more organic feel. Imperfections in the plaster cast are also transmitted to the latex, so "there was an unexpectedly wonderful relief what more or less equates to a skin structure," she wrote.
The process is so organic that each one she makes is a little different. It can have new irregularities or take on new qualities. She knew that would happen as she made it, but what she didn't realize was that sun exposure would change the color of the latex (which starts out white but takes on its own yellowish tint as it dries). Like skin, the color of the latex deepens with sun exposure. "I built a small wooden frame to test this technique on small pieces of latex, and kept track of how long they had been in the sunlight for. I used the outcome of these experiments for my new series of tops," she told us. "I applied all the different options from these experiments so far, to get as many different variations as possible."
| | | |
| --- | --- | --- |
| Latex mixed with brown ink, darker in spots where the latex came out thicker, by accident. The white is from the plaster, which the artist opted not to remove. (Photo: Esmay Wagemans) | This piece came out unexpectedly pink, and the artist is not sure why. (Photo: Esmay Wagemans) | This one is so thin in places she almost viewed it as a mistake. Now, it is one of her favorites, she says. (Photo: Esmay Wagemans) |
Later, she would experiment with adding some inks to the latex, different ways of applying latex and even making tops on the outside of her cast, rather than the inside (because the side that dries exposed to the air has a shinier surface than the side that dries against the plaster).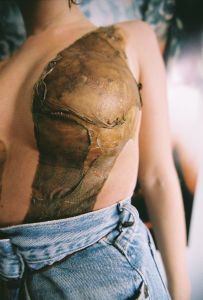 Finally, her iterations would lead her to use her own body to cast a latex top. "I wanted to push the boundaries of when we experience ourselves as being naked," she explained. "I mixed the latex with ink (so it would dry up less transparant), and then smeared it on my body. Gradually the milky substance changed into a transparent glossy layer on my skin whilst drying. I tried to pull of the latex-skin, but accidentally let loose which made it fall back and stick to the latex that was still on my body. So now I partly had a double layer of latex-skin on my body. It turned out to be exactly what I was looking for."
Instagram did not immediately reply to a request for comment. The site's terms of use explicitly forbid nudity and partial nudity, as has been widely reported, but it doesn't actually define either.
"For me at the moment the psychic experiences at the time of wearing the design are a lot more interesting than the physical experience. For example, just applying a color on the body can already feel so different, covered and less naked. But you can actually still see everything of the body," she pondered.  "That's why I think the definition of nudity is more an experience than just something theoretical. During my projects, I always try to ask myself when I experience naked as naked and if I can find the boundaries."