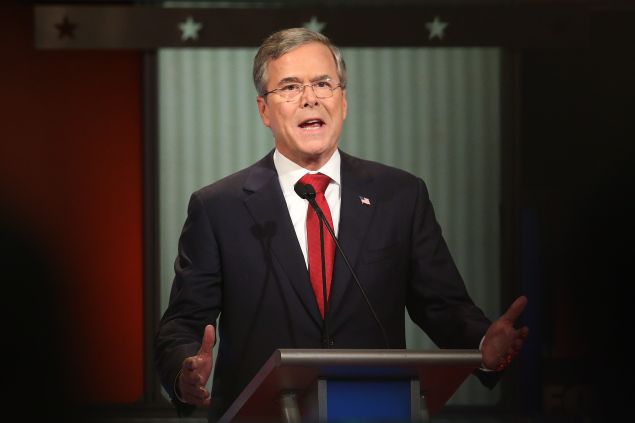 Jeb Bush repeated many of the same themes of his campaign during a speech at the Council on Foreign Relations today.
America can achieve 4 percent economic growth. The military must be bolstered. President Obama has allowed the world to deteriorate and events to dominate him.
But Mr. Bush, the former Florida governor, also managed a moment to inhabit his new role on the campaign trail, and one he hopes will save his flagging presidential bid: arch Donald Trump critic.
"There's the lack of seriousness at least by the front-running candidate, that I wouldn't know what his policies are, but when he doesn't know what the nuclear triad is, that's cause for pause, I think," Mr. Bush said in Manhattan, referring to Mr. Trump's failure to identify the triad as the three components of a nuclear arsenal. "Someone who proposes a 45 percent tariff across the board on China, it's not a serious proposal. It's basically the advocacy of a global depression that will wipe out the middle class in this country."
Asked why Mr. Trump, the celebrity billionaire, was gaining "so much traction," Mr. Bush said he wasn't a serious candidate.
"I'm the only guy confronting this because people are anxious about their future, they've latched onto the large personality on the stage but the reality is that he's not a serious candidate," Mr. Bush said. "And he'll get wiped out in the general election. This is not a political gathering so we can move on but the simple fact is that we have to restore a traditional role in foreign policy."
In the audience was Sen. Lindsey Graham of South Carolina, a former presidential candidate and recent Bush endorser. Like Mr. Bush, Mr. Graham is a foreign policy hawk and loud Trump critic.
Mr. Bush characterized Mr. Trump's foreign policy as "rambling."
"You can't do this by, you know, rambling around by saying, 'Putin can take care of ISIS, China can take care of North Korea, it's their problem,'" he continued. "There need to be candidates who stand up and say there's a better path than the path of the left, which is a path of retrenchment, and the path emerging far to the right that is viewing this as we don't have a security interest in areas where we do."
"You can't keep us safe by talking trash without backing it up with serious plans," he added.
Disclosure: Donald Trump is the father-in-law of Jared Kushner, the publisher of Observer Media.