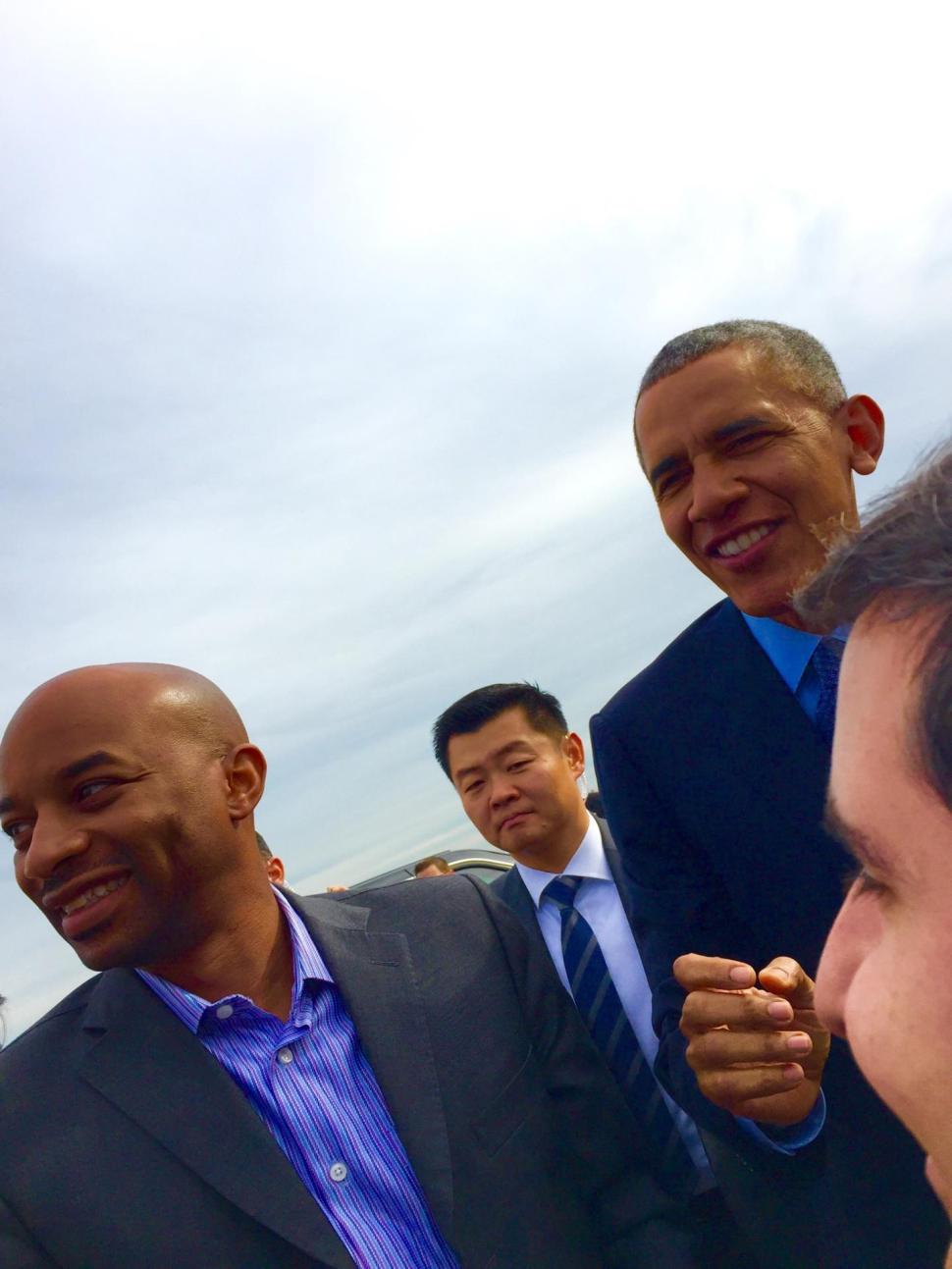 Modia "Mo" Butler, Senator Cory Booker's longtime confidant who served as chief-of-staff to Booker in
Newark City Hall before transitioning statewide to lead his boss' U.S. Senate operations in 2013 when Booker went to Washington, is going to work for public strategies firm Mercury Public Affairs, LLC.
It's big political news in New Jersey.
Butler's move puts him under the same professional roof as Mike DuHaime (left), partner at Mercury; and Mike Soliman (right), the firm's managing director, thereby creating a powerful nexus of the state's three biggest political brand names.
DuHaime is the longtime confidant and political minder of Gov. Chris Christie. Soliman is the former state director and continuing adviser and friend of U.S. Senator Bob Menendez (D-NJ).
Now Butler from Booker joins the team. Just as DuHaime and Soliman maintain close connections respectively with Christie and Menendez, Butler will continue to advise Booker.
Replacing Butler in Booker's office, a source told PolitickerNJ, will be George Helmy, the senator's deputy chief of staff.
"Mo Butler has been a tremendous asset to Senator Cory Booker over the years and we are thrilled to welcome him to Mercury," said DuHaime. "The addition of Mo brings incredible talent and leadership to our team, further enhancing our bi-partisan, bestin-class operation. Mo has an exceptional reputation as someone who brings people together to get things done, and we know that his years of experience in New Jersey and Washington, D.C. will serve our clients well."
"I have worked with Mo for many years and have seen firsthand just how effective he is at bringing about successful outcomes in any challenge he has taken on," Soliman said. "His knowledge of policy and politics is second to none. Mo has deep ties within New Jersey, as well as on Capitol Hill, and I have no doubt that his ability to bring organizations together to solve problems will prove invaluable to our work here at Mercury."
Butler served as Chairman of the Board of Commissioners for the Newark Housing Authority from 2006 to 2015, and served as President and CEO of Newark Now from 2003 to 2008. He received his Masters Degree in Public Policy from the Eagleton Institute of Politics at Rutgers-New Brunswick and obtained his Bachelors Degree from Franklin and Marshall College in Pennsylvania.
"I am excited to join such a well-respected and highly effective firm like Mercury," said Butler. "I have a deep understanding of the political landscape both here in New Jersey and Washington, D.C. through the various community organizations I have led in Newark to my time as Senator Booker's chief of staff in New Jersey. I look forward to applying my experience in local, state and national issues to achieve successful outcomes for our clients."