If you haven't heard of Sparkology even though your phone currently contains Tinder, Hinge and Happn, it's because it's far more exclusive than all those other apps. Much like their newly launched competitor The League, Sparkology is an invite-only dating website for young professionals in New York.
Unlike The League (not the Nick Kroll show), Sparkology has been matchmaking since 2011, in those prehistoric, pre-Tinder days, making it similar to Match when it comes to messaging. Unlike Tinder, Sparkology offers services like professional photography and even profile writing. While they don't write messages for the men, they do have to pay with one "Spark" for each initial message they send a woman, which eliminates the "hey what's up" messages most women have grown accustomed to. After all, if one is paying to say hello, they'll have to come up with something far more original.
On Sparkology, each member is personally verified to make sure they're coming from a top school. To prove that they're not lying about their pasts, every active man on the site has to verify their alumni status. Recently, the folks over at Sparkology looked at the men on the site to figure out which of them had the most inbound messages from women. Then, they broke it down by the colleges they graduated from.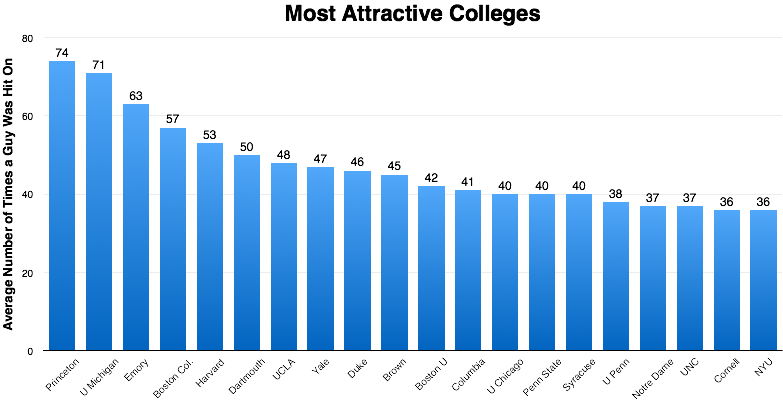 The number one school on the list was Princeton, which is sure to have Harvard and Yale graduates up in arms. While Ivy League schools topped the list, they only made up four out of the top 10 schools. University of Michigan, Emory, Boston College and Harvard rounded out the top 5, while UCLA was the highest ranked West Coast university. For those who are currently tearing up the dating scene, keep in mind the college competition when you start messaging.