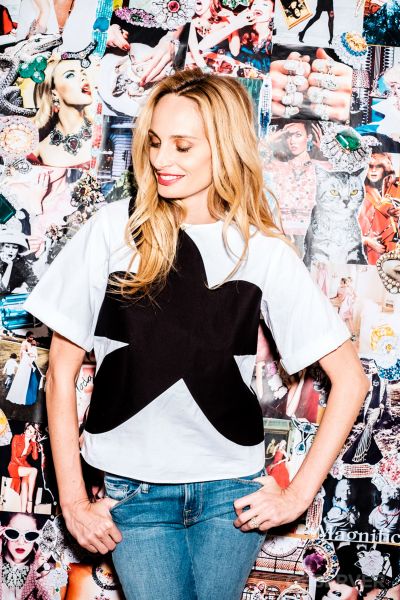 Lauren Santo Domingo is one of those semi-famous people only recognizable to the fashiony few. This means her private life with husband Andres Santo Domingo, businessman and heir to a beer fortune, and their two young children born in 2012 and 2013, stays largely under wraps. Not that Ms. Santo Domingo is otherworldly: an eager, friendly approach gave way to a frank, direct tone when the conversation turned to business during our interview at the downtown offices of Moda Operandi.
To be honest, the first few years for Moda Operandi left some fashion pundits puzzled. What seemed like a simple idea to Ms. Santo Domingo was difficult for many mere mortals to get their heads round. Trunk shows, those events mom used to attend with friends and lots of gossip, done online? How could that work? Along with the concept of "pre-tail," getting customers to order and receive designer goods before even the best stores, it all seemed a bit too, well, fabulous. Yet out of the flowery, gossip-wracked floss of the startup, which saw the departure of co-founder Aslaug Magnusdottir, solid commerce emerged. The company is now creating successful partnerships for established and emerging designers by offering a surprisingly successful, post-runway-shopping experience direct to the customer's door.
The socialite-fashion editor with the highly bankable but slightly "off" beauty of a Verushka or Kate Moss, it turns out, has a hard head for business. Ms. Santo Domingo attended the University of Southern California via Kent School—interestingly, society fans, the location where Blake Lively's Serena got into all that trouble on Gossip Girl—then drilled at Vogue, where she remains a contributing editor. She tried the business side of fashion first by moving into PR for Carolina Herrera, before starting Moda in 2010.
'Our fastest growing category is $20,000 and up. And our packaging costs more than a lipstick. We have really set a niche and we are unmatched.'
"The original idea behind Moda came [during] my time as an editor at Vogue," said Ms. Santo Domingo, seating herself upright at a round, marble meeting table in her office, uncluttered but for a full, blooming bunch of peonies, which she swiftly moved out of the way to talk business.
"We would sit among the Hollywood starlets and socialites at the shows and we were able to order directly from the designers. I knew lots of women, friends of mine who would have loved to order directly, too, but there was a disconnect. So the plan was hatched to give other women access via the designer trunk show. We took a business model that already existed and put it online."
Now, customers register with the site and get a preview of the entire runway collection of each of the designers featured on Moda. "Our client can place her orders usually within 24 hours of a show, so we are able to capture some of the excitement of the runway. Look…" With this she demonstrated the Moda app, featuring a pre-fall collection that had just popped up on the site from luxury knitwear brand Pringle of Scotland.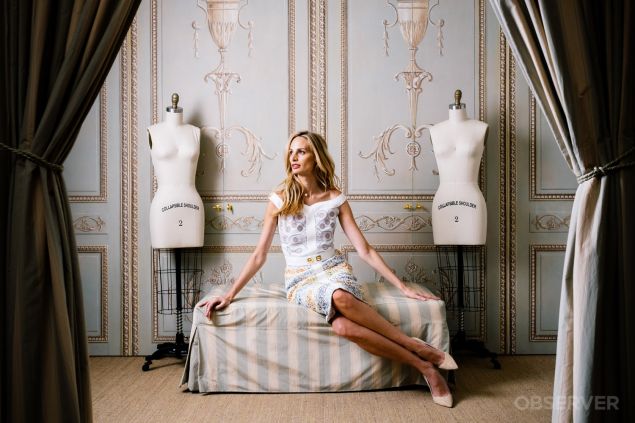 Everything we need for shopping is right here," she said, briskly tapping her phone with a perfectly pink, non-varnished, short fingernail. Ms. Santo Domingo has the busy New York woman manicure, a metaphor, if you like, for her own approach to life. No varnish necessary.
Post-order, Moda customers pay a 50 percent deposit and then wait for their designer deliveries.  
"Our clients understand that things are being beaded in India and woven in Italy," explained Ms. Santo Domingo.  
"This kind of quality takes time to make. When the woman receives the item she is delighted by it and appreciates the process."
***
Detractors thought this waiting period would be the arrow in Moda's heel. In fact, high spenders stick with the site once onboard, re-ordering and recruiting friends.
"At the start, I knew I was willing to shop this way but the question was would a customer?" said Ms. Santo Domingo. The answer was yes.
"Our return rate is 17 percent. Just background…" she added mischievously before giving the skinny on her rivals.
"For traditional online fashion e-commerce the return rate is around 52 percent and from pre-order in department stores it's 75 percent!"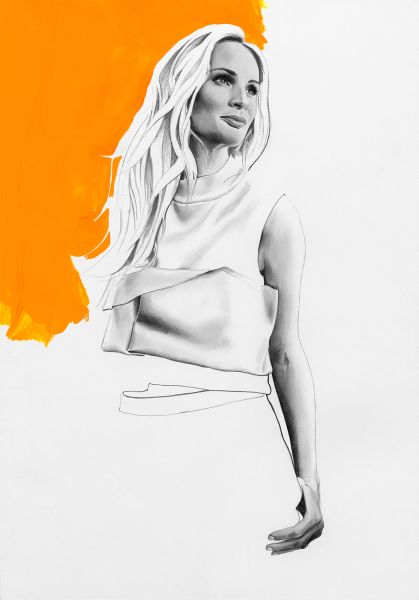 Our interview paused for a moment here for an off-the-record chat about the mistakes women can make shopping in stores. So often, we succumb to a skilled sales technique or a heavily pushed look, which bears no relation to the rest of our wardrobes.
"We help a woman buy once and buy correctly," added the fashion purveyor with some firmness.  
"We don't encourage impulse buys. We really respect her, take her seriously and understand her wardrobe."
 A firm tone accompanied our whole interview; there were none of the appeasing phrases sometimes present with super-wealthy, clever business folks. Ms. Santo Domingo is not "trying" to do anything or "seeking to" find success. She speaks with direct, unflinching confidence about Moda Operandi and the needs of its wealthy clients.
"Our fastest growing category is $20,000 and up. And our packaging costs more than a lipstick. We have really set a niche and we are unmatched. Our average order value is $2,000 and during Fashion Week that goes up. Our competitors have a very different average order value. For us, the more expensive [a product] is, the faster it sells. On our website, something that's $700 or below, we can't get rid of it. Our focus is full price, we like those margins and that's our business model. It hasn't changed."
***
Moda's profit margins are around 58 percent, according to a quote from Ramin Arani of Fidelity Investments, a company that led Moda's most recent funding round, raising $60 million. "Most retailers [have a margin of] 10 percent to 15 percent of sales that come from online e-commerce," he added in a 2015 interview with Venture Capital Dispatch. "For luxury, it's well below that…round 1 percent," he added. According to a recent Forbes article, Moda had revenues of $68 million in 2015, up from $46 million the year before.
The main area where Moda steals the lead on online fashion rivals is inventory; the company barely keeps any, relying mainly on its clients ordering direct from the designers. In contrast, a company such as the inevitably compared Net-A-Porter, keeps a whole city of stock in warehousing. There is a small, current season stock on Moda but the buy is largely dictated by what clients have already ordered, relying on stylists to interpret those choices into a system of small, designer boutiques. This contrasts with the traditional system, where buyers from different e-tailers and department stores battle each other for first or exclusive access to the latest looks.
Designers are the beating heart of Moda. This is unusual in fashion retailing, where so much is made so often of the customer. Without the right product though, reasoned Ms. Santo Domingo, there can never be a customer.
"The scarcity is not in customers for us but in designers who can deliver the quality we require. We treat our designers with the utmost respect; we understand that without them we have no product. So my order of priority is always the designer first. Is this in their best interest? Secondly, it's the customer; are we serving her in the best way? Is she getting what she needs so that she is going to look fabulous and not foolish? And last is Moda. Without all these people we are nothing. Is this good for the designer? Is it good for the customer? Then it's good for us."
This in-depth knowledge of Moda's core client was key to the company's onward progress through the rocky early years.
"We have stuck to our voice from the very beginning," said Ms. Santo Domingo. "I know there are great opportunities for other retailers with a different woman but this is the woman I know, who trusts me. That is why we have been so successful, we have never lost sight of this."
One of Ms. Santo Domingo's good friends is Derek Blasberg, fashion and arts commentator and man on the street at Vanity Fair. During a recent Observer interview, Mr. Blasberg credited her with having offered him career encouragement and guidance. Yet though friends like Mr. Blasberg enjoy a huge personal following on social media, Ms. Santo Domingo remains personally low-key. She does not regard Moda customers as her fan base in the same way as, say, the Kardashians approach their e-commerce customers.
"I don't think that our customer is into that. I am not very prolific on Instagram. It's not that I'm guarded nor lazy, it's just not a tool that I use," she said somewhat carefully. Choosing the right words means her conversation sounds over-thought at times, ever the journalist.
"I prefer to interact with a person one on one. Moda has a great voice on social media and we have an incredible online presence. That's not necessarily my voice. That's Moda's voice. And while I am Moda and vice versa, we also have a very strong team and I am respectful of them. Sites that don't have a human touch or even a founder's face can be somewhat of a headless machine, lacking a soul."

'I know there are great opportunities for other retailers with a different woman but this is the woman I know, who trusts me. That is why we have been so successful, we have never lost sight of this.'
High profile though Moda is online, there is no editorial in the way that Net-A-Porter, for instance, produces Porter magazine, a high-cost excursion away from the core business. Despite her editorial background, Ms. Santo Domingo is in no rush to compete.
"Our woman should be able to navigate within the site, I don't necessarily believe in giving her that narrative. We ensure our customer is getting the best designers, but she's savvy, it's her choice. I know exactly how to be successful [at editorial] but is it the next thing on our roadmap? No, because it's superfluous to what we are doing." 
***
As NYFW approaches, fashion flux is afflicting the city, alongside the confusion within some of the Paris fashion houses. The latest rumors from fashion business news outlets including WWD suggest that Sarah Burton is poised to jump from McQueen and head to Dior and that Erdem Moralioglu is set to join Lanvin. The speculation has shaken fashion's foundations and in New York, the departures of Donna Karan and Ralph Lauren from their eponymous houses will be keenly felt this season. But newer names are finally establishing themselves, said the Moda co-founder, who is part of the foundation many new fashion businesses are building upon.
"It's all cyclical. There's been a period in NYFW where there were either designers only just starting out or there was establishment. Now a new crop of designers are really establishing themselves: Rosie Assoulin, Sally LaPointe, Wes Gordon are among the names starting to define what NYFW is. It is regaining it's own identity. Fast rewind to London, five or six years ago, it was a pass over but now designers like Erdem, Roksanda and Mary Katrantzou are great business partners for us."
Emerging designers are key to Moda's business now.
"I'm gonna be really honest with you," said Ms. Santo Domingo with a straight-on stare gilded by the hint of a smile. She was once again extremely careful to choose the right words. "When we first started five years ago, it wasn't easy getting this customer in a young designer. We had to educate her, get her to feel comfortable and we had to really work to gain her trust. Now she cannot get enough —we cannot launch a new designer fast enough!"
 Knowing the client is what Ms. Santo Domingo does best. However, understanding a need is one thing in business; changing people's expectations and moving buying patterns forward is another.
"When it comes to shoes and bags, if you asked me a year ago I would have said we cannot get this woman out of her Louboutins and wrestle that huge Birkin out of her hand!"
This was accompanied by some animated handwringing. The large handbag issue has been the fashion industry's bugbear for a while now. A lumpen blot on every stylist's carefully copied look, only early adopters have really cast aside their giant Célines. However, like putting your sleeves inside your overcoat or wearing socks, big bags are just no longer considered to be "fashion."
"We were able to earn our client's trust with the ready to wear. However, we really saw the last frontier was the bag. Finally though, our client has become more adventurous, she is craving new designers in shoes and handbags and there are a lot of talented designers to deliver this like Mansur Gavriel, M2Malletier, Tabitha [Simmons], Nicholas Kirkwood and Paul Andrew."
If there is such a thing as a fashion gene, Ms. Santo Domingo's is pretty strong.
"I still get excited to see what a designer will produce each season. I often find myself in the front row of a show feeling like I'm the only one who's really delighted to be there."
She clearly loves discussing Moda, but thus far in the company's history has kept her views mainly private.
"Alongside [CEO Deborah Nicodemus] we have just been building this business. We are really only now poking our heads up for the first time and looking back at what we've created. We've never broadcasted our failures or our successes. I'm excited for people to learn what a substantial business this is. We're 125 full-time employees, seven in London, it's meaty. People who have been shopping with us since the start, they feel like they are part of the success. We've all grown together."