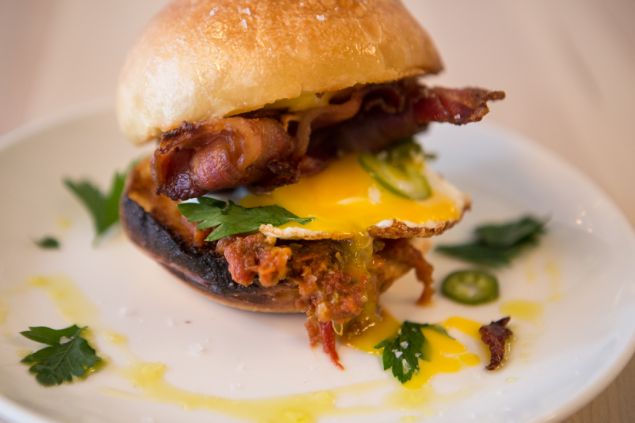 You know the type: devouring entire packages of cookies or boxes of cake labeled non-fat. Perhaps your college roommate? Or someone even closer to you. Either way, it's a new year with new rules. Whole fat is in, everywhere.
From the cream-based parsnip soup at The Gander in the Flatiron to the black pepper cavatelli with whipped lardo and egg yolk at Pearl & Ash in Nolita, to the mutton burger smothered in triple-crème (plus buttermilk-fermented carrots) at Seamstress on the Upper East Side, restaurants all over town are embracing the goodness of full fat.
Julia Child fans, 2016 is your year.
"There has been a ton written over the last two to three years stating that fat isn't the evil, heart destroyer it's been touted to be," said Chef Marco Canora of Hearth in the East Village. He hopes his restaurant can guide eaters to a greater understanding of fat. "All fat is not created equal. One must differentiate. As with everything, the quality and process of something plays into whether or not it is 'good' or 'bad' for you."
A new report by TIME on dietary fat guidelines features an interview with a researcher and Ph.D. candidate at University of the West of Scotland, Zoe Harcombe, who, along with colleagues, studied the first U.S. guidelines on dietary fat issued in 1977. In particular, the team looked at the advice about reducing fat in the diet by 30 percent and found this to be untested when it comes to preventing heart disease or prolonging life. To quote TIME:
"The problem, as Harcombe notes in her study, is that advice was 'arbitrary. The 30 percent wasn't tested, let alone proven,' she says. In fact, some data even contradicted the idea that the fat we took in from food had anything at all to do with the artery-clogging plaques that caused heart disease. In one study, men who were fed copious amounts of high-fat foods (butter, eggs, portions of cream and the like) did not show higher levels of blood cholesterol, suggesting that the fat from food had little to do with the cholesterol circulating in the body and produced by the liver. In fact, says Judith Wylie-Rosett, a professor of epidemiology and population health at Albert Einstein College of Medicine and a spokesperson for the American Heart Association (AHA), roughly a third of the cholesterol from food becomes part of the circulating cholesterol that can potentially build up in heart vessels—'not a major driver,' she says."
Good news then, if you fancy testing out Hearth's new variety burger, made with ground bone marrow, grass-fed brisket, chuck, heart and liver and served with Japanese sweet potatoes fried in beef fat. Fat, clearly, is not the bad guy here. And animal fats are just part of the equation (lard is trending too, you know).
At The Smith's three Manhattan locations, new dishes like ricotta gnocchi with parmesan cream and chicken pot pie with cheddar chive biscuit crust have become cult favorites, said Executive Chef Brian Ellis, usurping the likes of kale and quinoa salad.
"Butter is a very important cooking staple. It can completely change a dish for the better. There are a lot of substitutes out there, but no other ingredient can function the same way, or bring the same flavor, as real butter," said Mr. Ellis, noting it's healthier to eat a natural product than a processed, chemical-filled, low-fat version.
That's no secret to professional chefs, or our friends across the pond.
"I am excited to see New York City embrace a more European culture," said Pastry Chef Antoine Pelhate of month-old Maman in Tribeca, citing widening use of unprocessed foods: real butter instead of shortening and hydrogenated oils. "Let's enjoy less good food as opposed to over-eating processed 'food.' "
This winter, Mr. Pelhate's menu includes kouign-maman, a play on Brittany's kougin-amann. Say: queen a-mahn; translation: butter cake. "Think of it as a sweeter and extra buttery croissant that when baked creates a caramelized crust impossible to resist," said Mr. Pelhate. "The secret to it is a great quality salted butter that you can really taste in all the layers." Salt and Brittany are as connected as butter and France; they hand-harvest it from the sea up there.
"I think we're entering an age where there's more of an understanding about fat instead of a fear," said Executive Chef Brad Farmerie of Saxon + Parole in the East Village. "Fat is one of the main carriers of flavor. When dishes are too lean, you don't get fulfillment, physically or mentally. Fat coats the mouth and gives you a rich feeling and in theory keeps you from eating more."
He's right. Generally, said Melissa Rifkin, clinical and bariatric dietitian, Montefiore Health System, "If something is low-fat or fat-free, we tend to eat more because it's empty calories and less satiating. If someone drinks a cup of whole milk they're less likely to go for a second cup because it's so satiating." Whole milk doesn't put you at risk, she said. When everything went low-fat or fat-free some 15 years ago, people started gaining weight.
The 2015 dietary guidelines are coming out soon. Currently, 2010's are still in use, but the nutrition world is constantly changing, said Ms. Rifkin. As the TIME report proves, we are learning more with each study that comes out. She expects healthy fat to have an appropriate position in the guide.
"Fat carries a lot of nutrients and vitamins into your body," said Mr. Farmerie. In his restaurant's Moscow location, they serve a shot of carrot juice with a shot of double cream because all the goodness of carrot juice can't be absorbed into the body without fat.
In New York City, his menu includes chicken liver mousse, ricotta gnudi with sweet butter and truffle and roasted bone marrow. There's also a bone marrow Béarnaise served with the strip steak for the ultimate fat experience (that's bone marrow, butter and egg yolk amazingness).
Some of his fat-celebratory dishes have always been popular, he said, but mostly with restaurant industry folks. Today, with a greater understanding among the general population, that's changing. "People used to run their lives by fat. When they looked at the nutritional information, fat was the only line item that was considered. Now people have a better understanding, and we're doing a better job as a restaurant community to educate people about the necessity of all nutrients in a well-balanced diet. The bull's-eye might be slightly moving off fat for now."
Like his peers, Raimondo Boggia, CEO of USA operations for Rome-based Obica Mozzarella bar is seeing the same trend. Since opening in New York in 2009, he said, there's been an evolving awareness in food, especially when it comes to fat. "People associated cheese with [negative] fat while eating an entire bag of chips with unsaturated fat," said Mr. Boggia. Today there is a renewed awareness, a consciousness.
You see it on supermarket shelves, too. Whole milk and whole milk versions of things are popping up everywhere. Stonyfield launched Oh My Yog! whole milk yogurt months ago. Smari Organics will add four whole milk flavors to its line of Icelandic yogurt this month. "I was noticing that consumers were warming up to fat, and in my opinion fat makes everything better, plus you need fat in your diet," said Smari Asmundsson, founder.
"The big takeaway is that you can have both indulgence and healthy bits in the same meal," said Mr. Farmerie.
And you can enjoy every rich, flavorful bite. Fat, as Ms. Child is oft remembered saying, is flavor. Flavor makes a meal an event. "What's changing, especially in America, is eating for pleasure," said Mr. Boggia. "This is so common in Latin and European culture: You don't eat only to fill the tank."