Before Ryna Appleton Segal, then 13, was to meet Polish nobility at a chateau near Versailles, France she received a stern warning from her mother, Jean Dubinsky Appleton: shake hands, don't curtsy.
"Americans don't bow or curtsy," Ms. Appleton Segal recalled her mother telling her, "That was why we fought a revolution.'"
Principle mattered to Dubinsky Appleton, a leader in the progressive labor movement who died Jan. 3, 2015 at age 95.
The only daughter of David Dubinsky, the longtime president of the powerful International Ladies' Garment Workers' Union and the man who helped usher in the eight-hour workday, Dubinsky Appleton served as a labor organizer as well as her father's unofficial aide-de-camp. Based in Paris after the war, Dubinsky Appleton worked to combat the spread of Soviet hegemony in postwar Europe.
At the time, communists threatened to wrest control of labor movements in Europe. Dubinsky Appleton funneled support and funds to anti-communist labor groups, as part of "an offshoot of the Marshall Plan," according to Ms. Appleton Segal. The Office of Strategic Services, the forerunner to the Central Intelligence Agency, aided her quest to bolster democracy.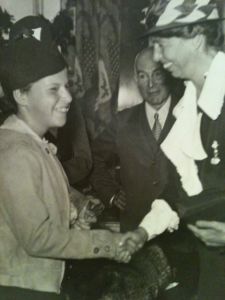 It was only after the threat of communism had waned that Ms. Appleton turned to other pursuits in New York. Long an admirer of Victorian jewelry design, she was asked to establish a jewelry history department at the Fashion Institute of Technology and founded the American Society of Jewelry Historians (ASJH) around the same time. Where jewelry history was concerned, she was an autodidact, having never been formally educated in the field.
Ever the organizer, she recruited disparate forces for acclaimed lectures and symposia, said Diana Singer, the ASJH's current president. "She pulled in people from all over the world, because this was a very tiny woman with a huge amount of presence and firepower," Ms. Singer added.
But in 2009, Dubinsky Appleton, then 90, returned to the labor struggle. The union her father had once led merged with other unions to form UNITE HERE, but the combined labor organization underwent a messy divorce. UNITE HERE's former president Bruce Raynor formed a competing union called Workers United. Dubinsky Appleton and other retired members objected to the distribution of assets, suing Mr. Raynor and Workers United. At a press conference about the case, she explained that the lawsuit was "not about money, but about principle."
Dubinsky Appleton was never one to bow down.