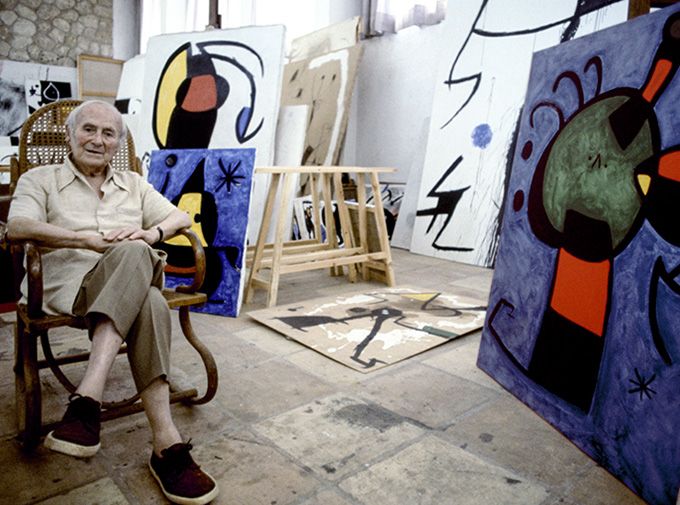 Well here's some good news for former Artnet editor and new Armory Show executive director Ben Genocchio.
Barcelona gallery Mayoral, which is participating in the 2016 edition of the Armory Show, is bringing a replica of the Majorcan studio owned by Joan Miró (1893 – 1983) to the storied art fair this March.
It has been 60 years since the Catalonian master opened his studio (designed by famed architect Josep Lluís Sert) on the Spanish island. Mayoral is celebrating this anniversary with an exhibition that recreates Miró's studio inside the gallery's posh Duke Street location in London.
The show, which opened today, includes 25 Miró paintings and drawings along with furniture, painting materials and household items once owned by the artist. This trove of historical material comes direct from the show's curator Elvira Cámara, who is the director of the Fundació Pilar i Joan Miró in Majorca. Mayoral even got art historian and Miró grandson Joan Punyet Miró to help with the project, which will surely be a fascinating look inside the daily workings of one of the world's most treasured modern masters.
But the even more interesting is the news that the exhibition will matriculate to Mayoral's Armory booth in New York City come March, and soon New Yorkers will get to peruse the place where Miró was able to spark his larger-than-life imagination.
"The Studio offered Miró a suitable working environment," said his grandson Joan Punyet Miró in a press release. "When he closed the door behind him he knew he was cutting all contact with the outside world and entering into his imaginary universe. This imaginary space, his reality, was arranged upon a background of Mediterranean light, colours and shapes…"
Mayoral specializes in modern and post-war art from Barcelona, with an impressive list of artists that includes Miró, Picasso and Dalí, among others.
The Armory Show will take place March 3 through 6 on Piers 92 & 94 on the west side of Manhattan.