Comparatively speaking, guys have it easy when it comes to clothes. Unlike womenswear, which tends to be tailored and form-fitting, a man's clothes can fit well while leaving something to the imagination. So, go ahead, skip the gym and have that burrito for lunch, chances are no one will notice—at least for a little while. There are, however, limits. Your shirt, for example, should not balloon at the sleeves like an 18th century buccaneer. Your shorts should end somewhere around your knee and not mid-calf. You know these things already (you do know these things, right?) so let's move on to slightly more advanced territory: the suit.
The good news is we live in an age of affordable tailoring, with plenty of options for decent quality suiting at a fair price. Here's the bad news: there's still a very good chance your suit is too big. Part of the problem is that men are used to loose-fitting clothes and hence associate the feeling of a "true" fit with something that's too small. The other part of the problem is the lingering influence of the 1990s and early aughts, when Steve Harvey-style three-button blazers were all the rage. Now that we've all regained our senses and thrown those rave pants onto the trash heap where they belong, it's time to get it right.
Here's how to tell if your suit is too big:
The shoulder – the shoulder of your suit jacket should conform to the shoulder on your body. That is to say the seam should rest where your arm meets your shoulder, without hanging over the edges like a linebacker's padding.
The sleeve – with your arms hanging at ease the sleeve of your jacket should end where your thumb meets your wrist. Allow for about a quarter-inch of shirtsleeve to protrude below your jacket.
The button – your jacket should button snugly without pulling on either side (usually causing an x-shaped crease to form). If you can easily fit a fist between the buttoned jacket and your stomach, it's too loose.
The jacket length – with your arms straight down at your sides, your jacket should be at the same level as your knuckles.
The pants – Standing straight with your suit pants snugly on your waist your trouser cuffs should ever so gently rest upon the top of your shoes, causing a slight wrinkle (or "break") in the crease.
The seat – Yes, drop-crotch pants were kind of a thing for, like, a minute but that's no concern of the suit-wearing man. Your trousers should gently drape across your hindquarters without bagging or sagging like a diaper.
As you try different suits from different brands, you'll begin to notice that each has its own subtle interpretations of these rules. Some suits are boxier, others slimmer, while some designers insist on terminating their trousers just north of your ankle. Aim for somewhere in the middle. A classic fit will feel more natural, and it'll still look good long after exposed ankles have gone the way of rave pants.
NO-NOs
RDJ is undoubtedly the best part of the Avengers movies. The worst part? This suit. The sleeves of the jacket are too long, as are the trousers, which gather about his shoes like the skin of a Shar Pei.
Johnny Depp may be a giant of the movie business, but this suit was made for an actual giant. Everything is too big—from the sleeves to the rumpled trousers—except for the jacket, which is tugging at his waist.
This is how a suit SHOULD fit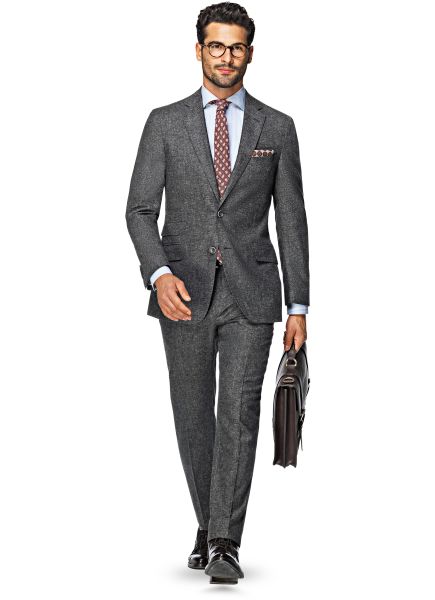 Suit Supply, $699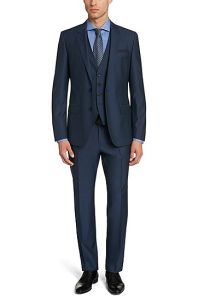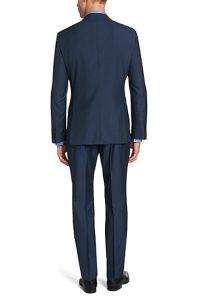 Hugo Boss, $1,145
Canali at Mr. Porter, $2,051