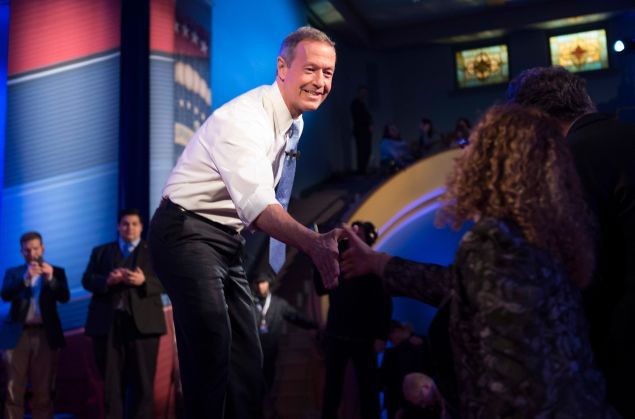 Just one week to go before Iowa voters forge out into an icy Midwestern night and push for their candidate at the Hawkeye State caucuses, and it's a race few could have predicted a year ago.
Scores of Democrats have rejected the pre-packaged party favorite, ex-Secretary of State Hillary Clinton, for the rough-hewn, Brooklyn-accented, Vermont-crafted populism of Sen. Bernie Sanders. Meanwhile, they seem to have left the tanned, handsome, well-spoken former governor of Maryland, Martin O'Malley, sitting on the shelf.
The three candidates had one last chance tonight to make their sales pitch at a town hall with voters at Drake University, hosted by CNN anchor Chris Cuomo. Will Iowa voters buy?
Weeknight at Bernie's
For all the urgency and anger and enthusiasm behind his message, the socialist insurgent is really a one-note candidate. All evil in the world stems from America's "rigged economy," and its corollary, the "corrupt campaign finance system."
But that one note perhaps has rendered Mr. Sanders tone-deaf. He delivered the perfect soundbite to Republican attack ad-makers when he promised "we will raise taxes, yes, we will" to finance his proposed single-payer healthcare system. He explained moments later that his plan would pay off for Americans by eliminating health insurance costs, but you don't declare on the campaign trail you'll raise taxes. Just ask Walter Mondale.
He responded to an ad for Ms. Clinton advertising her readiness to assume the presidency by rising from his chair—"this calls for a standing-up response"—and emphasizing his affection and respect for the former first lady. Then he attacked her vote on the 2003 invasion of Iraq, her support in the 1990s for banking deregulation, her late arrival to the standard left-wing position on the proposed Keystone oil pipeline and the Trans-Pacific Partnership trade agreement.
"We need to go on establishment candidates and establishment economics," he insisted.
Mr. Sanders has built an astounding come-from-behind candidacy railing again and again (and again, and again) against corporate greed. Why change anything now?
Martin in the Middle
Mr. Sanders stood up, but Mr. O'Malley did him one better and rolled up his sleeves. The governor displayed the drawling charm and physical charisma that drove his career up from the Baltimore City Council, but he has the opposite problem as Mr. Sanders—while the New England leftist pounds the same point over and over again, Mr. O'Malley offers a a potpourri of liberal shibboleths.
He highlighted what would be an impressive progressive track record in the Old Line State—containing state college tuition, passing a transgender anti-discrimination bill, ending the death penalty, decriminalizing marijuana, disallowing employers to inquire about an employee's criminal record on a job application. But the first question he got was inevitably about his tenure as mayor of riot-ravaged Baltimore, where Mr. O'Malley used the same tough-on-crime tactics as most big city leaders at the time, tactics that have fallen out of liberal favor in the present era of lower felony rates.
He acquitted himself pretty well, highlighting how his policies saved black lives and provided equity in protection from criminals for all residents. Today's activists probably wouldn't buy it. But maybe Iowa voters will.
The brightest point of the third-wheel candidate's night was his fairly sophisticated take on how to drive down healthcare costs by containing hospital visit prices. It was a break from Mr. Sanders' broadsides against nefarious insurers, but will it inspire voters the same way?
Mr. O'Malley was smart to mention consolidation of egg producers, a concern for Iowa farmers. But he lacks Ms. Clinton's name recognition and Mr. Sanders' single big hook. He was forced to base his appeal on his offer of "new leadership" and how he is not a "Democratic conversion"—which probably won't compel voters from the warmth of their homes on February 1.
Hill Power
Ms. Clinton needed a big moment tonight to put her ahead of Mr. Sanders, who is either closing on or surpassing her in Iowa, depending which polls you believe. And so she arrived on stage thrusting forward a persona few have seen from her before: laughing, smiling, energetic, folksy—nothing like the stiff and stern image she's struggled to shake since the 90s.
She responded to a question about Mr. Sanders' strength in the polls with a burst of chuckling, and climbed out of her seat at the earliest opportunity. The former senator from New York told a young Sanders supporter who said many in his generation see her as dishonest that he was too young and naive to realize he was getting tricked by the "millions of dollars spent against me"—and almost didn't sound insulting.
Asked about Vice President Joseph Biden's claim that she was a relative latecomer to the issue of income inequality compared to Mr. Sanders, Ms. Clinton refused to "narrowly" focus on economics. Instead, she pivoted to an area of strength: stressing her work on racial and gender issues, a weak point for the Vermont senator.
She was fortunate to get a question from a female Muslim Air Force veteran, which gave her the opportunity to lash out at real estate mogul Donald Trump, the Republican front-runner. Naturally, she neglected to mention the numerous times she benefited from his largesse.
The warm-and-friendly act didn't always work. She launched into an awkwardly cheery speech about how much everyone, including Republicans, likes her—as though the other side of her lengthy resume in Washington wasn't an near-endless enemies list.
"I'm going to just be giving them all bearhugs, whether they like it or not."
She also bobbled a crucial question about her use of a private email server to handle sensitive and even classified State Department business while working in President Barack Obama's administration. After a confused jumble of starts and stops, she tried to save herself with a self-effacing comment about how she isn't "great with technology."
She invoked the late Gov. Mario Cuomo twice when talking with his son, the cable anchor—once while reacting to Mr. Sanders's Simon & Garfunkel-themed "America" ad, which she called "great."
"You campaign in poetry and govern in prose," she said, quoting the elder Cuomo.
Finally, she set social media ablaze by lumping Reconstruction in with Jim Crow when discussing the unfortunate fallout from the death of Abraham Lincoln, her favorite president. We'll have to wait and see whether the fire will die out in the next few hours on Twitter, or spread to the rest of the Internet.