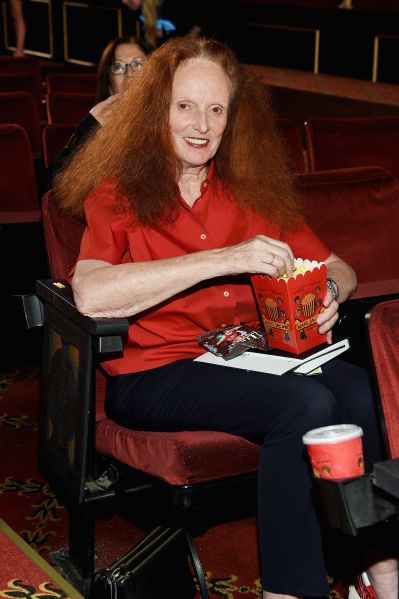 You might know her as Anna Wintour's right hand, or as the surprise star of the documentary The September Issue, but regardless, Grace Coddington has become a widely recognized fixture at Vogue. Now, following a 30-year career at the Condé Nast magazine, she is stepping down from a full-time role at the glossy.
The news first broke this morning, in a story from Business of Fashion. In it, they disclosed that Ms. Coddington plans on relinquishing her creative director title in order to take on a role as creative director at large. This slightly removed position will see the 74-year-old producing at least four editorial spreads annually and though she will not be in the offices daily, she will still have an office at Vogue's headquarters at One World Trade Center.
This is the first time since 1988 that Ms. Coddington will be free to take on projects that have nothing to do with Vogue. "I'm not running away from Vogue, because it has opened so many doors. But it will be nice to collaborate, and nice to go out [and] give talks to people. It's just another approach. I'm certainly not going into retirement. I don't want to sit around," she told Business of Fashion.
This freedom has already resulted in a forthcoming fragrance with Comme des Garçons and possibly turning her illustration series titled "Catwalk Cats" into a film. The latter project is being facilitated by Great Bowery, an international agency focusing on fashion and "image-making" icons. Ms. Coddington has signed on with the agency, which also currently represents Bruce Weber and Annie Leibovitz.
In the near future, a second tome that chronicles Ms. Coddington's fantastical photoshoot creations at Vogue will be published and her 2012 autobiography, titled Grace, is due to be adapted into a film.
Seeing as Vogue doesn't have plans to fill the creative director role, what does it mean for the glossy? It's no secret that times are tough at Condé Nast. Over the past few months titles such as Details have shuttered, massive layoffs have been seen at GQ, Glamour and Self, and Allure's founding editor-in-chief, Linda Wells, was replaced with a younger, more tech-focused editor, Michelle Lee. A focus on digital has cropped up across the publishing giant's titles.
Ms. Coddington was often seen as a balancing force against Ms. Wintour's forceful and chilly approach and as the magazine zones in on their online presence (Vogue.com now has a staff of 54) this just might mark the steady decline of Vogue in print as we know it.